Tennessee Volunteers Football: 4 Reasons the Vols Will Beat the Florida Gators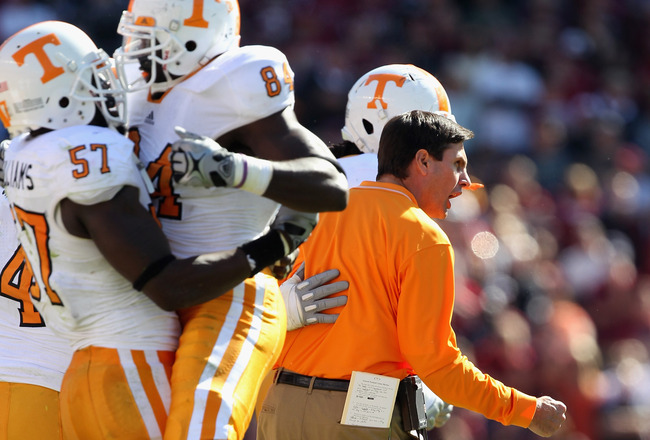 Streeter Lecka/Getty Images
The Tennessee Volunteers haven't beaten the Florida Gators since 2004. The drought will end on September 17, 2011.
The rivalry between these two teams—always on the third Saturday in September—has weakened in the past several years due to the Vols' complete ineptitude from the players and the coaches.
Here's five reasons why that won't be the case this year.
Coaching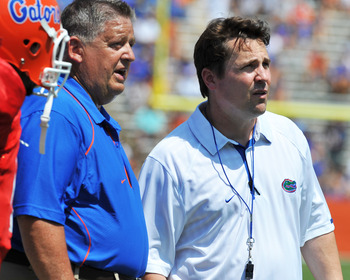 Al Messerschmidt/Getty Images
I'm truly concerned with how the new coaching staff for the Florida Gators is going mesh in its first season together since former head coach Urban Meyer's most recent retirement.
It's reminiscent of the 1985 Chicago Bears that was divided between head coach Mike Ditka and defensive coordinator Buddy Ryan. The only thing saving the Bears was Walter Payton and Mike Singletary.
The Gators don't have those guys on their 2011 roster.
There is no rift between new head coach Will Muschamp and offensive coordinator Charlie Weis, but Weis has had incidents in the past of feuding with head coaches that he felt were incompetent. Just what will he think of the rookie coach Muschamp if and when something goes wrong?
Meanwhile, the Tennessee Volunteers have finally found some semblance of reliability in Derek Dooley and his coaching staff. Dooley led the team to a bowl game last year, which they lost due to a missed penalty and technicality.
Dooley has brought in two top-15 recruiting classes in the last two years.
Suddenly, the Vols have a more stable coaching situation than another SEC team.
Janzen Jackson Is Back
During Janzen Jackson's first trip to Gainesville, he made sure his presence was felt by everyone in the stadium, especially Brandon James in the video.
Jackson is a former 5-star Rivals recruit whose off the field issues have made any lasting on-field success difficult to attain. There is no question that he has the talent and intelligence, and his potential has been recognized with his numerous All-SEC Preseason and Postseason teams.
Jackson took the entire spring semester off for personal reasons and is now working hard to get back into the good graces of the coaching staff and his fellow teammates. His leadership is more important than ever on a depleted Tennessee Volunteers defense.
The time off has been good for him, and I expect to see him wow a lot of analysts in 2011.
Tyler Bray Is Greater Than John Brantley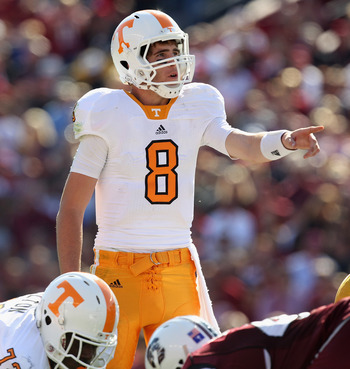 Streeter Lecka/Getty Images
It's simple mathematics, folks. Tyler Bray is greater than John Brantley, or TBray > JBrant.
Bray accrued some of the most impressive statistics for a freshman quarterback in 2010 for the Tennessee Volunteers since the great Peyton Manning.
He had four games with over 300 yards passing and six games with at least two touchdowns. His extremely skinny frame took a lot of hits, but he got up after every one of them, earning respect from fans and teammates alike.
John Brantley, on the other hand, failed to impress the Florida Gators. In his first year as the starter, he threw only nine touchdowns to 10 interceptions, tallied a quarterback rating at the bottom of the SEC, and spent a lot of the game chasing down fumbled snaps.
Unless Bray takes a huge step back while Brantley improves by leaps and bounds, Bray's ability is going to far exceed his Gator counterpart in the September sun in Gainesville.
Having the better signal caller is a huge indication of a victory.
Sheer Hunger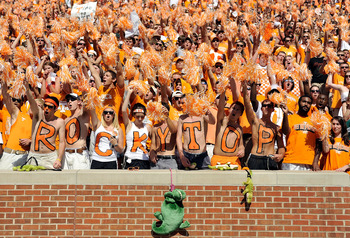 Grant Halverson/Getty Images
No, there's no statistic for the hunger of a win, but we all know that it plays a huge role in a team's potential win.
The Tennessee Volunteers are on a seven-game losing streak to perhaps their most hated rival. The Florida Gators have certainly been more successful in the recent years, but this is no Vanderbilt-Alabama rivalry—the Vols are capable of competing.
With so much turmoil at the end of the 2010 season for Tennessee, they will be looking to make a lot of noise early in the season, and the Florida game is always the first chance to do so.
The Swamp is hard to play in, but I'd rather be wearing orange for this season's game.
Keep Reading

Tennessee Volunteers Football: Like this team?