Florida Football: How Texas A&M to the SEC Affects the Gators
August 14, 2011
Al Messerschmidt/Getty Images
Texas A&M will explore an invitation to become the 13th member of the Southeastern Conference, according to sources and multiple media outlets. There are still pieces that need to fall into place and things that need to happen before anything would become final, but all signs point to SEC expansion. SEC commissioner Mike Slive has stated that he wants the Aggies to officially leave the Big 12 conference before the SEC will extend any kind of invitation.
Texas A&M desperately wants to "escape the shadow" of the Texas Longhorns, it wants to boost its recruiting by separating itself from UT and heading into the SEC, and it wants to be in the conference that has won the last five BCS National Championships.
Being a Gator fan, the big question is, how does the potential addition of a 13th school affect the University of Florida? Well, in a number of ways, but here is a look at three in particular.
1. Thirteen is an odd number. Further expansion would likely be coming.
 Slive has already said that if the SEC adds a 13th team, it will need to add a 14th. His statement alone confirms further expansion will be necessary, but one has to ask, will it stop there? Would the SEC be content with 14 teams? What is going to stop it from expanding to 16 teams?  If it settles on 14, who makes the cut: Clemson or Florida State?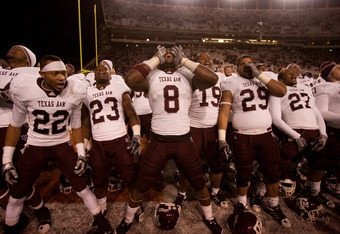 Darren Carroll/Getty Images
I ask which of those teams because all signs point to the SEC seriously pursuing any combination or all of Clemson, Florida State and Missouri to complete its expansion plans. West Virginia was thrown in there a few times, but that seems to have died down a bit now.
The obvious, biggest effect would be in-state rival Florida State Seminoles joining the SEC. The exclusive inclusion into the SEC is the one thing Florida has had over the heads of both the Seminoles and Miami Hurricanes for the last few years in recruiting during this recent period of SEC domination—well, that and two national championships since 2006, but that is part of said domination.
Things wouldn't change that much on the field; they currently play each other every year anyway, but things could potentially get a whole lot more interesting if these are now conference games with a potential trip to Atlanta on the line.
One has to wonder what the possible expansion to 16 teams means for the SEC Championship and the conference alignment in general. Will there be two eight-team divisions, which seems logical, or will we see an unprecedented four divisions of four? The second scenario would give us the potential of four division winners making the "SEC Semifinals" and playing their way into the SEC Championship.
The expansion doesn't just jump to 13. It could be 13, 14 or even 16. Be careful what you wish for—expansion could mean a more difficult road to Atlanta, and ultimately a more difficult road to a national championship.
Expansion: Push (yet to be determined)
2. Recruiting: Everything is bigger in Texas
The Gators already enjoy an advantage over many Division I athletic programs simply because of the state in which their campus resides. The state of Florida is a hotbed for high school talent and that talent often translates to fast, dynamic and athletic kids staying in the state to play in the Swamp.
If there were one state that rivals and surpasses Florida in sheer talent, both quality and quantity, it would be Texas. The state of Texas eats, sleeps and breathes football.  Kids are born and bred to do whatever it takes to one day play on Saturdays.
You can bet every single SEC team already recruits in the state of Texas—the Gators included. However, having an actual presence in the state is going to be a huge benefit for all of the teams in the new look conference. Kids from around the state will be able to get a closer look at SEC football up close and personal on a weekly basis. While Texas and OU are potentially playing in a watered down eight-team Big 12, Texas A&M could be in the nation's premier conference, bringing the SEC to the forefront for a large number of kids who may not have considered it as seriously before.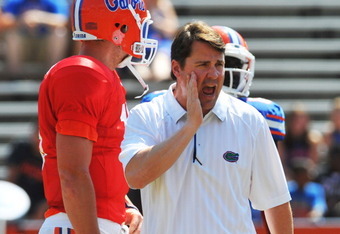 Al Messerschmidt/Getty Images
It will also be a benefit that any kid from Texas choosing another school in the SEC, like Florida, because they will be able to face many of the kids they potentially went to high school with or played against when they go up against Texas A&M.  Being able to play against and beat a friend, family member or heated rival will be another added piece to the recruit puzzle coaches like Will Muschamp can use to their advantage. They can feel like they can leave home and still take a part (playing Texas A&M) with them.
Having a presence in Texas: Win
3. More teams, bigger recruiting pool, SEC playoff=less success?
How will this all translate in the win-loss column? Well, in order to be sure they are going to have to play it out on the field. The possibility of going to 16 teams would certainly lead one to believe that the road to Atlanta would immediately get harder. If the number of conference games aren't expanded, maybe there is an extra round added to the SEC Championship. Those are all things that would have to be decided and addressed.
On the flip side, becoming the first "mega conference" can do nothing but only strengthen the credibility the SEC has in the eyes of the masses, if at all possible. Having a conference where so many potential national powers reside could lead to us seeing a two-loss team play for a BCS national title for the first time ever.
If the four teams that are rumored to be flirting with the SEC all decide to come aboard, it would be assumed that Clemson and Florida State would join the East side of things. Both of these programs are capable of big things and will more than hold their weight. You would have to believe adding both of these teams (just Clemson, in UF's case) to the schedule will only make things harder.
More teams and more playoffs: Loss
In the end, the talk of expansion is quite exciting and only adds more fuel to the fire that is my excitement for college football. However, before we all rush to jump on board and head to the airport wanting to welcome four new members, take a look at it from all sides. Step back and think, how's this going to affect MY team?
As a Gator fan I'm hesitant, but I still say BRING IT ON!