NCAAF Week 1 Prediction: Georgia Is Boise's Season, and That's No Bull(dog)!
August 23, 2011
Ethan Miller/Getty Images
Al Pacino said it best in "Any Given Sunday."
"You find out life's this game of inches, so is football. Because in either game—life or football—the margin for error is so small. I mean, one half a step too late or too early and you don't quite make it. One half second too slow, too fast and you don't quite catch it. The inches we need are everywhere around us. They're in every break of the game, every minute, every second."
Football is indeed a game of inches.
Nobody realized this more than Boise's senior kicker Kyle Brotzman in last season's loss at Nevada on the Friday after Thanksgiving.
Boise was coming into the game undefeated and poised to finish the season that way as they headed into Reno for a tougher than anticipated game with division rival Nevada.
Boise got out to a 17-point lead only to see Nevada battle back and tie the game late in the fourth quarter.
After Boise's offense had moved the ball to the nine yard line with two seconds left in regulation and a tie score, Brotzman's attempt sailed high over the right goal post and was called "no good" by the referee.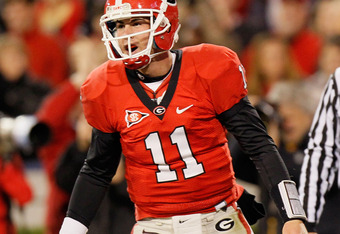 Kevin C. Cox/Getty Images
The kick appeared to miss by just inches.
Earlier that day, Alabama was cruising over Auburn and about to add to a 24-0 lead when a Tigers defender caught Mark Ingram from behind, getting his right arm in just the correct place to knock the ball out of Ingram's hands and into the end zone, which gave Auburn the ball, the momentum and the eventual victory.
Had Brotzman's leg pulled his last-second winning field goal attempt just a few inches to the left, and if Ingram's arm would have been a few inches forward to evade that game-changing jab which caused the fumble, a potential defending National Champion (provided Boise would have made it that far and defeated Oregon) with several returning starters would be favored by just three points on a neutral field to open the season over a team which finished below .500 and lost six players to the NFL. including a key wide receiver.
At the very least, Boise was inches away from being undefeated, and like last season, highlight college football's opening weekend as a small favorite over a big conference opponent on a neutral field.
Except Georgia is likely not as good as last season's Virginia Tech team.
"He's our boy," said Boise's quarterback Kellen Moore, about Brotzman after the loss at Nevada which kept the Broncos out of a BCS bowl berth.
The classy and talented veteran, now 38-2 as a starter with both losses by an average of two points, has 15 returning starters surrounding him on both sides of the ball from a team that helped accumulate a 62-game winning streak at home.
Not overly flashy, Kellen Moore is one of the coolest, calmest and most collected quarterbacks in the pocket. His decision-making ability and high accuracy passing has him needing just one touchdown pass to make it 100 for his career, against just 19 interceptions.
He'll need that accuracy more than ever this season, as he loses receivers Titus Young and Austin Pettis, both of whom were with him for three years and played key roles in the win over Virginia Tech.
Moore is left with a bevy of sophomores and juniors at the receiver position, along with senior Tyler Shoemaker, who had three catches in last season's opener. Tight end Kyle Efaw and his 12 yards per catch are back, along with running back Doug Martin who can also catch the ball.
Last season the Broncos offense played it normal and conservative in their opener, but this would be a fine time to pull some tricks out of the offensive playbook, just as they did so often in 2006.
Boise's defense ranked fourth nationally last season in rushing yards per carry and the front seven loses just two starters.  With star wide receiver A.J. Green saying bye-bye to Georgia, that will take a bit of strain off Boise's secondary, which also loses a pair of starters.
Georgia's Aaron Murray led all freshman quarterbacks last season with his remarkable touchdown/interception ratio (24/8) but one must wonder if the good fortune will continue without A.J. Green.
In addition to losing A.J. Green, Georgia will also be moving on without running back Washuan Ealey who averaged nearly six yards per carry last season. Last season they had Caleb King, now highly touted freshman Isaiah Crowell will be in the mix as well.
Tulsa and Air Force travel to Boise. They'll have two weeks to prepare for Toledo. TCU is breaking in a new quarterback, offensive line and sport a retooled secondary. Nevada lost its key offensive personnel from last season and will lose at Boise by at least two touchdowns.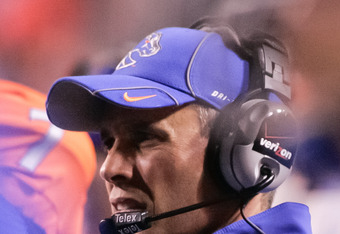 Georgia is likely all that stands in the way of an undefeated season for Chris Petersen's Broncos.
Fans in Boise know it.
Last season, Sports Illustrated had to send 30,000 additional copies of their magazine to Idaho because the original 10,000 sold out on newsstands.
This season, the Broncos set a record for attendance at the offense-defense game, surpassing the old record from the spring game.
Even if an undefeated season isn't enough to propel the Broncos into the championship game in January, they would savor the opportunity to show the country what's up against a BCS powerhouse, just as they did to Oklahoma in the Fiesta Bowl following the 2006 season.
And just as TCU did against Wisconsin in the Rose Bowl.
Last season it was the Horned Frogs, but if Boise wins their season opener, the Broncos will have the spotlight for 2011.
If Boise does finish undefeated and is able to get ahead of some high profile one-loss teams in the BCS standings, imagine the excitement that will swirl around the college football community for a potential rematch with Oklahoma provided the Sooners, who open the season ranked No. 1 in the AP poll, make it to the title game.
The game in Atlanta is likely college football's second most intriguing contest during the opening weekend behind LSU-Oregon, and is strikingly similar to last season's Boise-Virginia Tech game because it is arguably the Broncos' biggest road block in their season.
Although Petersen is working with some new faces on offense and defense, never doubt a coach who calls a "Statue of Liberty" trick play to win a BCS bowl game instead of kicking an extra point to tie.
Interestingly enough and despite Boise's win over Virginia Tech last season, oddsmakers in Las Vegas have opened the Broncos as a three-point favorite, which is just slightly higher than last season when they opened Boise as a 2.5-point favorite over the Hokies (the point spread eventually moved in Virginia Tech's favor).  Virginia Tech was ranked sixth in the country at the time, while Georgia starts the season ranked No. 19 in the AP poll.
An important factor to consider is the venue location, which will feature a significantly larger percentage of Bulldog fans. Keep in mind, though, last season's Boise-Virginia Tech game in Maryland featured only about 10,000 Boise fans with most of the rest being Hokie fans.
That is, except for all the Maryland and other ACC fans who were surely rooting for Boise against their ACC rival, just as many SEC fans will be for this game (providing they aren't affiliated with the University of Georgia).
Although their players, coaches and fans will be eager for a quality non-conference victory, this is a game the Bulldogs can literally afford to lose.
Georgia could even lose to New Mexico State in November (although they won't) and still end up in a BCS bowl if they run the table in the SEC, just as Virginia Tech lost to Boise and James Madison before ending up in the Orange Bowl against Stanford.
Georgia can hit and miss. Boise can't miss once.
As is the case with most SEC teams, Georgia has quality athletes and will put up a fight, but the sense of urgency lies with the Broncos. Boise always seems to step it up on national television and never seems fazed, so look for a win over the Bulldogs to start the season.
Even if it comes by inches.