UCLA Bruin Football 2011 Preview and Predictions: A Sense of Urgency
August 10, 2011
Jeff Gross/Getty Images
After going 4-8 two out of the past three years, including last year, I think everyone agrees that UCLA's football team, beginning their 93rd season, has been mediocre at best and downright lousy at worst.
The prognosticators and preseason publications don't seem to think that things will get any better in Westwood, as the Bruins begin life in the new Pacific-12 Conference's Southern Division.
Athlon's, Lindy's, and the writers at the Pac-12's recent football media day all pick UCLA to finish fifth out of the six teams in the Pac-12 South.
The Sporting News, in a complete lack of respect, has the Bruins finishing dead last.
Phil Steele, who publishes an annual preseason magazine, is more generous in his assessment of UCLA. He has them finishing third.
One other thing that everybody in Bruin Nation and the rest of the country agrees with is that Rick Neuheisel, entering his fourth season as the head coach at his alma mater, is on the hot seat.
His Bruins, essentially speaking, will be playing for his job survival as a consensus has been reached that Neuheisel needs to win at least six games and make the postseason to remain the head coach in 2012.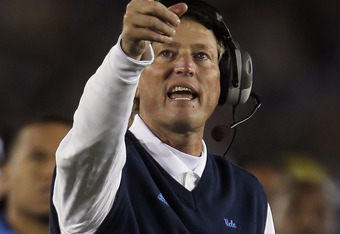 Jeff Gross/Getty Images
It's safe to say that these Bruins have a sense of urgency, if not desperation, to show improvement and progress as a team and as a program.
In other words, to win games.
I for one am rooting for Neuheisel to succeed due to the fact that no one is more enthusiastic, dedicated and passionate about UCLA than he is. 
I know that no one wants the Bruins to win more than he does; he has hired new coordinators, Mike Johnson for the offense and Joe Tresey for the defense, to try and make a difference among the players.  
Johnson and Tresey are two guys with intense personalities and approaches who made themselves known during spring practice. Hopefully that will be effective.
Speaking of the players, I don't think their 4-8 record reflects their ability, as the majority of the team came from recruiting classes ranked in the top 15, as much as it reflected them underachieving on the field.
There is talent on the Bruins' roster, especially among the running backs as there's nothing wrong with that unit, led by Johnathan Franklin and his 1,127 yards from last season.
Derrick Coleman, who averaged 5.9 yards a carry in 2010, is the thunder to Franklin's lightning, complementing him rather well, and Malcolm Jones and Jordon James round out a running back corps that is deep, strong and will be counted on to get yards out of the "Pistol"  offense.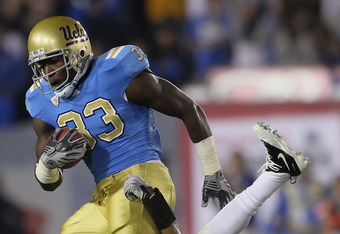 Jeff Gross/Getty Images
The keys to UCLA's season will be the performances at quarterback and on both sides of the line.
Kevin Prince, despite his lack of success at throwing the ball down field and staying off the injured list, missing over half of last season, is slated to be the starter behind center. For the Bruins to have any chance of winning, Prince must execute better, throw better and stay healthy.
If he doesn't, at least the Bruins have someone who got valuable experience last year, Richard Brehaut, who struggled at times but has a better throwing arm, and they do have a highly touted freshman quarterback in Brett Hundley, a 4-star recruit, though he needs to be brought along slowly and stay third string at best, if not redshirted, as he is UCLA's future.
Led by center Kai Maiava, who's returning from a broken ankle, and Sean Sheller, who was successful in obtaining a sixth year of eligibility, the offensive line needs to vastly improve, particularly in its pass blocking and like Prince stay healthy as they suffered from injuries and other issues.
The defensive line must get better in pressuring the quarterback and along with the rest of the defense, improve against the run as opposing backs had 100-yard games in UCLA's last eight contests, the Bruins going 2-6 in that span.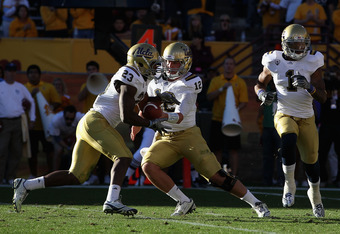 Christian Petersen/Getty Images
Coincidence? I think not.
The talent is there on the defensive side, with guys like Jordan Zumwalt, Patrick Larimore, and Sean Westgate at linebacker, Tony Dye at strong safety, Aaron Hester, who led the team in interceptions in 2010, at cornerback, and Datone Jones, returning from a broken foot, at defensive end.
Cassius Marsh and Damien Holmes have upsides on the line as well.  
It's all just a matter of getting the job done, along with the offense doing a better job of getting first downs, which was a problem last year, so the defense doesn't get tired late in games.
Looking at this year's schedule, unlike most of the prognosticators I am optimistic about UCLA's chances in most of their games.
Here's how I think the Bruins will do at home in 2011:
San Jose State, Sept. 10: BIG WIN 
This is the only "gimme" game on the Bruins' schedule, as the Spartans went 1-12 in 2010 and look no better this year.
Put it this way, losing this game will all but sign and seal Neuheisel's death warrant.
Texas, Sept. 17: TOUGH BUT WINNABLE
After enduring that huge 34-12 upset in Austin last season, the Longhorns will be extremely revenge-minded. And no one expects them to go 5-7 again as they will be a much improved team.
Fortunately, the home field and crowd at the Rose Bowl will help the Bruins here.
Washington State, Oct. 8: WIN
Wazzu gave UCLA a scare last year, have a better team on offense this season and are no longer everybody's whipping boys, but the Bruins have the defensive personnel to stop them.
And the offense should run ram shod over those Cougars again.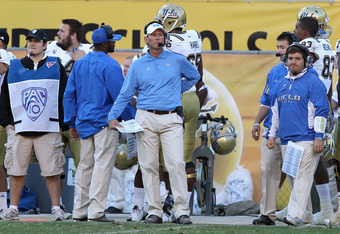 Christian Petersen/Getty Images
California, Oct. 29: WIN
These Bears from Berkeley may not be as Golden in 2011. Despite having a decent new quarterback in transfer Zach Maynard, they've lost too many key players and will probably struggle a bit like their younger brothers to the south.
Plus the Bruins are tired of losing to Cal. And it's Homecoming.
Arizona State, Nov. 5: TOUGH BUT WINNABLE
This is UCLA's toughest home game of 2011. No doubt because of the Sun Devils' vaunted defense and their monster linebacker Vontaze Burfict, who's the odds-on favorite to win the Butkus Award this season.
If this game were in Tempe, I'd have the Bruins losing, but being in the Rose Bowl with the home crowd will help and be a factor.
Colorado, Nov. 19: WIN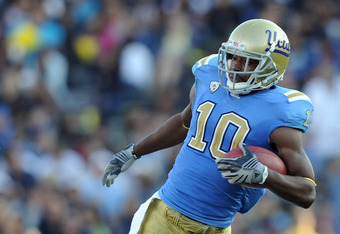 Harry How/Getty Images
One of the two new conference members along with Utah, these Buffaloes have been on hard times for the past several years and are rebuilding again under new head coach Jon Embree, a former UCLA assistant.
As for the away games, they won't be easy as the Bruins are 4-13 away from the Rose Bowl in the Neuheisel Era.
Stanford on Oct. 1st is an almost guaranteed loss, what with all-everything quarterback Andrew Luck returning and the Cardinal opening in the Top 10 after going 12-1 with a dominating win in the Orange Bowl last year.
The season opener at Houston on Sept. 3rd, along with the games at Oregon State, Arizona and Utah, will likewise be tough.
And USC on Nov. 26th at the Coliseum, which falls on Thanksgiving weekend?
It is a personal tradition of mine to not make assessments or predictions of UCLA's chances against the Trojans until the week of that game, so I'm going to wait, let things unfold and not mention SC until then.
So to sum up, the Bruins are talented enough to end 2011 with a better record than they had in 2010, and there's certainly potential for a bowl bid.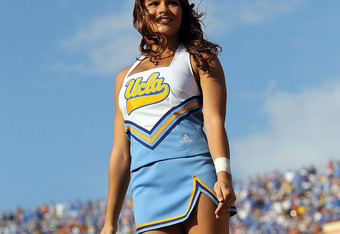 Ronald Martinez/Getty Images
My prediction for the season is thus:
A record of seven wins and five losses, a fourth place finish in the Pac-12 South with a chance at third, and a berth in the Kraft Fight Hunger Bowl in San Francisco.
In other words, UCLA will be a better team because there's too much talent and potential and too much at stake for them not to be.
Compared to what nearly everyone else is saying, I know I'm putting myself on a limb here.
I only hope that these Bruins prove me right because Neuheisel's job will most likely depend on it.