LSU Fans Show True Colors in Jordan Jefferson Case; New Twist Soon?
August 30, 2011
Kevin C. Cox/Getty Images
Since May 2, 2008—the day Louisiana State University head coach Les Miles released former standout quarterback Ryan Perrilloux from the football team—there has been a division growing in the LSU fanbase.
The divide, not unlike the debate over the head coach himself, has splintered into two camps between those who support QB Jordan Jefferson and those who support QB Jarrett Lee. There appears to be no middle ground.
One would think that two young men, having followed almost exactly the same path—rushed into action too soon, early struggles, mountains of potential with limited results and now a wonderful opportunity for redemption—to get where they are would have similar reactions from LSU fans.
Yet, that has not been the case. Jarrett Lee, who was perhaps the most self-destructive QB in LSU history in his interception-laden freshman year, was dubbed General Lee last year and became the most popular player on the team in some circles. 
Was it because of his stellar performance?
Lee did have some solid performances and led the game-winning drive against Tennessee, threw the game-winning touchdown against Florida and sealed the win over Alabama with a crucial play late in the fourth quarter.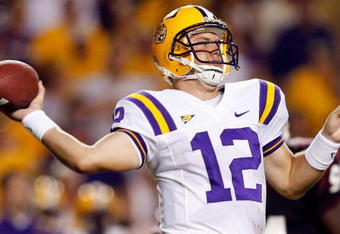 Chris Graythen/Getty Images
Yet he struggled too.  In fact, down the stretch he and Jefferson seemed to play well at the same times as much as they played poorly in concert.
Both struggled against lowly opponents such as McNeese State and University of Louisiana at Monroe.  In fact, the numbers against ULM—Jefferson  4-of-10 for 51 yards; Lee 4-of-12 for 44 yards—belie the fact that the team posted a 51-0 win over the 5-7 Warhawks.
Don't get me wrong, Jefferson has his supporters. Many of them bought into the preseason hype of the coaching staff and media that Jefferson was poised to break out of his early struggles and have a senior campaign for the ages.
That all got derailed by an early morning bar fight outside of Shady's lounge in Tiger Town last Friday that sent four men to the hospital.
According to the partially redacted police report released to the press on August 25, a witness identified as Victoria Long stated that she had seen the entire altercation. 
She and self-identified victim Andrew Lowery claim that a man previously not known to them yelled at the crowd to move a vehicle blocking him and immediately was pulled from his vehicle and attacked by 10 to 15 people.
Long says that Lowery rescued the man and then was himself attacked by the 10 to 15 men and that five more joined in. She specifically identified Jordan Jefferson and Josh Johns and said the Jefferson kicked the man in the face while he was on the ground.
Interestingly, she also said that the man pulled from his vehicle claimed to have a gun and threatened to use it.
So who was responsible for those injuries? Is not that why Jefferson and Johns are charged with felonies?
Perhaps. It has also been reported that Lowery, who claimed to be an innocent bystander running to the aid of an unknown man, is not so innocent. 
Shady's General Manager John Peak told the Associated Press, "What we do know is that Lowery threw the first punch, that's one thing we do know and we will attest to and he had been kicked out of the bar."
Peak and other employees told the AP that Jefferson was off to the side and not in the mix, which also contradicts the initial report.
So was Jefferson booked because he was responsible or because he, along with Johns were the only two players identified by Long? 
As an aside, I think any Baton Rouge resident or college football fan could spot Jordan Jefferson in a crowd, but how many could single out a third-string linebacker and not identify any of the other 20 or so alleged to have been involved?
The other three victims told police that the attackers were all large black men, Johns is neither.
Was Jefferson booked because he allegedly battered a helpless Marine?
The death threats he has received certainly indicate that many associated with the USMC believe this to be the case, as does his attorney, who has reported that his client suffered facial fractures, broken teeth and other major injuries, including a concussion and being knocked unconscious.
Yet, he declined medical attention at the scene, told the police he was okay and later when he decided to go to the hospital because "his dad told him to," he was released after two hours with minor injuries.
Victoria Long, who has been called a third-party witness, told police at 6:10 a.m. that Lowery didn't obtain any serious injuries and was home sleeping from the hospital.
So the third-party witness has enough familiarity with a victim, unknown to her four hours previous, to inform the police of his injuries and slumbering whereabouts?
There are a number of things that need sorted out here by District Attorney Hillar Moore, but my beef is with LSU fans.
The immediate rush to judgment against Jefferson appears to this correspondent related more to which of the aforementioned camps an individual falls in.
The Lee camp is adamant that their man is the man and he should start from now on.  I will not flat out accuse this camp of rooting for Jefferson's demise but some of its campers sure have.
Those not in the Jefferson camp say he must be guilty. "He got arrested." "He's a thug for kicking a man while he is down so kick him off for good." "He had to do it because Victoria Long saw him."
Well, perhaps he did kick the man and if he did, I'd agree he deserves to be suspended, though considering this is his first run in with any type of trouble I'd think anything more than three games would be harsh.
On the other hand, what if Jefferson kicked no one?
His renowned attorney, Lewis Unglesby is adamant that he did not; his former attorney Nathan Fischer was equally adamant and several eyewitnesses—though it is unclear if BRPD has bothered to interview them still—claim he did not.
What if another teammate actually kicked the man? Rumors have been ongoing and actually surfaced today on several talk radio shows that more suspensions and or arrests are imminent related to this issue.
How are the camps going to break when a more popular player and perhaps even more integral part of the offense is lost to arrest and suspension?
Will those who called for the immediate expulsion (and redaction from the LSU record books) of Jordan Jefferson be so holy?
Will they demand that the young man be held to the highest standards come what may, no matter how important he is to the team's production? Or will the caution others not to rush to judgment as many in the Jefferson camp pleaded?
We may see, I hope not but hope just ain't what it used to be.