NCAA Football: Week 1 Provides Early Look into BCS Race
August 8, 2011
Chris Graythen/Getty Images
While we're somewhat used to having some great early season non-conference matchups, the upcoming season provides some real heavyweight tilts in Week 1. These teams will have to wait to play their directional-school counterparts or their Sun Belt whipping boys until later in the season.
Oregon vs. LSU (Arlington, TX) Saturday, September 3rd
When we last saw the Ducks, they were battling it out in Glendale for the national title, falling oh-so-short against Cam Newton's Auburn Tigers. That was then, and this is now. Under a cloud of allegations of illegal recruiting practices, including allegations that Oregon accepted a check from a "recruiting service" for the delivery of RB LaMichael James to Eugene, the Ducks start their 2011 campaign with a lot of question marks, at least off the field. On the field, don't expect anything less than the same explosive offense that averaged 531 yards per game and 47 points per game in 2010.
The Tigers are coming off a Cotton Bowl win against Texas A&M and seem to have finally settled on QB Jordan Jefferson...at least for now. Jefferson's been shaky, as has former starter Jarrett Lee. Waiting in the wings is Georgia transfer Zach Mettenberger, who has a huge arm and is listed at 6'5" and 250 lbs. Regardless of who quarterbacks the Tigers, just know they return eight starters on offense and seven on defense, led by two NFL-caliber cornerbacks in Morris Claiborne and Tyrann Mathieu, a Freshman All-American last year. They have an intriguing schedule with Florida, Auburn and Arkansas all at home. They do have to travel to Tennessee and Alabama, but a win in Week 1 sure could lay the groundwork for a deep run in the SEC.
Kevin C. Cox/Getty Images
PK: LSU
Boise State vs. Georgia (Atlanta, GA) Saturday, September 3rd
O.K., so let's see...neutral field (kind of), away from home, nothing to lose...wait, actually, a lot to lose for the Broncos in Week 1. Like any chance to run the table and get to New Orleans would be flushed down the drain. All the naysayers would come out...again. And although they've moved to the Mountain West and get TCU at home, none of it will matter in terms of a BCS berth if they drop this game. QB Kellen Moore is finally a senior and will either turn up the heat or turn off the burner on all that Heisman talk right out of the gate.
Georgia's actually got a ton of pressure on them this year, coming off a 7-5 year in 2009 and 6-7 in 2010. One has to think that UGA has been lasered in on 2011 and the Boise game in particular to rejuvenate the excitement between the hedges. They do return 12 starters with seven on defense, led by SS Baccarri Rambo (one of the best names in college football) and LB Christian Robinson. QB Aaron Murray, a Freshman All-American last year, should have an even better grasp of the entire playbook. His freshman year was sensational, as he threw for 24 touchdowns and only eight interceptions while completing more than 61 percent of his throws. Tavarres King and Marlon Brown will try to fill the gap left by departed WR A.J. Green.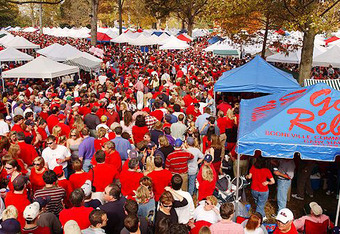 We're done calling Boise St. an underdog. What else do they need to do to prove they belong with the BCS teams? Nothing, they belong. So it would be easy to dismiss a loss here to Georgia as a "told you so" moment, but Georgia's no slouch and is entering a critical year for Head Coach Mark Richt. A loss to Boise in the state of Georgia would be devastating and could spiral the UGA season into turmoil. I just don't see that happening.
PK: Georgia 
Other interesting Week 1 matchups:
BYU at Ole Miss: PK: Ole Miss (Hotty Toddy!)
TCU at Baylor: PK: Baylor (love Robert Griffin III)
Houston vs. UCLA: PK: Houston (Case Keenum's revenge!)