USC Football Recruiting: Fab Five Offensive Linemen in 2012 Trojan Class
August 8, 2011
It is no secret that the USC Trojans need outstanding offensive line recruits in the 2012 recruiting class.  The Trojans have only two returning starters on the 2011 OL with several other talented linemen but little experience.
One of the returning starters, junior offensive tackle Matt Kalil, is likely to leave early for the NFL.  Possible offensive guard starter Martin Coleman is a senior.
USC has a storied football program that has been built on a foundation of outstanding linemen.  The Trojans are loaded with talented skill players.
The missing link to get USC back on the national championship track is a very strong OL.
One of USC's top recruits, Encino (Calif.) four-star offensive guard Jordan Simmons, made an unofficial visit for the Trojans' first fall practice on Aug. 4, according to USCFootball.com.
Simmons had a great time and was impressed with the attention that he received.  There were over 20 other USC recruits who attended the same practice.
Simmons mentioned that there are people at USC talking about a Fab Five offensive line recruiting class with Santa Margarita (Calif.) four-star offensive guard USC commit Max Turek, Lakewood (Wa.) four-star offensive tackle Zack Banner, Tempe (Ariz.) five-star offensive tackle Andrus Peat, Puyallup (Wa.) four-star offensive tackle Joshua Garnett (attended practice on Aug. 5) and, of course, Simmons.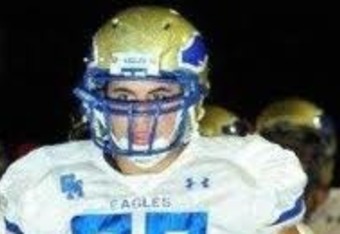 USC is also heavily recruiting San Clemente four-star offensive tackle Kyle Murphy, Las Vegas (Nv.) four-star offensive tackle Ronnie Stanley, Buford (Ga.) four-star offensive tackle Vadal Alexander and Richmond (Calif.) four-star offensive tackle Freddie Tagaloa.
The Trojans have a solid commitment from Arik Armstead, who is one of the best defensive linemen in the class.  Many believe he would be an even better offensive tackle at 6'8" and the athleticism of a very good basketball player.
USC already has 10 verbal commitments, but at least one is not expected to sign.  There are at least three early enrollee slots in addition to the NCAA sanction limited 15 scholarships (subject to a 75 team limit).
Head coach Lane Kiffin, recruiting coordinator Ed Orgeron and the other USC coaches have proven to be outstanding recruiters with top five recruiting classes the past two years despite the worst NCAA sanctions since SMU.
The top offensive linemen often wait until late in the year or NSD to commit.
However, here is hoping the Fab Five commit to the Trojans sooner rather than later.  Join Max and you will love USC, and your opportunities for college football and the NFL. 
You will also be loved by Trojan fans, coaches and the rest of the team.