Iowa Football: 10 Training Camp Priorities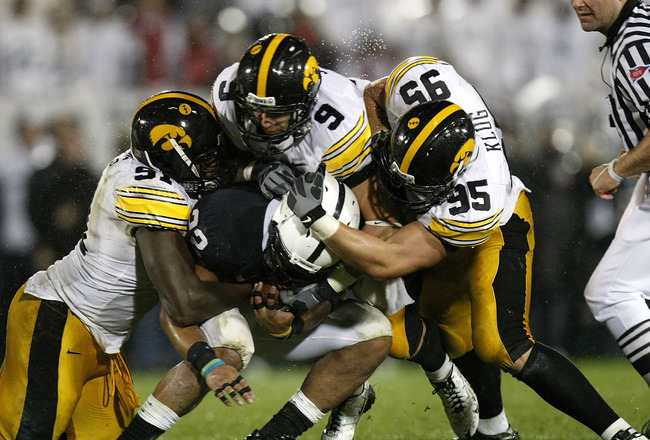 Gregory Shamus/Getty Images
It's early August, which means freshmen have started to report and training camps have begun.
There's less than a month until the college football season kicks off, and many teams are in the process of teaching their newcomers their playbooks and working out key position battles.
Iowa is no exception, as the Hawkeyes are in a rebuilding mode in 2011.
With a light load to start the season, Iowa has a decent cushion to work with. However, it must resolve some issues before the opener against Tennessee Tech.
Check out the Hawkeyes' 10 training camp priorities.
Decide on a Backup Quarterback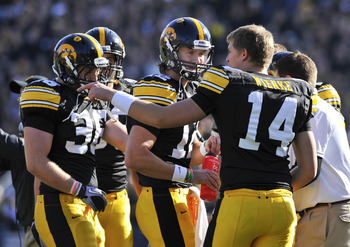 David Purdy/Getty Images
James Vandenberg is fully entrenched in the starting quarterback position, but the backup situation has yet to be resolved.
Junior John Wienke was the third-string quarterback last year behind Vandenberg, but in spring practice, redshirt freshman AJ Derby made a run at the backup job.
Coach Kirk Ferentz said that the two were even after spring practice, but recognized at Iowa media day last week that he must choose a backup during fall camp.
Although the winner of the position battle likely won't see many reps in the season, it's important to have a go-to backup in case something happens to Vandenberg.
Choose a Corner Opposite Shaun Prater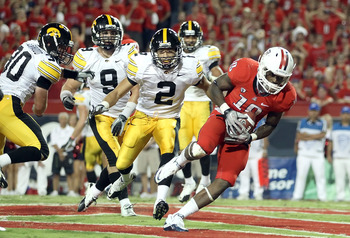 Christian Petersen/Getty Images
With Micah Hyde likely moving to safety, Iowa will need to choose a corner to play opposite All-Big Ten corner Shaun Prater.
Hyde's switch will help to spread the experience throughout the secondary, but it leaves a hole at his former position.
Prater is one of the top corners in the conference, which means Hyde's replacement will likely see the ball thrown to his side more often than not.
Right now, Greg Castillo and BJ Lowery are the most likely candidates to replace Hyde. Both have seen gametime, but are still relatively inexperienced. There's a chance both could play, but expect Ferentz to pick a starter before the opener.
Keenan Davis Needs to Embrace His Starting Role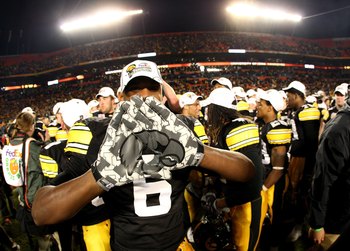 Streeter Lecka/Getty Images
Davis came into Iowa as a highly touted recruit, but he has not been very productive during his career so far.
Now, as a starter, this is his time to prove his skills.
Davis was a star in spring practice, but now he needs to translate that to the field. He has the talent, and becoming a leader in fall camp will go a long way toward determining how effective he can be on the field.
The Defensive Line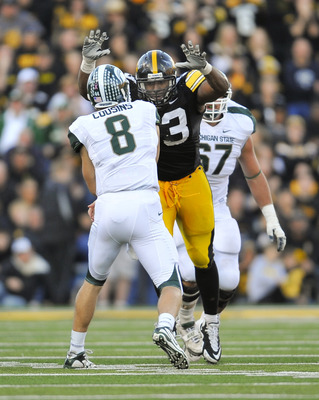 David Purdy/Getty Images
Iowa lost three stars on the defensive line in Adrian Clayborn, Karl Klug and Christian Ballard. However, there is still experience returning.
Mike Daniels and Broderick Binns will be the leaders of the defensive line, but there are veterans—if inexperienced veterans—returning as well. However, there is also a lot of young talent.
In order to get playing time for both the veterans and the young players, Ferentz said that the line could use a six to eight man rotation.
If that is the case, then fall camp will be important in getting everyone ready for a "starting" position.
Get the Freshman Running Backs Ready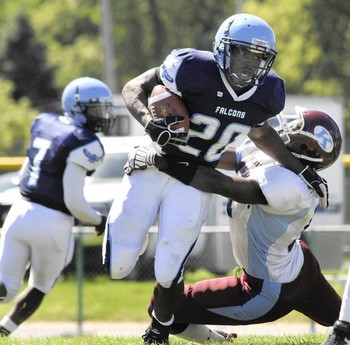 Marcus Coker will clearly be the starting running back for Iowa this year, but finding a backup will be very important to his success.
Coker is walking into a situation similar to Shonn Grenne's in 2008 in that the offense will run the ball a lot due to inexperience at quarterback and a strong offensive line. He is also a physical runner who could get banged up during the season.
And considering Iowa's luck at running back recently, it may need more than one backup.
Junior James White is the backup for now, but it's possible that the backup coming out of fall camp will have just arrived on campus.
Freshmen Mikail McCall and Jordan Canzeri are very talented runners, and Ferentz hasn't ruled out playing freshmen this season. Expect McCall and Canzeri to get a lot of carries in, as they could possibly see action early in the season.
Keep the Running Backs Healthy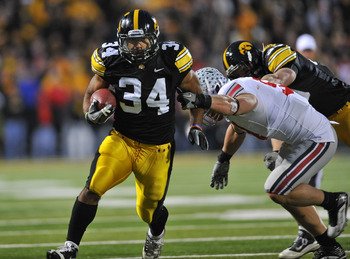 David Purdy/Getty Images
This seems like a given, but Iowa has had problems keeping running backs on the field over the past two seasons.
In 2009 all of the running backs got banged up, but Adam Robinson and Brandon Wegher still played for a majority of the season.
In 2010, Robinson, Wegher and Jewel Hampton were supposed to form an outstanding running back trio. However, Hampton was injured against Arizona and transferred, Wegher left during fall camp and Robinson was kicked off the team before the bowl game.
That left Coker, who was hurt in fall camp.
The Hawkeyes need to make sure they protect Coker so they have some experience at running back while waiting for the freshmen to develop.
Keep the Linebackers Healthy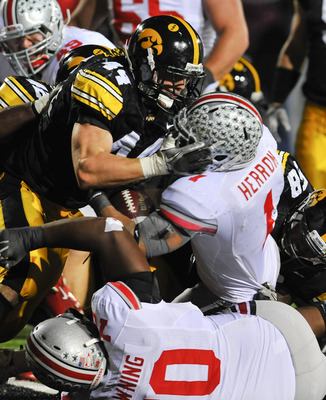 David Purdy/Getty Images
Like the running back situation, Iowa had problems with linebacker health last season, and now that it has a solid group at that position, it must keep them healthy.
James Morris is a budding star in the middle, and Tyler Nielsen will provide some experience on the outside. On the other side, Shane DiBona, Christian Kirksey and Anthony Hitchens will battle for the starting job. DiBona started a few times last year, while Kirksey and Hitchens are both talented but inexperienced.
The Hawkeyes should have a solid linebacker corps this fall, but they must keep their players healthy, especially in fall camp.
Establish Leaders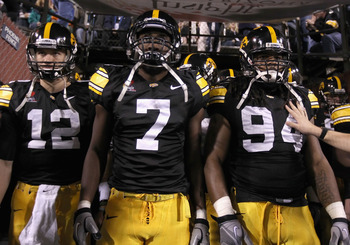 Christian Petersen/Getty Images
This has already been done for the most part, as even casual fans recognize the leaders on the team (i.e. McNutt, Daniels, etc.).
However, this is the time for the freshmen to get comfortable with the upperclassmen and for the upperclassmen to help the freshmen along.
Iowa had a very solid recruiting class last season, and if the upperclassmen can give them guidance, they will improve greatly over the next month.
Conditioning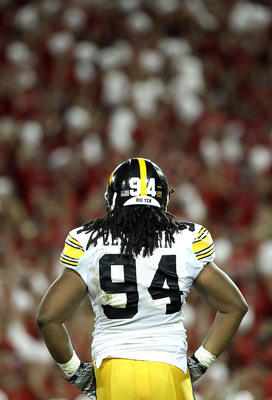 Christian Petersen/Getty Images
In 2009, Iowa was known for its resilience and ability to win games in the fourth quarter. In 2010, however, the Hawkeyes gave up a number of fourth quarter comebacks.
The lowest point was against Northwestern, when the Dan Persa helped the Wildcats come from 10 points down in the fourth quarter to win 21-17. The Iowa defense was gassed trying to defend Persa on the ground and through the air and trying to keep up with Northwestern's hurry-up offense.
The players and coaches both acknowledged the fourth quarter conditioning issues.
Fall camp is the time for the players to make sure that they have learned from last year's mistakes, and it is up to the upperclassmen to push the freshmen to make sure both are conditioned for the fourth quarter this season.
Get CJ Fiedorowicz More Involved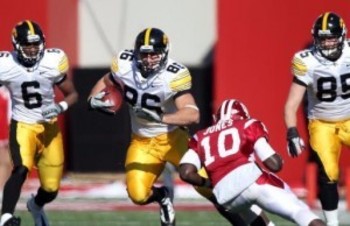 Fiedorowicz was a very highly touted recruit coming out of high school due to his massive frame, pass-catching abilities and athleticism. However, his role was limited last season.
This year, he will be the backup tight end and will see a lot of playing time because Iowa employs a number of two-tight end sets.
Having Fiedorowicz on the field in addition to starter Brad Herman gives the Hawkeyes a valuable tool in the passing game, as Fiedorowicz's size makes him difficult to cover and his pass-catching abilities are above average for a tight end.
He can be a big help to quarterback James Vandenberg and give the new starter another solid option in the passing game.
Keep Reading

Iowa Hawkeyes Football: Like this team?