College Football 2011: Ranking the Top 5 Cornerback Tandems in the Nation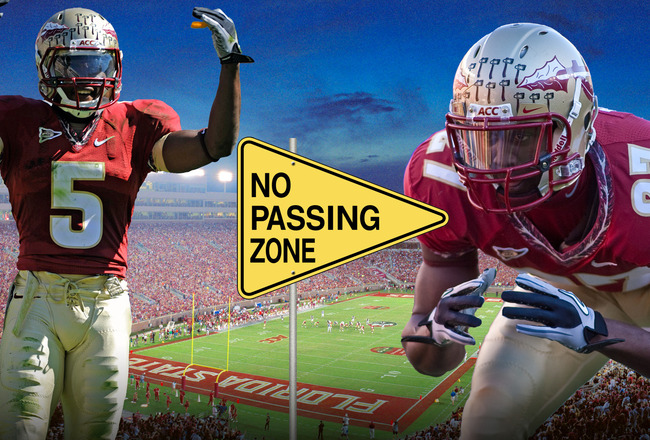 As the 2011 college football season draws near, we now rank the nation's top cornerback tandems.
It's no secret that a shut-down cornerback is an invaluable asset for any defense in football. A player who can erase one half of the field puts the opponent at a big disadvantage.
But what could be better than having an elite cornerback patrolling the secondary?
Try having two, each shutting down one side.
These five dynamic duos will camp out on their islands and make life miserable for opposing offensive coordinators in 2011.
Sources: NationalChamps.net, ESPN.com
Honorable Mention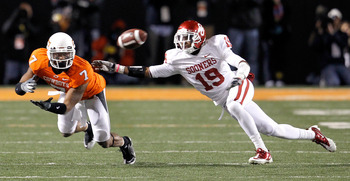 Tom Pennington/Getty Images
Jamell Fleming and Demontre Hurst, Oklahoma Sooners
Jamell Fleming broke out as a junior with 71 tackles and five interceptions for the Sooners' defense. He returns with Demontre Hurst, who recorded a pick and three forced fumbles as a sophomore. Both are returning starters.
Coryell Judie and Terrence Frederick, Texas A&M Aggies
The Aggies ended 2010 on a high note and look to bridge their success over to the 2011 season. Leading the charge on defense is Coryell Judie, who emerged with 57 tackles and four interceptions, and unheralded counterpart Terrence Frederick.
The secondary should be A&M's defensive strength.
Travis Howard and Dominic Clarke, Ohio State Buckeyes
A projection pick; Travis Howard and Dominic Clarke will both be new starters, but both showed a lot of promise in 2010 behind Chimdi Chekwa and Devon Torrence. Howard and Clarke could both have breakout seasons and move up this list as the season progresses.
5. Dre' Kirkpatrick and DeMarcus Milliner, Alabama Crimson Tide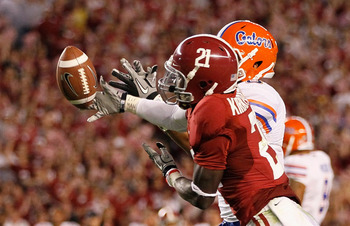 Kevin C. Cox/Getty Images
Dre' Kirkpatrick and DeMarcus Milliner are both former five-star prospects who were very highly recruited out of high school. Both were thrust into starting roles early in their careers and had some growing pains, but showed flashes of brilliance in 2010.
Kirkpatrick, while notching 53 tackles and three interceptions, looked a step slow at times throughout the season and relied heavily on his teammates in the secondary. At other times, however, he displayed enough talent to be considered one of the 2012 NFL Draft's top cornerback prospects. At 6'3", he has tremendous size for the position.
Milliner was a bit of a liability for the Crimson Tide in 2010, but as a freshman, that's understandable. He still recorded a respectable 54 tackles and a pick, and should improve tremendously in his second year.
The sky's the limit for these two, and with Mark Barron and Robert Lester at the safety spots, Alabama could have the nation's best secondary in 2011.
4. Shaun Prater and Micah Hyde, Iowa Hawkeyes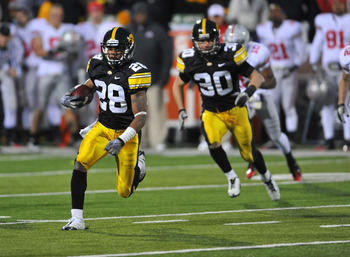 David Purdy/Getty Images
If you're a Big Ten team that likes to pass, you better do some extra homework the week before you play the Iowa Hawkeyes.
Shaun Prater is regarded as one of the country's best cornerbacks by most, and opposite him is Micah Hyde, a guy who could give his counterpart a legitimate run for his money.
Prater is a ball-hawk who turned four interceptions into 80 yards and a touchdown, and added 68 tackles for good measure. The senior from Omaha, Neb. will take on a leadership role for an Iowa team that is difficult to gauge after some major losses on both offense and defense.
On the other side, Hyde will try to build on an impressive 82-tackle, four-interception performance that ended with his 72-yard pick-six that sealed an Insight Bowl win against Missouri. If offenses shy away from Prater's side of the field, Hyde will make them pay.
Cornerback should be Iowa's strongest position in 2011.
3. Alfonzo Dennard and Ciante Evans, Nebraska Cornhuskers

Eric Francis/Getty Images
What do you do when you lose an elite talent like, say, Prince Amukamara?
If you're Nebraska, you just reload.
The Cornhuskers have one of the top cornerbacks in the nation in Alfonzo Dennard, and sophomore Ciante Evans looks to step into Amukamara's spot without missing a beat after flashing enormous promise as a true freshman.
Dennard was overshadowed by Amukamara last season, but recorded 31 tackles and four highlight-reel interceptions, returning one for a touchdown. Quarterbacks shied away from the All-American's side, and Dennard made them pay dearly. When he went down with a concussion and missed two games, the Huskers badly missed him and were lucky to escape Ames without a loss.
Evans looks to follow in Dennard's footsteps as the team's No. 2 cornerback. He made just nine tackles in limited time and struggled a bit against Iowa State, but when he was forced into a starting role against Missouri, he made a big impression by breaking up two deep scoring opportunities and denying Blaine Gabbert a touchdown on fourth-and-goal. Evans figures to improve immensely in his second year.
The Huskers have yet to secure a championship under Bo Pelini, but their tandem of Dennard and Evans will bring them that much closer.
2. Morris Claiborne and Tyrann Mathieu, LSU Tigers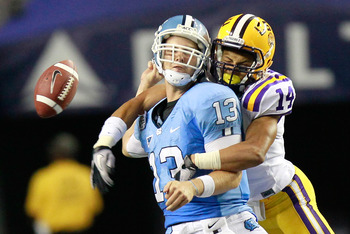 Kevin C. Cox/Getty Images
Much like Nebraska, the LSU Tigers lost an unbelievably talented cornerback in Patrick Peterson, but will still have one of the nation's top cornerback tandems in 2011.
Morris Claiborne was LSU's version of Husker Alfonzo Dennard, racking up 37 tackles and five interceptions across from the more heralded Peterson.
However, with 59 tackles, 4.5 sacks and two interceptions, Tyrann Mathieu played well enough as a mere freshman to lead many to believe he's even better than Claiborne. It's no wonder LSU was able to finish 11-2 last season despite questionable coaching and offensive play.
Mathieu will make a jump in his sophomore year as he transitions into a starting role, while Claiborne should only get better as well. 2011 could be an even stronger year for the Tigers, who are considered to be legitimate National Championship contenders. Claiborne and Mathieu will do everything they can to get them there.
SEC quarterbacks, be very afraid.
1. Xavier Rhodes and Greg Reid, Florida State Seminoles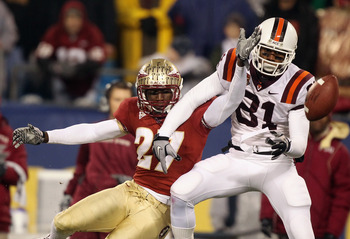 Streeter Lecka/Getty Images
Xavier Rhodes and Greg Reid combined to form one of the nation's top cornerback tandems in 2010.
Rhodes emerged as a shutdown corner and recorded 54 tackles, two sacks and four interceptions, while Reid added 61 tackles, three forced fumbles and three picks.
As if that wasn't impressive enough already, you want to know the real kicker?
Before the beginning of the 2010 season, Rhodes and Reid had a combined one season of experience.
Rhodes started as a freshman and instantly proved to be one of the country's best, while Reid built on an impressive freshman campaign with another solid season as a sophomore. The two figure to continue improving for a Florida State team that has National Championship implications in 2011.
You can expect Rhodes and Reid to thoroughly dominate pass-defenses this coming season and prove to the nation why they are the best cornerback tandem college football has to offer.
Keep Reading