Big East TV Negotiations and Expansion: Last but Still Least?
August 6, 2011
Tom Pennington/Getty Images
The Big East Conference wants to shed the image as the "Least" of the six automatic qualifying Bowl Championship Series (BCS) conferences.
As the long-time super-powered basketball conference seems to be making up for lost time in the football "gold rush" of TV contracts and seismic shifting in the world of college athletics, Commissioner John Marinatto is the latest conference head to hint at expansion as a means to that end.
The college conference landscape underwent massive change in the last 18 months, sparked by the normally reserved Big Ten's Jim Delany comment in late 2009 that super-charged the internet blogosphere into expansion-mania.  The end result was a 12-team Big Ten Conference that added football superpower Nebraska, a Pac-12 that leveraged additions of Utah and Colorado into a massive new payday, and a Big 12 conference with a serious identity crisis.
Big East Commissioner John Marinatto hopes to reverse the image of the Big East being a "feeder-conference" for coaches and programs on their way to more elite surroundings.  This perception is strongly enforced in the national media after the conference lost Miami, Virginia Tech, and Boston College due to ACC expansion in 2003-04; and the league's most successful football coaches in recent years have stepped up the rung in their careers (Rich Rod to Michigan, Randy Edsall to Maryland and Brian Kelly to Notre Dame).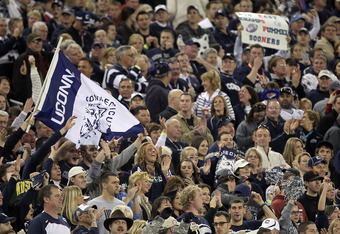 Ronald Martinez/Getty Images
The timing could be right for the conference to finally take action, rather than reaction, and "monetize" their potential (to coin a term from Pac-12 commish Larry Scott).  With some of the largest TV markets within their footprint, the Big East conference has no lack of upside to accomplish that.
So what is holding them back?
Football. Or lack of elite, national championship-contenders in football to be more precise.
The Big East is a basketball juggernaut, but a football afterthought among national media outlets.  Bridging the gap between a group of "solid" regional football programs into the leverage needed to draw TV viewership at a national level is exactly why the conference hired former NFL Commissioner Paul Tagliabue as a strategic adviser.  Tagliabue knows all about the value of TV markets, contract negotiations, staging big events, building consensus and how to market a football league defined by parity.
With a conference makeup that is diverse and widespread, ranging from small private Catholic colleges to large public state flagship universities with teams in Fort Worth, Texas; Tampa, Florida; Milwaukee, Wisconsin and Providence, Rhode Island; building a consensus can certainly be a near impossible proposition.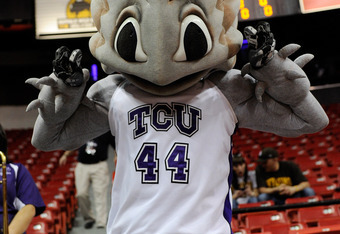 Ethan Miller/Getty Images
With the addition of the 2011 Rose Bowl Champions, the Texas Christian University Horned Frogs coming in 2012, the Big East has certainly played their hand at improving their football stock (and incidentally given UConn a top competitor in baseball).  The addition now leaves the league at nine football playing members, 17 basketball playing members, 13 in baseball and eight still in lacrosse.
To Expand, or Not to Expand?
Obviously, the answer was YES, when it came to adding TCU to the league, but is there more in store for the conference?  Marinatto did nothing to slow down the rumor mill at the Big East media day by stating:
"We'll continue to evaluate candidates for membership similar to TCU that also bring real value.  I will tell you our process is ongoing and we'll continue to study all options."
There are many directions and strategies the conference could take, none of which are clear-cut at this time:
Expansion Strategies: be Aggressive, Traditional, Reactionary, Out-of-the-Box or passive (long-term)?

Aggressive: Why wait for the Big 12's demise? Go for all the marbles and try to break open the seemingly fractured conference with a full-court press on Oklahoma, Missouri and Kansas to join the Big East (taking the assumption that Texas still feels the Big 12, even on life support is still their best option).  Possibly switch Texas A&M for Kansas if there is interest from the Aggies.
Traditional: Court three of the best "non-BCS" candidates: East Carolina, Houston, Central Florida and Memphis.  All of them have very solid credentials in many categories, but none are "slam dunks" across the board.
Reactionary: Wait for the Big 12 implosion and try and pick up some valuable shrapnel with three teams, most likely: Missouri/Kansas/Kansas State; but also could be Iowa State/Kansas State/Oklahoma State with Baylor/Texas Tech as potential "leftovers" depending upon the resulting fallout.  If no fallout occurs then move to the "traditional" option.
Out of the Box: While not an aggressive strategy, this one is certainly creative. Invite Air Force, Army and Navy as football-only members. Patriotism aside, all three programs are consistent box-office and TV ratings draws and gives the conference more "rivalry" power in scheduling prime-time games.  This leaves the 17 team basketball conference intact but allows for the football conference championship game.  It also allows the conference revenues to be split more favorably to the "all-sports" members.
Passive: This strategy seems similar to the "reactionary" one, but is much more long term.  Basically it means doing nothing for now and waiting for another program to "prove itself" in the way TCU did.  Not just at the ticket office or as a conference champion but as a consistent "BCS Buster," this would put ECU, UCF and Houston on notice that a "good team" on the field isn't enough. and gives time for schools like UMass to possible enter the picture down the road.

Television Strategies: On the heels of the expansion decision is the TV rights negotiations. With no other major conference scheduled to be renegotiating until 2015-16, the Big East will be the last marketable conference available for quite a while. As witnessed among other conferences in recent years there are many available options for the conference:

Traditional: Put all sports rights out to the highest bidder.  Leverage NBC Sports interest to drive up the value from ABC/ESPN and possibly Fox Sports and Turner Networks. Let the rights holder then syndicate games to regional networks. (The ACC model).
Two-Tiered Rights: Negotiate the primary rights for football and basketball with a national network, and the secondary rights with regional carriers. Allow teams to sell their own "third-tier" media rights (The Big 12 model).
Three-Tiered Rights: Same as above for tier 1 and 2 rights, but the conference would negotiate the rights for all schools' rights, possibly putting several layers on a "conference network" or networks. That network, or networks, could be conference-owned (Pac-12 model), a partnership (Big Ten model) or a third party (SEC model).
Out of the Box Option: Take any of the above scenarios, but negotiate a "partnership" with non-football member Notre Dame and NBC Sports (the Irish TV partner) to ramp up coverage of all Big East sports, to the benefit of the Irish, the Big East and NBC Sports in competition with ABC/ESPN.  The Irish home games are "owned" by the Irish and NBC seems content with their media rights deal to carry those games, but their road games are not included.  The Irish have an interest in scheduling road or neutral site games against Big East members Pittsburgh, Syracuse, Rutgers and possibly even TCU; in addition to their annual Navy game and occasional Air Force or Army matchup.  Those TV viewers would then still be "owned" by NBC Sports if they held the Big East rights, and it would benefit Notre Dame from a scheduling perspective.
Hockey kicker: Live sports are certainly proving the "flight to quality" theory among advertisers/networks and that is playing out in collegiate hockey as well with the recent realignment being driven by TV rights as the Big Ten Hockey Conference moves to their network and the newly minted NCHC hopes to gain a national deal of their own.  Sitting in limbo in all this, of course, is Notre Dame. Trying to decide where their best interests lie (Hockey East, NCHC, remain in CCHA or something else?), the Irish could align their all-sports rights if the Big East and Hockey East coordinated their TV rights with NBC Sports also.  If Irish hockey joined Hockey East would Army also be brought along (as it looks like Atlantic Hockey is declining)?  Does that leave Air Force hockey as another partner? Would UConn invest fully in their hockey program to participate in such a scenario?

For anyone that discounts hockey as a factor in collegiate sports, it has proven at the big schools to be the only sport beyond football and basketball to be a true "revenue producer," with such schools bringing in several millions of dollars per season.
Along with lacrosse, hockey could be a very good "offseason" sport to market for potential TV partners as the Northeast U.S. is much more interested in those sports than elsewhere.
The Big East shouldn't make the assumption that it is in a "power position" just yet.  The very same instability present in the Big 12 could prove to be just as harmful to the Big East as it appears to be an opportunity.
What if the non-Texas Big 12 members decided that Texas was too big for its own britches and either kicked out the Longhorns, drove them to independent status or reformed their own conference without the 1500-pound-Bevo dictating terms to them? 
This is highly doubtful, of course, but plausible given the recent developments coming out of the conference. Would TCU and Louisville be targets of newly forming Big 12 conference?  Would a league that had Texas A&M, Oklahoma, Missouri and Kansas be able to "outearn" the Big East?  Again, highly unlikely the scenario occurs, but if the landscape changes enough it could potentially "backfire" on the Big East.
Of course, the "superconference" scenario is an ever-present "climate killer" for the Big East. With their schools overlapping the footprints of the Big Ten, SEC, ACC and now the Big 12, the conference will always have that hanging over their head.  The hope is that a new TV contract will cease the immediate financial imbalance for their members versus the other "BCS schools" and minimize that threat.
The Bottom Line
No matter what scenario the Big East chooses, the long-term value of the conference will come down to improving their national image in the money-making sport of football.  I happen to think Big East football is pretty good overall, the games are competitive, and you can see the development of additional rivalries already growing. 
The Backyard Brawl is still the biggest game of the year for the conference, but the Pitt-Cincy game, Mountaineers-Cardinals and UConn-Rutgers games are all growing in annual hatred and importance.
TV networks and fans alike prefer to watch games on TV that have great stadium atmosphere.  Highly attended games usually are the ones that also draw higher TV ratings.  Flipping around channels on a fall Saturday trying to find a good game to watch, most fans stop on the one with the rocking stadium, vibrating cameras and referees drowned out in a sea of fan noise.
No, the Big East members do not have 100,000 seat stadiums packed with standing-room only crowds. In fact they do not even have any 70,000 seat stadiums, but with coordinated scheduling, the conference can offer up one or two highly entertaining games each week to showcase.  By expanding with the "product" in mind, rather than the "potential" of TV markets, they will ensure long-term growth.
Which expansion candidates have such a rabid fanbase that they will help the conference produce a more entertaining viewing experience?
East Carolina certainly fits that bill, in my opinion.  It is hard to argue with 50,000 fans packed into Dowdy-Ficklen Stadium which plans to expand even further with another 8,000 seats.  The Pirates have been aggressive about scheduling BCS competition, have won back-to-back Conference USA titles and have a history playing West Virginia and Cincinnati.  They would rank fourth in the Big East in 2010 average football attendance, slightly behind Louisville but ahead of Rutgers, TCU, South Florida, Syracuse, UConn and Cincy. 
Besides the Bearcats, the Pirates would be the only school in the conference to fill their stands at 99 percent of capacity.  Any talk of them being a "small market" school ignores the fact that East Carolina draws interest and has large alumni following in the big metro markets of North Carolina. If they also played a Big East slate of opponents on a national network would certainly register more in the ratings than the current Conference USA situation.
If the Big East is not able to pry any of the Big 12 members away, then they could do no better than East Carolina University for a myriad of reasons to help further their quality of product on the field.
The Big East already covers a gigantic footprint with marvelous TV markets, but they first need the best quality product on the field to "sell" to those millions of people, otherwise it is just wasted potential once again.  East Carolina improves the football product in every aspect that matters to fans and viewers and that is something that John Marinatto, Paul Tagliabue and the Big East Conference should focus on exclusively.