Nick Saban's Process for Resurrecting the Alabama Crimson Tide
August 5, 2011
Ronald Martinez/Getty Images
The disappointing season that the Crimson Tide and Nick Saban experienced last year was by some standards not that bad. It was a winning season, yes, but by Alabama standards, and their fans', it was dismal.
Undoubtedly most upsetting was the letdown in the second half of the Iron Bowl against arch rival Auburn. Let's face it, giving up a 27-point first half lead to your cross-state nemesis makes even an overwhelming win in the Capital One Bowl pale in comparison to giving up those bragging rights for a year—especially in the way they were given up. Just ask any Crimson Tide fan and you'll probably get that look and an I-don't-want-to-talk-about-it attitude. 
But if history has taught us anything, it's that Saban can resurrect even a mediocre roster to do great things. Fortunately for Coach Saban, he won't have to deal with that dynamic, even with the offensive losses of Mark Ingram, Julio Jones and Marcel Darius. In fact, his defense should be stellar, one of Saban's strengths; and his offense has depth that should easily overcome the lost star power.  
Let's talk about some intangibles where Saban is concerned. 
He inspires his players with a philosophy that harks back to an older, character-enriching style of coaching, even in the bad seasons; and he hates to lose.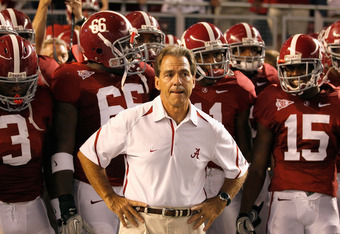 Kevin C. Cox/Getty Images
In his first year in 2007 at Alabama, the Tide went 7-6, and they later faced NCAA sanctions for infractions during that year. But in his second season, the Tide rebounded going into the SEC Championship game 12-0 with No. 1 BCS ranking. However, the Florida Gators and Tim Tebow had other plans, and the Tide went down 31-20, then finished with a disappointing 31-17 loss to Utah in the Sugar Bowl. 
Still, Saban's coaching style and his attention to the players' character, his demand for excellence and discipline never faltered. You can see and hear it in his tone with the press.  He is consistent in good and bad seasons with the way he manages that philosophy. Every play and every game count; so finish every play and forget about the external factors like the press and controversy. 
While he demands a lot from his players, he demands no less from himself, working tirelessly into the wee hours of the morning, pretty much year-round. That work ethic permeates to his players and makes them want to win for him, the fans and themselves, which brings us to the 2009 season. 
Coming off an undefeated regular 2008 season—but a miserable post-season—Saban and the Crimson Tide took on 2009 with a determination to right the wrongs of the prior year. That attitude prevailed with the Tide going 14-0 on the season, a beat-down of the Florida Gators with Tebow in the SEC Championship game and going on to the Rose Bowl in Pasadena to take out the Texas Longhorns for the BCS National Championship.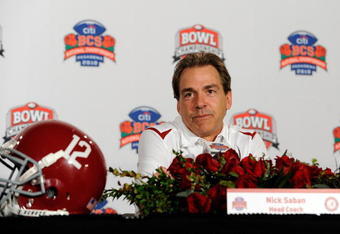 Kevork Djansezian/Getty Images
Yes, the Longhorns' major threat, Colt McCoy, went out of the game early with injury and that seemed to deflate Texas. But sometimes you have to go with the fates; and that year those fates were with Alabama. Add the fact that Mark Ingram took the 2009 Heisman trophy, and 2008 became a distant and forgettable memory. 
There are some similarities between the Tide's 2010 and 2008 seasons, and now compare the upcoming 2011 season with 2009. Does it look familiar? 
It's Saban's fifth year of recruiting; returning starters and experience prevails. But it's more than that. 
As the seasons pass for Saban, they seem to be like the ebb and flow of the tide; pun intended. You have lows and you have highs, but the consistency of the way it works is undeviating, much the way Saban runs his program.  There's a great deal of care and motivation for his players and that pays off with their loyalty and ultimately winning.   
He's been here before, and everything seems to be on target for a major resurrection and maybe a third national title in a row for the state of Alabama. At least the USA Today Coaches preseason poll has some confidence. We'll just have to see how the season unfolds.