Alabama Fan Scores Bear Bryant's Famed Fedora
August 5, 2011
Brian L. Willis breezed into Tuscaloosa, after a short stop in Birmingham, last Thursday afternoon in his gleaming white, 2008 Corvette convertible. Willis, a successful entrepreneur from Atlanta, was alone for the most part. Resting on a shiny black platform in the passenger seat beside him was precious cargo.
As one of six siblings from a struggling middle-class family from Ft. Payne, Alabama, Willis never dreamed he could ever afford to attend an Alabama football game. His family—all Alabama fans—celebrated game days around the small television set in their den, hoping the Tide game would be carried on one of two stations they could view through the static picture. Most of the time, they "watched" by radio. 
When he was 19, he and his friends bought ticket stubs for $10 a piece from a scalper sitting on the edge of a curb near Legion Field. A sly gatekeeper let them into an unauthorized entrance to see Alabama whip Tennessee. After that first game, Willis was hooked to live action.
Just a week ago, Willis' affection for the Crimson Tide took on a new meaning.
He pulled into the private parking space of his game-day condo with an item that most Alabama fans could never touch and few would ever see firsthand. Sitting on the leather passenger seat within his reach, encased in a clear protective holder, was an original red Fedora worn and signed by coach Paul "Bear" Bryant on the very day of his 315th win.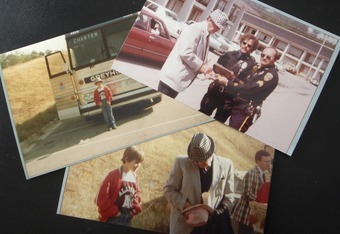 "I felt a tremendous sense of accomplishment as I drove here," he said just hours after purchasing the hat for an undisclosed amount from its only previous owner, the son of a former Birmingham cop.
"This is something every die-hard Alabama fan dreams of and although I have an admirable collection of memorabilia, this is the topper."
So how did Willis, a 12-year veteran of the Dekalb County Fire Department (prior to his soaring career in home building), come to purchase the prized relic?
"A friend sent me a news clip from YouTube showing an interview with the hat's original owner, James W. Barnett, a Birmingham resident, who had given the hat to his son, Wes. Wes shared that he needed the money for a down payment on a house. The more I thought about it, and after several conversations with him, I decided to pay him a visit," Willis said.
A few weeks ago, (Wes) Barnett shared the hard-thought decision to sell his prized possession with the local media and informed viewers on the local news that he would soon be placing it on eBay with a minimum bid of $8,500. 
Although it appeared there for a short time, the reserve was not met. His father, James Barnett, who had provided police escorts for Bryant into Legion Field in the '70s and '80s, had often joked with Bryant, asking frequently for a hat. On Nov. 28, 1981, the day Alabama beat Auburn 28-17 at Legion Field and "The Bear" became the "Winningest Coach of All Time," the coach obliged.
Authenticated by actual photos of Bryant signing the hat over to a young Wes as his uniform-clad father looked on, Willis gave into temptation, hopped in his sports car and made the trek to Birmingham yesterday.
The price was right, and for Wes Barnett it was a bittersweet relief to his financial challenges. As most Alabama fans would do, Willis departed with the famed fedora and headed straight to Tuscaloosa.
So what's next for Willis, who attends almost every Alabama game and has a shrine to the team in his house and a Tuscaloosa condo filled with memorabilia?
"Being an Alabama fan, I can't think of anything more than an original than the 'Bear' Bryant hat. But there are two things that are still on my mind: I'd like to have an original straw hat from coach Nick Saban and that shirt saturated with Gatorade he wore from the 2009 National Championship game."
For Willis, it's only a matter of time. 
© Georgia R. Byrd
PHOTO CREDIT: © Joseph Byrd