Georgia vs. Boise State: What the Bulldogs Must Do to Beat the Broncos
August 5, 2011
Kevin C. Cox/Getty Images
The college football season is just weeks away. One of the most anticipated early contests is the September 3rd matchup of the Boise State Broncos (12-1) against the Georgia Bulldogs (6-7).
BSU has taken its share of heat in recent years over what some claim is a soft schedule. To silence those critics, the Broncos have scheduled a tough Opening Day against an SEC team in the heart of the south.
Georgia had a losing season last year and is admittedly rebuilding. Even so, a 6-7 SEC team is still a force to be reckoned with given the overall strength of that conference. A closer look at Georgia's 2010 schedule reveals that of their seven losses, four were to very strong teams by single digit margins. The Bulldogs only lost three games by ten or more points. Their worst loss was to national champion, Auburn by 18 points. Of their seven losses, four were by a total of 16 points. A couple of TD's and a field goal over four games are the difference between a 6-7 season and a 10 - 3 season. Georgia is not as beaten down as their record might suggest. 
The last meeting between BSU and Georgia in 2005 did not fare well for the Broncos, who suffered a very rare and humiliating loss. But since 2005 the Broncos have been virtually unbeatable, 38-2 in fact over the past three years. This will not be the same Bronco team the Bulldogs faced in 2005. 
Needless to say, the Broncos are eager for revenge and are hoping to make a huge statement to begin senior QB Kellen Moore's final season. BSU is ranked 7th in the USA Today Coaches Poll and 5th in the AP Poll while Georgia is ranked 22 and 19 respectively in the same polls. The oddsmakers have BSU on top by 3 points.
Boise State comes off a disappointing season as well in 2010. Despite going 12-1, the Broncos enjoyed a Top 5 ranking all year and were serious contenders for a BCS Bowl. 
Hoping for yet another undefeated season, the Broncos had the rug pulled out from under them last November when they were beaten by the Nevada Wolf Pack 34-31 in Reno, in what many feel was one of the best games of the year. 
In that upset loss, Nevada, led by senior QB, Colin Kaepernick, managed 250 yards of offense and 27 points in the second half alone. Kaepernick went on to be an early second-round draft pick by the San Francisco 49ers.
But that game wasn't the only time Nevada had Boise State in trouble.
In fact, in every game since 2007, Nevada had huge second halves, dominating the Broncos after half time. From 2007 to 2010, the Wolf Pack outscored Boise State 111-64 in the second half (and from the second quarter on in 2009). Nevada came within 2 points of beating Boise State on the blue in 2007 and lost in 2008 and 2009 by very small margins.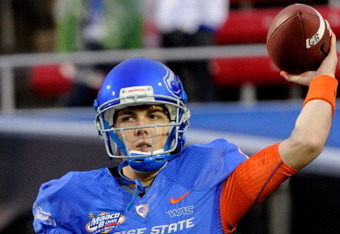 Ethan Miller/Getty Images
No other team has given Boise so much trouble since 2007. Oregon, Oregon State, Va Tech, TCU and Oklahoma have not given the Broncos half as much trouble as Nevada has.
So, what must Georgia do to beat Boise? Watch the film, particularly of Nevada against Boise State from 2007-2010. http://www.youtube.com/watch?v=KElC9zQSZX8. Here's what you will see:
1. The Broncos usually jump out fast to an early lead. So, the Bulldogs can't afford to get off to a slow start. Boise will try and strike quickly with a big pass play in the first series. It is essential for Georgia to start off just as fast as Boise with big plays. 
2. The Broncos will try and provoke a mistake and then capitalize on it. They are very good at forcing turnovers.   
3. At some point, the Broncos will pull a trick play. If the score is close toward the end of the game, look out—that's when they will go to the razzle-dazzle play. Just ask Oklahoma about that. 
4. When they do score, they will try to strike with a big play on the first snap of the very next possession. This is an effort to demoralize the opponent with a quick second strike. The Broncos are great at this.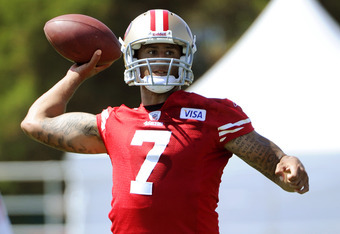 Thearon W. Henderson/Getty Images
5. The Broncos line will tire and wear down in the second half. Watching the Nevada games, you could see that in the second half, Nevada began to take control in the trenches. The sooner the Bulldogs can wear down Boise's line, the sooner they will get control of the game. Georgia's line outweighs BSU and they need to make use of their size.
6. Kellen Moore is Superman, that is until he gets under pressure. Former Nevada DE Dontay Moch (drafted in the third round by the Bengals) put a lot of pressure on Moore and rendered him pretty ineffective in the second half. Georgia needs a really fast DE like Moch to get after Moore, who gets rid of the ball very fast. Force him out of the pocket and he doesn't run well or throw as well. 
7. Georgia needs to take advantage of the heat and humidity which played a huge factor the last time BSU ventured deep into the south. BSU will only have a few days to acclimatize, but if it is sweltering it will take more of a toll on the Broncos, who are used to the drier conditions of the northern Rocky mountains. The Bulldogs should watch for when Bronco players start getting cramps in the second half, and then speed up the game. Even though this game will be indoors, the humidity will be higher than what the Broncos are used to. That will result in them having greater difficulty dissipating heat. A few days is not not enough to completely adapt to humidity and even though the game is indoors, it won't be possible to dehumidify the air down to what the Broncos are used to.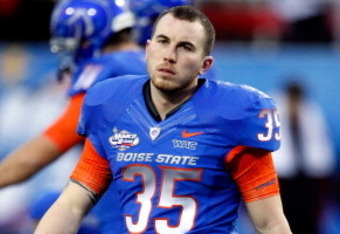 Ethan Miller/Getty Images
8. Boise State had difficulty containing Kaepernick in the 2007 four overtime thriller in which Nevada tied BSU at the end of regulation and went on to lose 69-67. In subsequent games, BSU focused on Kaepernick and did manage to contain him some. He responded by going to the air and was very successful. The lesson here is to keep BSU off balance by mixing up the offense. The Broncos adjust well and will clamp down on any unidimensional offense. 
9. Finally, as Nevada mounted their furious second half comeback, the stands erupted in unison singing Bon Jovi's song "oh oh we're half way there, oh oh, livin' on a prayer". Believe it or not, that visibly unnerved the Broncos. I was there. I saw the looks on their faces. I saw them looking up at 20,000 Wolf Pack faithful singing that prophetic song and I truly believe it had something to do with their epic second half collapse. Do not discount the value of the 12th man. BSU can be unnerved by the crowd.
BSU needs this game. A win over Georgia will give the Broncos a strong tail wind and enormous confidence as they take on their new Mountain West Conference opponents. A loss, on the other hand, would be demoralizing. The memory of the loss to Nevada at the end of last season is still very fresh. BSU does not want to be labelled as "losers of two of their last four games".
Nevada proved that the mighty Boise State Broncos can be beaten. Georgia needs only to study how Nevada did it.