Alabama Football: Friday's Practice Ends Tumultuous Offseason for Crimson Tide
August 8, 2011
For Alabama, Friday's practice marks the end of a difficult offseason. While some schools deal with arrests, NCAA investigations and player misconduct,  Alabama's troubles have been less predictable.
The year 2011 started with a much needed dominant performance against Michigan State in the wake of the horrible second half collapse that catapulted rival Auburn to the national title.  
The game went just about every way they could have hoped for the Tide. Shortly after the expected news came that three of Alabama's best players Mark Ingram, Julio Jones and Marcell Dareus were leaving early for the NFL. 
March 5th
It is announced that Alabama players Kendell Kelly and Kerry Murphy would not be available for spring training due to ongoing health issues.  Neither player would make it back to the football program.  
March 20th
Alabama All-American Mark Barron is arrested in Mobile for hindering prosecution.  When details emerge it is revealed that Barron was trying to cover for a relative.  Barron is eventually convicted in the court of public opinion of simple bad judgement and the issue is handled internally.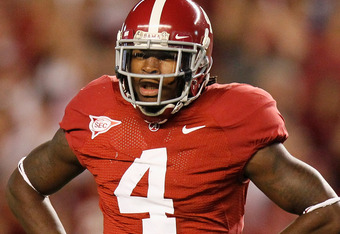 Kevin C. Cox/Getty Images
April 1st
Up-and-coming senior linebacker Alex Watkins injures his knee and requires surgery. He misses the remainder of spring practice. His status for this fall was only known Friday as he showed up for fall practice in a crimson jersey.  
His return would mark one of the few good stories of the off season. 
April 18th
Alabama completes spring training with no clear cut winner in the competition for quarterback.  While this is rarely the desired outcome, it's clear that both AJ McCarron and Phillip Sims are extremely talented and should be able to guide the offense.
April 27th
A massive F-4 Tornado tears a mile wide gash through the heart of Tuscaloosa, just missing the campus and Bryant Denny Stadium. Five Alabama students are killed and many injured including Alabama snapper Carson Tinker.
Tinker was ripped from his home as it flew apart and thrown 50 yards giving him a concussion and a fractured wrist. Tinker's girlfriend, Alabama student Ashley Harrison was with him and did not survive the storm.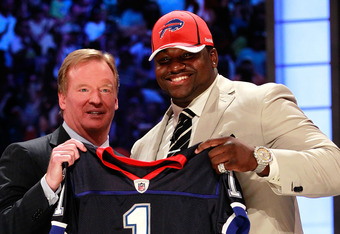 Chris Trotman/Getty Images
Players scatter into the devastation helping to pull people from wrecked homes.  For several days, the university works to locate some players who were missing afterwards when their homes or apartments were destroyed or heavily damaged.  
Alabama would eventually locate all of them with no casualties.  The emotional scars from that night however will remain with them forever.  The NCAA would later issue a "Katrina waiver" for Alabama to assist players who lost their homes.   
April 28th
Just a day after the tornado, four Alabama Crimson Tide players were taken in the first round of the NFL draft.  Offensive tackle James Carpenter joined expected first-rounders Mark Ingram, Julio Jones and Marcell Dareus.  Marcell was taken the third pick overall in the draft.   
May 12th
Alabama offensive tackle Aaron Douglas was found dead at a home in Fernandina Beach, Florida. His death would eventually be ruled the result of taking a lethal combination of various prescription medications.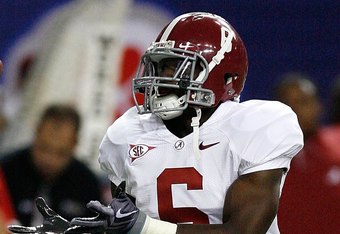 Kevin C. Cox/Getty Images
Douglas had been a major candidate to replace first-round draft pick James Carpenter at left tackle.  Right Guard Barrett Jones will move to left tackle to fill the hole that Douglas was signed to fill. 
Douglas's death briefly brings together the Crimson Tide and Tennessee Volunteer nations as Douglas was the son of the Burnt Orange and originally played for Tennessee as a freshman.
May 23rd  
Alabama running back Demetrius Goode brings his Alabama career to an end, transferring to North Alabama.  The decision likely made since to him at the moment, but events would later unfold that very likely made him regret his decision.
June 27th 
Alabama running back Corey Grant also ends his Alabama career by transferring to rival Auburn. Alabama is now down to four scholarship running backs.
June 28th
Alabama announced that defensive end Darrington Sentimore and wide receiver Keiwone Malone had been suspended.  Additionally defensive back Robbie Green had left the team.   None would return for the 2011 season.
July 5th
Alabama freshman and expected third-string tailback Demetrius Hart tears his ACL during team run workouts and is lost for the season.  Hart's dynamic play was a direct reason for the two running backs who transferred out. 
The injury and transfers significantly depletes Alabama's depth at running back. 
July 27th
Alabama second-team tailback Eddie Lacy tears his pectoral muscle during workouts threatening to sideline him for the beginning of the season, eliminating his training camp and part of his season.  
The injury along with others and transfers leaves Alabama with only two scholarship running backs to begin fall camp.  If you consider the leg wrapping that Trent Richardson had to start practice Friday they might be down to one healthy back if they were to play immediately. 
Aug. 5th
Alabama freshman RB Brent Calloway is finally cleared by the NCAA and reports for his first practice. The addition brings Alabama back to four scholarship running backs.  
Unfortunately, expected contributor at wide receiver Duron Carter does not complete paperwork, and it remains to be seen if he will enroll at Alabama.
With the offseason roller coaster behind them Alabama must now focus on the work at hand. The events of April 27th have the potential to deliver a feel-good story in the end, with a group of players bringing smiles and hope back to those who haven't had much.  
Nobody who lines up against them cares. They want to whip their butts, and it will take more than placards and speeches to make 2011 a season to remember.
One thing is for sure,  football is finally back, and I for one am ready to roll.