Big Ten Breakdown: Iowa Hawkeyes, Part 1 (Overview and Offense)
August 8, 2011
David Purdy/Getty Images
Team Overview
When one looks at the tangible evidence, it is difficult to have much confidence in the 2011 Hawkeyes. After all, they are without last season's quarterback, leading rusher, four of their top five receivers, the lion's share of their defensive line, both safeties, their kick and punt returner and their punter. In short, Iowa has the fewest returning starters in the Big Ten.
In fact, Iowa ranks 118th in the country in terms of percentage of returning lettermen.
Yet, it is also a testament to the consistency of the Hawkeye program under Kirk Ferentz that while they are considered down, very few are counting the Hawkeyes out.
For me, there are four key reasons that the Hawks have a reasonable chance to have a strong 2011.
The first reason is the schedule. Iowa drew arguably the second most favorable conference schedule (behind Illinois). Of course, the last time Iowa drew a favorable schedule this happened.
The second reason is the offensive line, which I will address at the end of this article.
The third reason is because Iowa has mostly experienced players ready to step into the recently vacated starting roles. The fall position battles will be largely for show. Iowa fans (and coaches) already know who the starting quarterback, tailback, receivers and three of the defensive linemen will be.
The fourth, and most illogical reason is that Iowa does well when they are beneath the radar, and following last season's flop, Iowa is decidedly beneath the radar.
Since 2002, Iowa has begun the season ranked in 2004, 2005, 2006, 2009 and 2010. They have ended the season ranked in 2002, 2003, 2004, 2008 and 2009. The only two seasons in which the Hawkeyes began and ended ranked—2004 and 2009—saw them fall out of the rankings before climbing back in.
There is both no getting around it and no way to explain it. Iowa flourishes when nobody expects them to, and falls apart when expectations are heaped upon them.
This season, they will not begin the season ranked, which, in Iowa City, is a strangely positive omen.
Offensive Overview
2010 Scoring Offense: 328.9 PPG (sixth in the conference), total offense: 382.9 YPG (eighth), rushing YPC: 4.30 (seventh), passing efficiency: 155.72 (third).
Average scoring offense conference ranking over last five years: 7.2.
Best scoring offense conference ranking over last five years: Second (2008).
Worst scoring offense conference ranking over last five years: 11th (2007).
Returning Starters: WR Marvin McNutt, OT Riley Reiff, OT Markus Zusevics, OL Nolan MacMillan, OG Adam Gettis, C James Ferentz
Open Positions: QB, HB, FB, TE, WR.
Offensive Breakdown
Ken O'Keefe is the Iowa offensive coordinator. He has been with Kirk Ferentz since Kirk Ferentz came to Iowa City in 1999, and he may very well be one of the most hated men in the state.
Much of the reason for that is because though Iowa's defense is consistently a top-30 group, the offense is inconsistent, though it usually tends to fall in the middling category.
I have no problem with O'Keefe, but I say that with two reservations and one explanation.
The explanation is that people too often let Ferentz off the hook as it concerns the offense. In the end, O'Keefe calls the plays, but the conservatism and the overall philosophy comes from Ferentz. In that same line of thinking, the overall philosophy of the team is such that if the offense wasn't so conservative, the defense wouldn't be as successful. Ferentz favors a stingy defense over a high-scoring offense, and he is willing to sacrifice the latter for the former.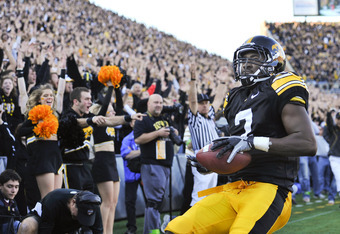 David Purdy/Getty Images
As for my first reservation, I question O'Keefe's abilities as a quarterback coach, and whether he is able to develop a quarterback. I've gone over this ad nauseum, so I'll simply post a link and move on to my second reservation.
I am comfortable with O'Keefe's typical play calling. My problem is his situational play calling. Specifically, he often seems lost in the red zone, his third-down play calling is baffling and he and Iowa may run the worst two-minute offense in all of football.
That said, Iowa is a run-first team. People often compare them to Wisconsin, but that is not accurate. Wisconsin runs a pure power offense. Iowa runs a zone blocking offense, which means said offense is more versatile, and can have more success with different types of players. On the other hand, Iowa's offense requires perfect execution, particularly on the part of its linemen.
The passing game is predicated on play action. Iowa likes to chip away with the running game before catching the defense off guard with roll-outs, waggles and standard drop-back play action. Despite what people say about Iowa's predictability, every Iowa running play has a play action that works off of it.
Last season, Iowa threw a number of empty backfield sets into the repertoire, but that is unlikely to happen this year; as the Hawkeyes will be breaking in a new quarterback and don't have four experienced receivers as they did last season.
Typically, Iowa prefers ace or I-formations, employing fullbacks, a lot of tight ends and an occasional third receiver. 
This season, expect Iowa to simplify the playbook a bit, in order to make it easier for a new quarterback.
Quarterbacks
That new quarterback will be fourth year junior James Vandenberg.  
Heading into 2009, nobody knew whether Vandenberg or fellow junior and former Michigan commit John Wienke was Ricky Stanzi's backup and thus, the heir apparent to the quarterback position.
Then Northwestern snapped Stanzi's leg, Vandenberg came off the bench and Hawkeye fans had their answer.
Vandenberg finished 2009 as the starter. Overall, his performance drew mixed reviews.
The redshirt freshman was obviously unprepared to go in against the Wildcats, and it showed in his play. Then his first start was against Ohio State in the Horseshoe for the Big Ten championship. Talk about pressure. Iowa lost, but nobody could have asked for more from the young signal caller.
The last regular season game of the year was against Minnesota and the Gophers threw everything they had at Vandenberg. Unfortunately, neither Vandenberg  nor the Iowa coaches seemed to have a counter. The Hawkeyes won the game 12-0, but it had everything to do with the Iowa defense and little to do with the offense.
Vandenberg's final stats in 2009 were 48.3 percent of his passes completed, 470 yards, two touchdowns, five interceptions and an 89.76 efficiency rating.
He appeared in three games in 2010, but it was all in garbage time.
In my opinion, in terms of inherent skills, Vandenberg has demonstrated himself to be at least as good as Stanzi. However, Stanzi's most notable qualities had nothing to do with arm strength or any tangible number. Stanzi had pocket presence, leadership abilities and the inexplicable "it" factor that separates average quarterbacks from winning quarterbacks. Time will tell what Vandenberg brings to the table in that regard. 
It would take a meltdown of epic proportions for the Hawkeye coaches to pull Vandenberg, but if they do, the players behind him are the aforementioned Wienke and redshirt freshman A.J. Derby.
Wienke has been around the program as long as Vandenberg. He originally committed to Michigan, but decommitted once Rich Rodriguez became the coach.
As a player that held a Michigan offer, he obviously has the physical tools. But, it says a great deal that he was not only beaten out by Vandenberg, but all indications are he and A.J. Derby are at about the same level of development, and thus, are co-No. 2's on the depth chart. This is despite the fact that Derby has two years less time in the program.
Derby is from Iowa City. He spurned offers from such programs as Michigan, Nebraska, Florida and Florida State. Part of the reason he did so had to do with those other programs recruiting him as an athlete—most probably a linebacker or tight end. Iowa recruited him as a quarterback. Among other things, this gives an indication of how versatile Derby is.
At the spring open scrimmage, Vandenberg was heads-and-tails above the other two, but Derby was surprisingly neck-in-neck with Wienke.
In closing, about the only thing we know about the Iowa quarterback situation is that James Vandenberg will start. Though he is probably ahead of where Ricky Stanzi was in 2008, my guess is the Iowa offense will look a bit like that 2008 offense.
That offense relied on a strong running game, and the quarterback served as more of a game manager than a game changer. If Vandenberg shows himself to be capable of carrying a heavier burden, the onus on him will increase as the season wears on.
Big Ten Position Group Ranking: 10
Running Backs
Moving into the 2010 season, Iowa's top three backs were sophomores Adam Robinson, Jewel Hampton and Brandon Wegher. I questioned how the coaches would find opportunities for all three to get carries.
That problem, for lack of a better word, took care of itself, as neither Robinson, Hampton nor Wegher is with the program any more.
The good news is that true sophomore Marcus Coker is the probable starting tailback, and in a position where inherent talent is a priority, Coker is arguably the most talented back Iowa has had since Shonn Greene. Furthermore, he has a similar bull-in-a-China-closet running style.
Coker's first start came against Indiana, where he subbed for an injured Adam Robinson. He ran over the Hoosiers' (admittedly lousy) defense to the tune of 129 yards.
He played sparingly for the next two games, though it was evident that Coker was the better back than Robinson, who fell apart after the injury.
Coker got the start against Minnesota and played well considering the majority of the rest of the team barely showed up.
Nonetheless, it was in the bowl game where fans really took notice of the true freshman. Coker won the game MVP award for his 219-yard, two touchdown performance.
Now, as we look towards 2011, there is no question how good Coker is. The questions concerning the Iowa backfield are can Coker maintain his effectiveness through an entire season averaging 20-25 carries per game? Secondly, who will spell Coker when he needs a breather? 
Under Ferentz, the Hawks have a strange and troubled history with running backs. They can't seem to keep them around for an entire career. Due to this, there was only one other scholarship running back on the roster before the true freshmen arrived on campus.
That running back is redshirt freshman De'Andre Johnson. Johnson lost his senior season of high school with an ACL tear. In effect, he has not played competitively for two years.
Also, junior Jason White currently has a scholarship, but he began his career as a walk-on. White will start the season as the No. 2 player, but it is unlikely he will finish there.
Along with Johnson, Iowa brought in four running backs in the 2011 class. My guess is that two of them will burn their redshirts. My further guess is that the two that will burn their redshirts are Miki'al McCall and Jordan Canzeri. McCall is a banger while Canzeri is a speedster. Meanwhile, Johnson has a style similar to past Iowa back Albert Young.
The other running back position—fullback—is currently in limbo.
Last year's starter, Brett Morse, has exhausted his eligibility. Morse was another in a line of battering ram-like fullbacks under Ferentz. He served his purpose, but he was hardly a player the other team feared as an offensive weapon.
The player that was due to take his position was atypical in that he had skills with the ball in his hands. That player was sophomore Brad Rogers. The problem is Rogers has been out since before the bowl game with an unspecified heart ailment. Ferentz feels that the tests on Rogers have been positive, but even if he is cleared to play this season, he is sure to be rusty.
If he can play, he will add an element of versatility to the Iowa offense that hasn't been there since Jeremy Allen was the fullback in 2001.
If he can't play the next man in is junior Jonathan Gimm. Gimm is a converted tight end, who converted primarily because he isn't a very good pass catcher. Gimm will be a lot like Morse—a battering ram that won't touch the ball that much.
In closing, the Iowa fullback situation might be status quo or might be very good.
The Iowa tailback situation begins with Coker, who could reasonably be called one of the top five individual backs in the Big Ten. However, Coker's durability is in question, and Iowa's depth at tailback is in serious question.
Big Ten Position Group Ranking: 8
Receivers and Tight Ends
As previously mentioned, the Hawkeyes lost four of their top five pass catchers from 2010, though they do return their No. 1 pass catcher in both receptions and yards.
The biggest loss will arguably be the ever-controversial Derrell Johnson Koulianos. He left the Iowa program as its all-time leader in receptions and receiving yards. It was also fairly evident that he was missed in the Iowa bowl game. The Hawkeyes palpably struggled to beat Missouri deep, and it was because of the absence of Koulianos.
Moving forward, the Hawkeyes' top receiver is senior Marvin McNutt. He is a two-year starter that flirted with the NFL, but (wisely) thought better of it. He is a big body (6'4") that is murder in the red zone. His red zone numbers over the last two years include 12 catches for 138 yards and 10 touchdowns. That is pretty substantial given that his offensive coordinator doesn't always go to him as much as he should inside the opponent's 20 yard line.
Despite McNutt's 17.64 YPC over the last two years, he is not going to burn many teams deep, unless the team in question gives him man-coverage with a 5'10" cornerback. That aside, McNutt's strength is in using his physicality to go up and snag the ball. Last season, the coaches named him second-team all-conference. This season, he will vie for bigger honors.
As McNutt is the only experienced receiver, teams will blanket him. This should open up opportunities for other receivers if they take advantage of it.
The second starting receiver will be true junior Keenan Davis. Davis is the most decorated receiving recruit of the Kirk Ferentz era. He was a four-star recruit that came to Iowa over offers from Nebraska, Oklahoma and Arizona State.
In two years of backup duty, he has 15 receptions for 186 yards and two touchdowns. Now, he will be expected to take on Koulianos' role. If the spring game is any indication, Davis is ready.
Things are pretty wide open after McNutt and Davis. According to the pre-camp depth chart, the next three receivers are junior walk-on Steven Staggs, true sophomore Don Shumpert and redshirt freshman Kevonte-Martin Manley. None of them have registered a collegiate reception thus far.
I also think one true freshman receiver will burn his redshirt.
The starter at tight end will be senior Brad Herman. Herman was the No. 2 tight end last season, which is virtually a starter in Iowa's offense. In 2010, Herman caught nine passes for 154 yards.
The Hawks have featured a different starting tight end each of the past three seasons, and each one of them has caught at least 30 passes. Going back to 2001, Iowa has had six different starting tight ends. Four of them have been named all-conference. The only year the starting tight end didn't have at least 20 receptions was 2003. The only years the starter didn't have at least 30 receptions was 2003, 2004 and 2007,
In short, Iowa reloads at tight end. There won't be much if any fall-off from last year's starter, Allen Reisner, to Herman.
The second tight end position will be between sophomore and Rivals 2010 No. 5 tight end recruit in the country, C.J. Fiedorowicz and former walk-on, junior Zach Derby (the aforementioned A.J.'s brother). Standing 6'7", Fiedorowicz could be a match-up nightmare, and has the higher upside of the two, but he's got to become a more proficient blocker.
Overall, the starting players should be solid, though Davis will have to establish himself as a legitimate threat. Nevertheless, depth is a substantial concern.
Big Ten Position Group Ranking: 6
Offensive Line
This is one of, if not the key reason that I have confidence in the 2011 Hawks.
The top offenses—statistically speaking—during the Ferentz era have been 2001, 2002, 2005 and 2008. Each of these offenses scored at least 30 PPG. All but the 2005 offense was one of the top two scoring offenses in the conference, and the 2005 Big Ten was abnormally high scoring, which led to Iowa being seventh in the conference. In most seasons, 30 PPG would be good enough for second or third.
These four offenses had one thing in common. They each put up at least 175 YPG on the ground (2005 had 174.67). No other Ferentz offense managed that, thus no other Ferentz offense scored 30 PPG.
Looking deeper into those numbers, all four of those offenses had one similarity regarding its personnel. It wasn't the quarterback, as two of the four started a new quarterback that season. Also, three of the four started a new running back. Finally, two of the four experienced a significant overhaul of the receiving corps.
The only similarity is that all four offenses returned a good amount of experience on the offensive line. The 2001 line returned four starters and two other players with starting experience. The 2002 line returned six players with extensive starting experience. The 2005 line returned three starters and started a Juco transfer that eventually went on to start for the Baltimore Ravens. The 2008 line returned all of the previous year's starters.
The 2011 Hawkeye pre-camp depth chart lists the following as the first string offensive line (from left-to-right): junior Riley Reiff, sophomore Nolan MacMillan, junior James Ferentz, senior Adam Gettis, senior Markus Zusevics.
Every one of those players started multiple games last season.
Riley Reiff will be the third Iowa lineman from the Ferentz era chosen in the first round of the NFL Draft (hopefully, not until 2013). He became a starter in 2009, and has played every position on the line except center. He is currently locked in the left tackle position.
MacMillan surprised a lot of Hawkeye fans by moving into the starting lineup in 2010. He started the first six games of the season before injuries forced him out of action. Next season, he will likely slide out to tackle, and he eventually will be the left tackle when Reiff moves on. Furthermore, he has a chance of being the fourth Ferentz-coached first round offensive lineman.
James Ferentz started all 13 games last season. By the time his career is over, he will rank up there with Bruce Nelson and Rob Bruggeman as the three best centers of the Ferentz era.
Adam Gettis was supposed to start at guard last season before he suffered an injury in camp. He eventually recovered and came in for MacMillan when he want down. Gettis has three starts in his career, and if he can stay healthy, he will probably start every game this season.
Markus Zusevics started all 13 games at right tackle last season. He will never be a great NFL lineman, but if he plays well enough, he can improve his stock enough to get picked in the last two rounds.
The one wildcard is redshirt freshman Brandon Scherff. MacMillan was out during spring practices with an injury and Scherff took his place at guard.
Iowa requires a great deal from its linemen. Subsequently, it is fair to call the Hawkeyes a developmental program. Most linemen require two-three years learning the system before they are ready to contribute. Consequently, when a freshman pops up and gains the immediate trust of the coaches (such as Reiff and former Hawkeyes Bryan Bulaga and Robert Gallery) that freshman is worth taking note of.
Scherff will push MacMillan and Gettis hard for playing time.
Another linemen of note is sophomore Conor Boffeli who is the backup center, and who would probably be considered the second lineman off the bench.
Finally, senior Woody Orne, junior Matt Tobin and sophomore Brett Van Sloten fill out the two-deep. None of them have any notable game experience.
Due to the experience, continuity and potential of this group, there is a good chance that this year's offense will outperform last year's 28.9 PPG. This is despite the various losses at the skill positions.
If the offensive line and the offense can play up to expectations, they will give Iowa a very good chance at a successful season.
Big Ten Position Group Ranking: 2 
Coming next week, defense and specialists.
Be sure to check out past installments of Big Ten Breakdown, beginning with the most recent, the Penn State Nittany Lions.