West Virginia Football 2011: Holgorsen Looks to Put Up Big Numbers with QB Smith
August 4, 2011
If you pay attention to Big East football, you've probably heard about some things going on at West Virginia University.
They've brought in an offensive-minded coach by the name of Dana Holgorsen.
The former Oklahoma State offensive coordinator joined the Mountaineers to run the offensive team this season.
Holgorsen was named head coach-in-waiting under Bill Stewart, but at some point during the summer things began to unravel for the outgoing Stewart.
News was that Stewart wasn't happy about being forced out of his position by new athletic director Oliver Luck. He was accused of attempting to demean the reputation of his aforementioned successor and ultimately was let go early from his position.
Quite honestly, it was probably the best move so far by Luck.
Holgorsen started his career during the 1993 season at Valdosta State where he was an assistant quarterbacks and wide receivers coach while focusing most of his efforts on offense.
He quickly showed talent as a coach and spent a few years at Mississippi College and Wingate University before being hired at Texas Tech.
His seven-year tenure at Texas Tech ended up landing him a pretty big role.
During his first few years, he was a position coach before eventually being elevated to offensive coordinator for the Red Raiders. By the end of his career at Texas Tech, he had increased the offensive production of his team by 200 yards per game, with a season average of over 500 yards per game.
Holgorsen came to Oklahoma State in 2010 after helping Houston quarterback Case Keenum lead the country in offense for two straight years. That season his team went from being ranked 61st nationally in total offense the year before to first.
It's pretty obvious Holgorsen must be doing something right. That's when Oliver Luck decided it was time to make a move.
West Virginia fans couldn't be more thrilled with the idea of a highly entertaining offensive machine, which was what they had became accustomed to during the days of the now disgraced former West Virginia head coach, Rich Rodriguez.
Holgorsen isn't thinking of getting those yards on the ground though. He likes to take to the air.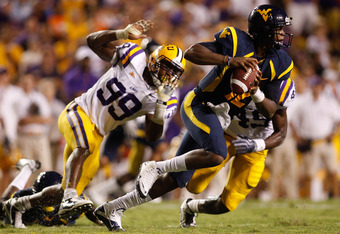 Chris Graythen/Getty Images
Holgorsen is known for making athletes into Heisman candidates such as Case Keenum and Michael Crabtree.
He will likely have another Heisman candidate in the making when he begins the season with quarterback Geno Smith.
Get to know the name now, you will be hearing plenty of it during the upcoming season.
The junior quarterback out of Florida finished last year with over 2,700 passing yards, 24 touchdowns and seven interceptions in a balanced to run-heavy offensive system under Bill Stewart.
Though not highly known throughout much of college football, Smith shows the ability to get the ball down field with accuracy.
Smith will be passing much more this season under the new offensive scheme, though he will still have the ability to make a play with his feet as we've seen him do many times before.
He has the ability to air the ball out and get it 60 yards down the field to a streaking, speedy receiver, something the Mountaineers seem to have an abundance of.
Though West Virginia plays in the Big East, they recruit out of the SEC with many players on their roster coming from Florida.
Speed is nothing new to the fans of West Virginia.
For Holgorsen, in his stops at Houston, Texas Tech and Oklahoma State, he has put up huge passing numbers and we have a feeling it's not going to stop at WVU.
With a prodigious selection of offensive weapons and probably more talent to come to the university in the next few years, West Virginia's head coach has plenty of ideas to help create more offense.
Despite what you may have heard about him, Dana Holgorsen has been a winner everywhere he has coached.
We have no reason to think differently now.
More West Virginia Football
- WVU Quarterback Leaves Program

More West Virginia Sports
- WVU Basketball: WVU, Illinois Set to Play in Italy for the Troops
- WVU Basketball: Aaric Murray: WVU Center Cut from US Basketball Team