Florida State Football: Jimbo Fisher and Noles a New Running Back U?
Joel Auerbach/Getty Images

USC, Auburn, and Penn State recruit like the dickens. Each school has had its crystal trophies, Heisman winners, and mountaintop recruiting years.
Yet each of these schools have a title Seminoles coaches crave--Running Back U. Running backs as plentiful and powerful as horses at the Kentucky Derby.
The ACC might not be sleek in many comparisons, but the Atlantic Division has strength in its rush defense. Last season, five ACC clubs finished in the top 40 in America.
N.C. State and Boston College, recent ACC Atlantic Division heavyweights, ended the season ranked in the top 10 nationally. Statistically, the Boston College Eagles were first in the country against the run.
No wonder the Noles want the best of the runners. Fortunately, the overall cream of the crop come from Florida.
The stats also support their argument. The ACC, besides triple-option Georgia Tech, haven't had a rushing monster in years. Yes, Virginia Tech has had a satisfactory running game, but their overall defense is what has kept them on top of the conference.
So even with the best linebackers (ahem, Florida State), without a strong rushing offense a school will likely not capture the national championship. Just ask VT.
The Seminoles have brought three of these players into the tribe this year. Things look just as swell for 2012. Not to mention all of the talent already on the roster that is about to explode.
Running backs will determine if the 'Noles can avoid a costly conference loss. Without the slip up, the 'Noles will rule the ACC and bring back the old dynasty. This begs a question: namely, who are the Garnet and Gold heroes?
Begin Slideshow

»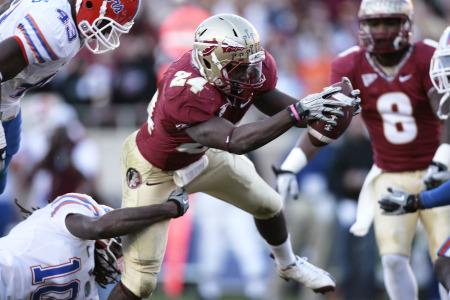 Pryor in the end zone versus the Gators.
Florida State's best running back is Lonnie Pryor. Sure, it's an opinion, but it is supported by fact.
Unlike incoming freshman Devonta Freeman, Pryor can block at an NFL level. As a fullback, his blocking has allowed for some of the home run feats that Thompson and others have achieved. He's proved his versatility beyond just prepare the big plays; he's made them himself.
He's a dual threat: while rushing for four touchdowns, Pryor has snagged four touchdown passes...against the 'Canes and Gators no less. A fullback running a wheel route!?! Impossible.
Not with Pryor.
Many fans intuitively think that this junior should be the work horse of the Seminole offense. Despite public opinion, the coaching staff has seen his continued use as a fullback. The need to protect Manuel overrides a desire for Pryor to be a breakout star.
Thompson on a 2010 run against BYU.
Chris Thompson is at a point of divergence.
No, he's no LaMichael James or Marcus Lattimore--he hasn't shined early. That doesn't change the fact that he's still a top recruit from '09.
Despite only playing in six games, Thompson had a remarkable 6.3 yards per carry. Overall, he finished with 845 yards in 2010.
While that might not appear not to be much, it proves Thompson's value as a player. In six games, he posted one of the top 20 rushing seasons in 'Nole history.
Not to mention that he ran home run plays against BYU, Maryland, and (yes!) Miami. Aid from all-star fullback and awesome blocker Lonnie Pryor will make for even better highlight reels.
A 5'8'' height makes Chris the perfect construct to keep in use often. And unlike incoming freshmen, Jimbo Fisher knows Thompson's character. His discipline, lack of off-the-field troubles, and duty to his family make him a staple in an offense.
Comparably a lightweight to defenders, Chris needs more weight and experience--which will likely keep him in Tallahassee for his senior year (yay for us!). Experience and a reliable man are great appeals. No wonder Jimbo named him this year's starting tailback.
Freeman had 26 touchdowns during his high school senior year.
A delicious four-star recruit, Devonta Freeman also exhibits a character of greatness. Enrolling early in FSU to get into spring practice, the incoming freshman gives you a solid feeling.
The Miami Central arrival proved in practice to be a runner. He should get some starts.
At 200 pounds, he's meatier than Thompson. There's not much flash to this guy, but in the future, he will steadily appear in games against lower-tier ACC teams.
Disadvantages: Freeman can't block. With all the talent and opportunity FSU has in 2011, Fisher won't risk an uncoordinated blocker getting Manuel hurt. There's too much on the line.
Freeman will only be around in garbage time when the backup quarterback's on the field.
A top 10 recruit, Wilder Jr. is a bit of mixed bag physically. At 6'2'', he's taller than the aforementioned RBs. A worse center of gravity provides defenders (like Boston College's Luke Kuechley) with an easy target...when they can catch him.
He's actually more muscular than Freeman, but I guess the picture up there gave you a hint. Coming in at a comparatively whopping 225 pounds, Wilder Jr. is more likely to be the power back in the post-Thompson era.
More importantly, being the son of the Tampa Bay player James Wilder, guarantees automatic recognition. With the play-making abilities of a future NFL golden nugget, Wilder will establish the 'Noles as this decade's Running Back U.
At his best, Thomas was an asset vs. WVU in Bowden's finale.
Unfortunately, only one tailback can be a starter. Even in garbage time, some prime recruits will be bench warmers. Alas, it's the price to pay for a dynasty. These guys, while seeing some action, will help team morale from the sideline.
Jermaine Thomas
Like Thompson or Freeman, Jermaine Thomas has copious minutes on the field. Unlike Thompson or Freeman, though, Thomas has a history of being lackadaisical and unfocused. This running back was even stripped of his starting position last year. Yard losses occur when he's given the ball.
On the bright side, his energy rekindled during spring warm-ups. Thomas is a player who can either improve or regress. His tendency for losing yards won't help in a rush-stopping conference.
And if you don't see him for eight of the 12 regular-season games, a fan can be assured that Thomas's position is gone.
Ty Jones
Jones has had problems under the spotlight. It isn't a matter of whether he can perform. Facts support it.
Jones (who deserves applause for countering his diabetes) somehow botched a Christian Ponder fake pass by actually knocking the ball out of the now-NFL quarterback's hands. He effectively prevented a game-winning touchdown against N.C. State.
That one play almost cost the Seminoles a spot in the ACC title game, and could have prevented the momentum the team has entering this year.
Got the look of a champ to me, Mario.
How wonderful it is to have Mario Pender! The fourth-best running back in the 2012 class already committing to Florida State keeps the hope for a future golden age alive.
He's the 11th-ranked prospect in his class by Rivals, when he didn't even start in the top 100. He runs the 100 meters in just over 10 seconds.
Finishing with nearly 2,300 yards and 32 touchdowns (as a junior), his work ethic should continue to amaze the Tallahassee fan base. Wouldn't it be excellent if he left high school as the No. 1 recruit?
Either way, he'll keep the legacy alive at Florida State. To play ball is in this young adult's blood. And the Gator jersey is from high school, ya'll.
Sony Michel, also known as the No. 1 running back for the 2014 class (yes, we're that ahead) is considering FSU. The stats are about as mind-boggling as Pender's: 18 TDs. For a sophomore!?! Well, no. Those stats are from eighth grade.
But with a 4.47 40, and a 10.9 100, you get the gist that he is extremely desirable. The sophomore is weighing a plethora of other offers from fantastic universities, but Lindy's didn't just toss the No. 1 running back class trophy to FSU on a whim.
Power and speed are the future at Florida State. Better watch or you'll miss the blurs.