Former Buckeye Maurice Clarett Blames OSU for Scandal, Visits Pryor and More
August 3, 2011
Jamie Squire/Getty Images
Maurice Clarett doesn't have any regrets.
On Tuesday, 97.1 The Fan spoke with former Buckeye star Clarett about everything from Terrelle Pryor to his own life decisions.
Adam Neft, one of the show's hosts, began his interview by asking Clarett to comment about the ongoing Ohio State football scandal.
"In a way, it's kind of personal to me. I was under the same circumstances, but my outcome was a little different."
In 2006, Clarett plead guilty to aggravated robbery with a gun. He spent three years in prison and was released in 2010. 
"Just to see Terrelle [Pryor] go through what I'm going through...you want to hope for the best for him and hope his outcome doesn't come out like mine."
Clarett recently visited with Pryor and his mother. "I went to his house, his mother was over there. He had his head on right. There's so much that will come your way that can't be [foreseen]."
"I don't know if he's eligible or not [for the NFL supplemental draft], but there's so much uncertainty. I told him that there are times your mind wanders. You lose hope, lose focus."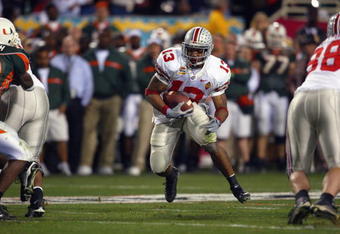 Jamie Squire/Getty Images
Clarett also told Neft who should be blamed for the latest Ohio State mess. "Both Terrelle and Tressel kind of caught a raw deal."
"It's not clear cut like everyone likes it to be. I think it's an institutional problem. Terrelle could have done things better; hindsight is 20/20."
"But at the end of the day, the whole situation could've been handled better at the institutional level."
When Clarett was asked if he had any regrets, he stood firm on his answer.
"I don't have any regrets. Anything I've ever done made sense at the time. It's easy to say, 'I should've done this.'"
"Terrelle speaks for a lot of younger guys. You are recognized for your athletic ability, but your judgment isn't right. People are going to judge you who have life experience. You have to accept what's going on."
"If I would've known that my career would've come out like that, of course I wouldn't do it. but you have 'machoism.'"
Finally, Clarett spoke about his divided Buckeye fanbase. "To the people who support and love me--I give them a smile and a conversation. To the people who don't, I'm going to continue to stay positive. You can't force anyone to believe what you want them to believe."
You can read more from Clarett at his personal weblog, The Mind of Maurice Clarett.