Ex-Husky Charles Mincy on the Life and Death of the 46 Defense
August 5, 2011
Stephen Dunn/Getty Images
Charles Mincy was always in prime position to witness the evolution of the so-called "46 Defense."  
As a starting cornerback for the 1991 Rose Bowl champion Washington Huskies and a nine-year veteran of the NFL, Mincy is well-versed in the ways of high-pressure defense.
The Washington Huskies turned to the 46 late in the 1989 season, after the read-and-react style they'd been playing was surrendering huge chunks of yardage. 
When defensive coordinator Jim Lambright put the new defense into place, a revolution swept across the college football landscape and catapulted the Huskies to three consecutive Rose Bowls.
"We called it a `tough front,' recalled Mincy.  "Basically, you're covering up the center and two guards with linemen because those three positions for the run game are very crucial.
"So when you can control the center and both guards it makes it harder for the offense to pull and get off on double teams.  You busy the offensive line with a lot of work. 
"After that, you had two outside linebackers or a defensive end and outside back—depending on personnel—and bringing pressure on the quarterback.
"We would disguise what we were doing.  We would start off in an over front with four down linemen, then shift to that tough look.  Or vice versa.  That worked well for us."
The Huskies knew right away something special was afoot. It was the way they suffocated offenses, created panic in their opponents and occasionally bailed out their defensive backs.   
Early in the 1990 season, Washington hosted San Jose State on a cool and rainy day at Husky Stadium.  The Spartans lined up to run a play and Mincy prepared to guard one of their wide receivers.
"I was playing bump and run, and the receiver made a move and I slipped and fell," Mincy said. "I was hustling to chase him down because he was wide open.  I was sure they were going to throw him the ball. 
"But then I heard the huge roar of the crowd.  I turned and looked back and saw (teammates) Chico Fraley and Steve Emtman standing over the quarterback. 
"When you're playing in that type of defense and you're putting that type of pressure on the quarterback, as a defensive back you can make a mistake and be bailed out from it.  From time to time those things happen. 
"It was great to be a part of that.  You knew the ball was coming out quickly and they weren't going to have you out there running around a long time." 
Later that September, when the fifth ranked USC Trojans came to Seattle, the Huskies were ready to unveil their defensive ferocity on national TV. For Mincy in particular, he'd grown up across the street from USC, so it was a special day.
"We did a lot of disguising (with the 46 defense)," he said. "We lined up 10 and sometimes 11 people within five yards of the line of scrimmage.  We would end up backing out and playing zone sometimes. 
"That would frustrate their quarterback (Todd Marinovich). Quarterbacks depend on a pre-snap read to decide what to do.  With our entire defense on the line of scrimmage, it was kind of hard for him to decide what to do. 
"We were doubling some of their favorite wide receivers. Gary Wellman was a great player for them. The coaches told me to be really aggressive in playing bump-and-run on him.  I took a lot of delight in playing that way. 
"He was a good player but he was complaining the whole game that I was jamming him in the neck and whatever else.  I thought that was kind of funny."
With Washington's frenzied defense devouring USC on virtually every play, the Huskies ran away with a 31-0 whitewash.  According to Mincy, the Trojans didn't know what hit them.
"I will never forget the look on their faces and what their sideline looked like," he said.  "There was one third down play, and the crowd was going crazy.  I was guarding their wide receiver along their sideline.
"I couldn't see what was happening and suddenly I heard the crowd roar. I looked back and saw their quarterback down. So I started jumping up and down in front of the USC sideline, and they were just staring at me.  That was satisfying to me. That was a great experience for myself."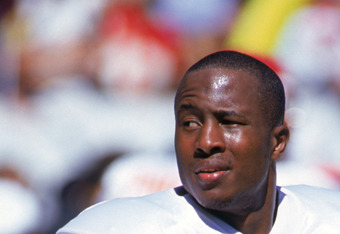 George Rose/Getty Images
Propelled by great talent playing a high-pressure style of defense, Washington went on to win that year's Rose Bowl with a 46-34 victory over Iowa.  Their 10-2 record enabled them to finish with a No. 5 national ranking.
Mincy was drafted by the Kansas City Chiefs the following spring.  He would spend the next decade in the NFL. 
The Chiefs played the closest thing to a 46 in the pros at that time, and Mincy enjoyed the aggressive style.  But he quickly saw that defensive coordinators around the league were simultaneously turning conservative.
"We used to run something like a 3-4, but we had (All-Pro) Derrick Thomas and he was really more of a defensive end than a linebacker," Mincy said. "We blitzed and applied a lot of pressure, but people around the league got away from that style quite a bit. 
"When the Houston Oilers started up with that Run-n-Shoot and throwing the ball all over the place, I think it scared people.  In the NFL everybody copies each other. 
"It's funny because rarely do I hear coaches think for themselves; they just regurgitate what they hear other coaches say. I know that to be a fact.  People aren't principled enough to stick with something. 
"I also think the offenses caught up with it, I will admit that. I don't think you can just line up and play man-to-man every down, because some pro quarterbacks and wide receivers are so skilled that it really puts a strain on your defense." 
Stephen Dunn/Getty Images
Mincy does believe, however, that the 46 defense could one day be resurrected.
"I think there should be more of it.  People should mix it in like we did with the Chiefs. You know, the teams that get after the quarterback are the ones who are successful.  You've still got to find ways to do it, but you've got to be smart about it.
"You have to have a coach who has the balls to do it. Obviously that's what you see with the Jets (led by head coach Rex Ryan), and that has made them a relevant team.  They're playing man-to-man and getting after it.  They're surviving, they're doing OK. 
"It would be hard for someone to run the 46 defense today," he said. "But I think it will come back.  It all comes in trends, you know?" 
Derek Johnson is the author of three books including his latest, Bow Down to Willingham: How White Guilt Enabled a Secretly Malicious Coach to Destroy the Once-Mighty Washington Huskies.  You can read a free excerpt at derekjohnsonbooks.com