Syracuse Football: 6 Reasons Orange Can Contend in the Big East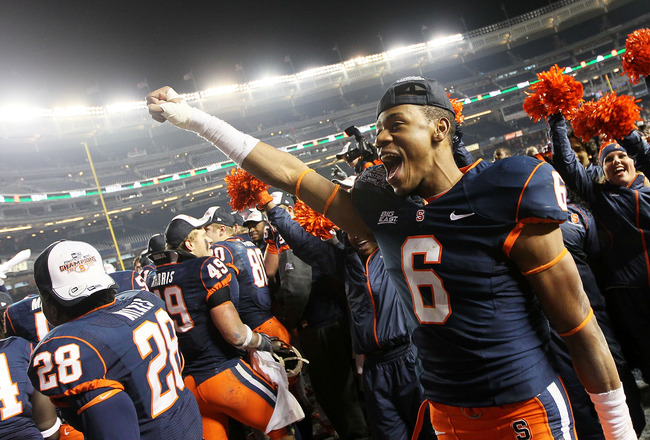 Doug Marrone has lead Syracuse to relevance once again, after their thrilling victory in the Pinstripe Bowl.
Chris McGrath/Getty Images
In 2010, Syracuse achieved its first winning seasons since 2001. After a rough four years under coach Gregg Robinson, Doug Marrone has changed the morale of the Orange in just two seasons.
Just how far can Syracuse go in 2011? Were they a one-hit wonder last season? Time will tell.
But for the first time in nearly a decade, Syracuse football has become relevant again. Syracuse's basketball and lacrosse teams are no longer the only hot tickets in town.
Here are six reasons why the Orange can contend once again in 2011.
1. Weak Conference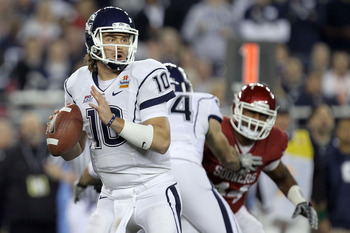 Connecticut shared the Big East regular season title with an 8-5 overall record.
Ronald Martinez/Getty Images
Let's face it, if there is one conference in which any team can go from nothing to a contender, it's the Big East Conference. Not one team finished in the AP Top 25 by the year's end, and the once-powerful conference has turned into the laughing stock of college football.
That is not to say that there isn't any talent here. Teams like Connecticut, West Virginia and Pittsburgh are solid teams year-in and year-out, but these are not cream-of-the-crop teams, yet in the Big East they are the best.
Syracuse finished fourth in the Big East last year, and there's no reason why it can't do that again. With a little luck here and there, it can easily pick up an extra win or two in the conference.
2. Weak Schedule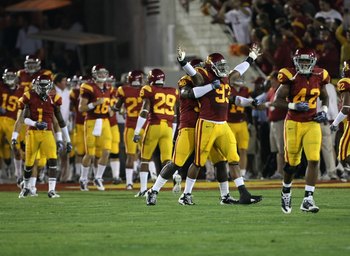 USC provides Syracuse with their toughest test this season.
Stephen Dunn/Getty Images
I know, I know, this goes hand-in-hand with playing in a weak conference. The difference here is that Syracuse can pick up the wins, both in and out of conference. Add that to playing in a conference full of mediocre teams, and Syracuse has a great advantage.
USC provides Syracuse with the toughest test this season, and while I doubt anyone expects Syracuse to win this game, a competitive and close contest can be just as much of a success. The Orange need to prove to the world that they can compete, and that is the time to do so.
Outside of USC, however, they play the likes of Wake Forest and Rhode Island, and Syracuse has the ability to get off to a strong start this season.
3. Momentum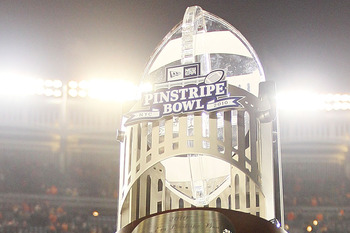 Syracuse continues to gain momentum after their Bowl victory in 2010.
Chris McGrath/Getty Images
Momentum can be hard to define. But for a team like Syracuse that has struggled for so long, the Orange certainly have great momentum going into the next season.
Syracuse improved by four victories last season, including the win in the inaugural Pinstripe Bowl. The team's morale is high, and so is the fans' morale.
You can expect Syracuse's attendance to rise greatly this season and give the team a bit of a home-field advantage, something the team has not had in over a decade. The Orange's basketball team at times draws larger attendances than the football team.
Again, if the Orange can get off to a strong start to this season, keeping the momentum going into the in-conference games can be crucial for an improving team like Syracuse.
4. Doug Marrone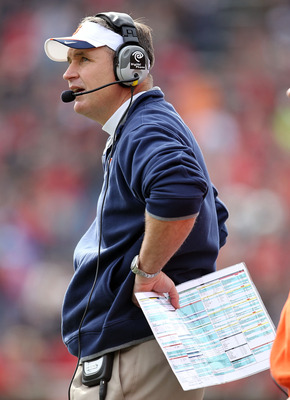 2011 is a pivotal year for the third year head coach.
Andy Lyons/Getty Images
Doug Marrone has certainly made a name for himself in Syracuse. While he might not be a Jim Boeheim, Marrone is getting much of the credit for Syracuse's season in 2010, and rightfully so.
And 2011 is a crucial year for Marrone. He has the spotlight on him, as opposed to last year when there were no expectations.
For Syracuse to keep up its success, Marrone is going to have to coach perfectly once again. The Orange don't have top recruits this year, as is almost always the case.
One more successful season, and Marrone will put his name on the map as one of the better coaches in the league, and the top recruits will then start coming in.
5. Slim Departures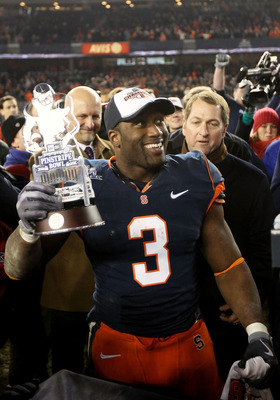 As star RB Delone Carter heads to the NFL, Syracuse will have to find someone to handle the workload.
Chris McGrath/Getty Images
Syracuse lost only a few players to the NFL draft, most notably running back Delone Carter and linebacker Doug Hogue. Carter, the MVP of the Pinstripe Bowl and the clear MVP of the Orange last year, will be a huge loss, but Syracuse always seems to be able to plug in anyone at running back and have them be successful.
Having the right morale and coaching techniques are important to turning a young team around. By losing only a handful of players, keeping the morale and techniques is much easier and creates consistency for a team.
Keep in mind that going into the 2010 season, Syracuse lost star wideout Mike Williams, and the Orange were still able to win four more games the next season. Replacing Williams was the completely unknown Van Chew.
6. Van Chew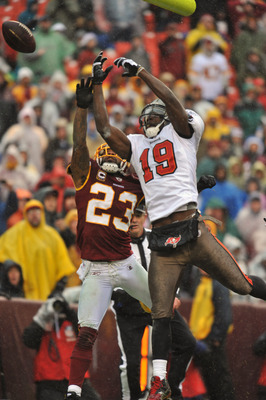 Mike Williams left for the NFL draft, but Van Chew filled his void.
Larry French/Getty Images
Van Chew came out of nowhere last season. After catching a total of 10 balls for 112 yards in his first two seasons, Chew broke out for 41 catches and 611 yards during his junior campaign.
Chew did struggle at the end of last season, though. He caught 11 balls in his last five games, and then did not play in the Pinstripe Bowl.
If Chew can become more consistent in his senior season, he can be a breakout star in college football. Chew would also provide the Syracuse quarterbacks with a reliable weapon.
Keep Reading

Syracuse Football: Like this team?