SEC Power Rankings: Best Fanbase in SEC
One thing that's always up for debate during college football season is fans.
Who has the best fans in the country?
From the tailgates that happen before the game to the cheering during the game back to the partying after the game.
Everyone has their own opinion considering that people think their own teams have the best fans. However, it has never been agreed upon which school has the best fans overall.
In the following slides I will break down my power rankings of the best fan base throughout the SEC, like it or not.
Begin Slideshow

»
My power rankings start off in Lexington with the Kentucky Wildcats.
One of the craziest fans for basketball doesn't cross over to football. Not being a very successful program it's hard for fans to root for their team however they are out there every weekend.
If only they could have the same success as basketball you might see them move up.
Known for their cheer "Hotty Toddy" comes the Ole Miss Rebels.
Like Kentucky, with a program that hasn't been very good you still see the Rebel faithful out on game days rooting for their school.
Next from the SEC East is the Commodores of Vanderbilt.
Known for their song "Dynamite" these fans are always painted up showing their pride.
Even with season's that haven't been up to par, Vanderbilt still has a pretty decent student section with its small 39,790 seat capacity stadium.
WOOOOOOO, PIG! SOOIE!
WOOOOOOO, PIG! SOOIE!
WOOOOOOO, PIG! SOOIE! RAZORBACKS
The chant heard around War Memorial Stadium, screamed by the rowdy fans of Arkansas.
These hogs have amazing spirit for their school and on Saturday afternoons the whole campus it out screaming for their hogs.
Starting with the sound of cow bells that shoot around the area is the Mississippi State Bulldogs.
When opponents visit Davis Wade Stadium they can't get away of that ringing that goes on from the Bulldogs faithful.
It also doesn't help that the 10,000 seat student section is continuously jumping and yelling their famous STATE chant.
2010 SEC East champion South Carolina Gamecocks hold the next set of fans on my list.
Every week this 80,000 seat stadium is packed full of crazy Gamecocks. Known lately as a place that opponents don't want to visit Williams-Brice Stadium is made by the fans.
I can only see this team keep moving up in the rankings if their success keeps increasing yearly.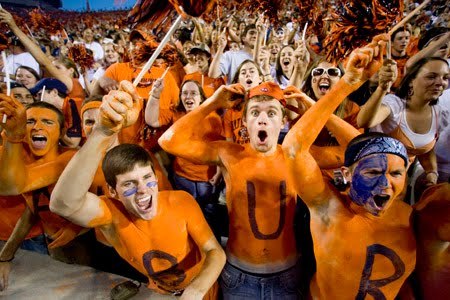 Next with the Wareagle chant is our defending National Champions, Auburn Tigers.
Obviously, a group of people that are incredibly passionate. These fans are notorious with filling their 87,000 seat stadium fully dressed in orange.
And believe me, after a season like last year the fans of Auburn are going to back at it again trying to get their Tigers back to another national championship game.
When you walk into a stadium and see "Hunker Down Hairy Dawg" you know your in the stadium of the Georgia Bulldogs.
These will do anything to show that they have the most pride in the south. Even if that means painting the top of their head in bulldogs logos.
The biggest thing about these fans is that they are very loyal to their team no matter home or away.
In Tennessee if you aren't a Vols fan you don't matter.
The best thing about the Tennessee fans is that for their tailgates they party in their boats and call themselves "Volunteers Navy".
These people are crazy, wearing their orange at all their games it doesn't help for opponents that they have the biggest stadium in the nation.
Roll Tide, thats right, the next group of fans on my list is the Alabama Crimson Tide.
Considering that they are allows in the running for a SEC title, this group of fans always has something to cheer about.
It doesn't help that when you walk into the stadium you know where your at, considering over 100,000 people are wearing crimson and white.
The Tide fans are also know for singing their famous rammer jammer cheer after each win. In which they put the team they just beat name in it going:
Hey Tigers!
Hey Tigers!
Hey Tigers!
We just beat the hell out of you!
Rammer Jammer, Yellowhammer, give 'em hell, Alabama!
CHOMP, CHOMP, CHOMP
Maybe it doesn't sound like that but when you walk into the Swamp you know where your at. The orange and blue colors just runs all around the stadium.
And believe me the students aren't the only ones that make Ben Hill Griffin the stadium that it has came to be known as.
Known as a school that has an incredible alumi base group of fans, season tickets have been known to sell out with 30 minutes of going on sell.
The number one fans in the SEC belongs to the LSU Tigers.
Called Death Valley for a reason this stadium gets about as loud as any in the nation.
When you walk into it the only thing that you see is the blinding color of yellow.
This 92,500 seat stadium holds more then it should every game. Not rare to have about 93,000 people at the games these fans are not only rowdy but uncaring.
The outfits that you see people wearing is as if you were going trick or treating with a huge group of people.