College Football 2011: Who Will Be the Big East's No. 1 at Season's End?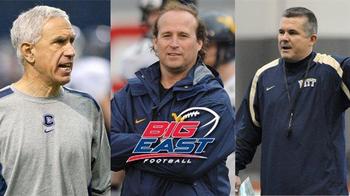 BigEast.org
A few days ago—in Newport, RI—the preseason media poll was announced for the Big East. Dana Holgorsen's West Virginia Mountaineers topped the poll, followed by Pittsburgh, South Florida, and Syracuse.
We now know the preseason standings but, what about the standings that matter?
Here is what the final standings for the 2011 Big East season will look like.
No. 8: Rutgers Scarlet Knights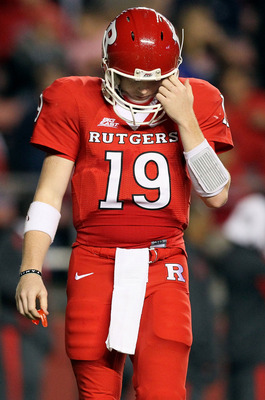 Jim McIsaac/Getty Images
Due to the transfer of quarterback Tom Savage—who lost the starting job last season after an injury—it looks as if Chas Dodd will be the starter for the Scarlet Knights.
Don't look for Dodd to be hoisting any trophies for outstanding play—especially the conference title.
Coach Greg Schiano will have his work cut out for him this fall, preparing an offense to beat last season's record of 4-8, with only one win over a Big East opponent—UConn, 27-24.
No. 7: University of Connecticut Huskies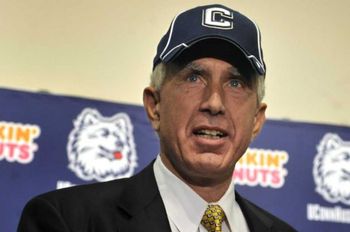 ctpost.com
Paul Pasqualoni's return to college football isn't going to be the greatest for Huskies' fans. Pasqualoni takes over for Randy Edsall after he bolted out of the Big East to Coach at Maryland.
After playing the upset role last season, UConn represented the conference in the Fiesta Bowl and was embarrassed by the Sooners of Oklahoma.
This season look for the Huskies to once again attempt to spoil. However, Pasqualoni will only find himself spoiled and fending off critiques of first year coaching woes.
No. 6: Louisville Cardinals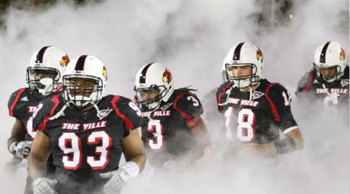 Coming off of a somewhat impressive season—for a first year coach—Charlie Strong and the Louisville Cardinals will be a contender on the non-conference scene.
However, with only three—perhaps four—Big East victories, The Ville will doubtfully even see any Beef O'Brady in its bowl at season's end.
No. 5: South Florida Bulls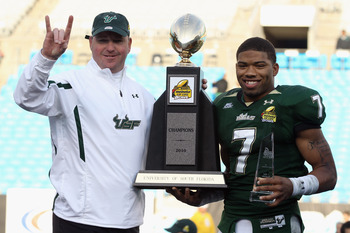 Streeter Lecka/Getty Images
Although coaching at West Virginia is obviously Skip Holtz' dream job, in his first year as a head coach in the Big East, he helped the Bulls of South Florida continue their push to be a true "Florida Team."
Following a stellar performance last year at quarterback, B. J. Daniels looks to have an even better season. Albeit, he must lead the Bulls past Mountaineers, Panthers and Bearcats in order to truly rise to the occasion.
Look for USF to have a top rated defense with former Marshall head coach, Mark Snyder having his linebackers and secondary in tip-top form.
No. 4: Syracuse Orange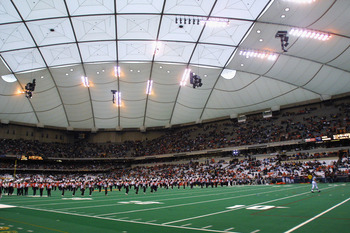 Syracuse--Carrier Dome
Rick Stewart/Getty Images
Head coach Doug Marrone is determined to show the rest of the college football world that there is still football in Syracuse. The 2010 American Football Association's Region 1 Coach of the Year, Marrone has brought the Orange to the top in many categories of statistical rankings.
Prepare for Syracuse to seek the top spot in total defense. Offense wins games but, defense keeps the other team from winning.
No. 3: University of Cincinnati Bearcats
Andy Lyons/Getty Images
Quarterback, Zach Collaros, wide receiver, D. J. Woods and running back, Isaiah Pead—all three seniors—plan to make WVU and Pitt sweat out the predicted top two seats in the Big East.
Don't count out this trichotomy of play makers.
Bearcats' Director of Football Strength and Conditioning, Dave Lawson—former WVU coach and West Virginia native—says, "It's always nice going back to Morgantown and seeing old friends… But this year the Mountaineers have to play in Cincy."
Don't expect any of the former WVU coaches on the UC staff to let the past get in the way of a conference title.
No. 2: Pittsburgh Panthers
Streeter Lecka/Getty Images
It goes without saying that Pitt Panthers Head Coach, Todd Graham is one of the most successful football coaches of the Century. Although, we mustn't forget who else he has working with him.
With Co-Offensive Coordinator, Calvin Magee and Defensive Coordinator, Tony Gibson—both former coaches for West Virginia—expect to see the Panthers use this tenured crew to develop a style of play in which the Big East has rarely seen.
Tino Sunseri and Ray Graham will have plenty of input as well. With only one team to beat—WVU—Pitt has the opportunity to make history for several more years. Shhh, listen… Is that the ACC knocking?
2011 Big East Champion: West Virginia University Mountaineers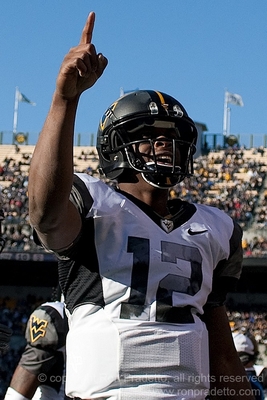 Photo Courtesy of Ronald Pradetto. Visit ronpradetto.com
Don't expect the many offseason rumors and rumors of rumors to affect the Old Gold and Blue. The West Virginia Mountaineers—under new Head Coach, Dana Holgorsen—will be Big East Champions in 2011.
In most cases one would not expect much from a team with a new coaching staff. However, Holgorsen has proven more than once that he is up to the task of overcoming stereotypical insights.
With the help of Quarterback, Geno Smith, Holgorsen will take the Mountaineers to heights that they have seen before but, in a totally different fashion. The Mountaineers will rank in the top in passing offense. Wide receiver, Tavon Austin will make fans forget about former WVU standouts like Steve Slaton and Noel Devine.
Coaches from all over the country will be coming to Morgantown to get tips from Holgorsen.
The Mountaineer defense—ranked third overall in 2010—will prove to be even better. With Defensive Coordinator, Jeff Casteel and coaches, Steve Dunlap, David Lockwood, and Bill Kirelawich, the WVU defense will be the epitome of the highlight reels.
Bruce Irvin and Keith Tandy will be the envy of all college football players.
According to Pittsburgh's official athletics website, Pitt's Todd Graham says of his team, "We are going to restore the Beast from the East…"
Someone had better tell that to the Mountaineer Nation. Pitt may just have a Brawl on their hands. Matter of fact; look for that brawl on November 25, 2011.
It may just be the Big East Championship game.
The Big East Rides Again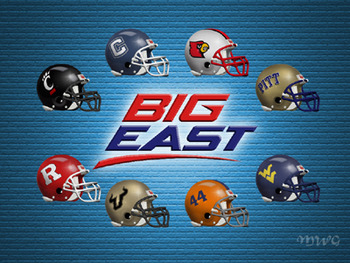 OK, so the media got it somewhat right. Just a few tweaks on my end.
Either way you look at it, it's going to be an explosive season in the Big East, what a perfect way to prepare for the likes of TCU. WOW! That's another article in itself.
The Big East will ride again. Let's Gooooooooo Mountaineers!!!
Keep Reading