College Football's Best Backfield Tandems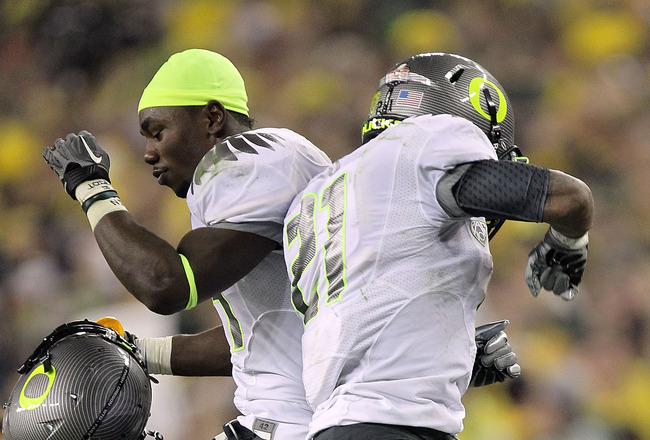 Oregon's LaMichael James and Kenjon Barner form the most dangerous running back duo in college football
Ronald Martinez/Getty Images
Recently, we've been seeing an increasing trend of NFL teams relying on a complementary two running back system to produce a successful and consistent rushing attack, and now that same philosophy seems to be trickling down to the collegiate level.

The idea of having a two-headed backfield in which both backs can bring different skills to the table is a good one, but often times, finding the right pieces to put in place can be somewhat challenging.

Most teams try their best to find at least one running back who can come in and carry the load, so any coach who is lucky enough to have two players who are capable of tearing through opposing defenses should thank the football gods for his good fortune.

Over the last decade, dynamic rushing duos like Reggie Bush and Lendale White at USC, Mark Ingram and Trent Richardson at Alabama and Clinton Portis and Frank Gore at Miami have helped to carry their teams to the national championship game.

While there may not be any pairings in college football this year that can match that kind of talent in one backfield, there are plenty of duos who will make life miserable for opposing defensive front sevens this season.

Let's have a look at college football's top backfield tandems for 2011.
LaMichael James and Kenjon Barner, Oregon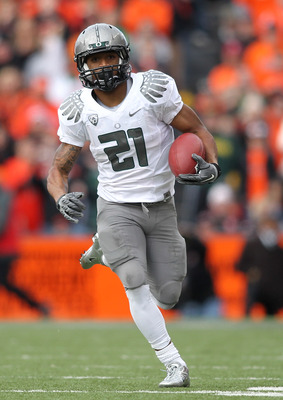 RB LaMichael James, Oregon
Jonathan Ferrey/Getty Images
LaMichael James is bar none the most explosive running back in all of college football.

Although James only measures in at 5'9'', 185 pounds, he's the perfect back for Oregon's spread zone read attack.

James, who finished third in the Heisman voting last year, has compiled over 3,600 yards of total offense and scored 38 TDs in just two seasons in Eugene and he's been the Ducks' most valuable player since taking over for LeGarrette Blount early in the 2009 season.

The speedy junior will once again be spelled by Kenjon Barner, a back who would start for most other teams in America.

Barner, a 5'11'', 180-pound junior, is lightning fast and he's averaged over six yards per carry in each of his first two seasons.
With James and Barner toting the rock, Oregon should have a great shot to make it to the first ever Pac-12 championship game.
Montee Ball and James White, Wisconsin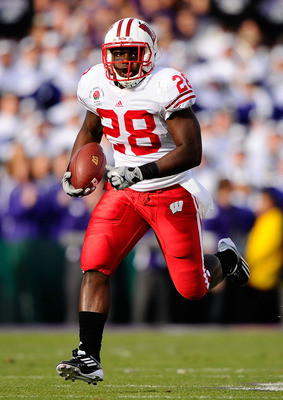 RB Montee Ball, Wisconsin
Kevork Djansezian/Getty Images
If you want to know how good Montee Ball and James White really are, then just look at the competition they chased off.

John Clay, one of Wisconsin's highest rated recruits ever, opted to leave school a year early after rushing for over 1,000 yards in 2010, even though Clay knew he had very little chance of being selected in the draft.

Zach Brown, a talented senior who used his redshirt last season, made the decision to transfer to Pittsburgh instead of competing for carries as the team's third rushing option.

Clay and Brown were probably both right to take their talents elsewhere because Ball and White have proven that they are indeed the two focal figures of the Wisconsin backfield.

The two combined to rush for over 2,000 yards and score 32 TDs last season and both backs averaged over six yards per carry.

It's hard to say who is truly the best out of the two, but when it comes right down to it, I have a feeling that Badger fans don't really care, as long as both are producing.

With dual-threat QB Russell Wilson joining the fray, Wisconsin's rushing attack should be the most dangerous in the Big Ten this season.
Cyrus Gray and Christine Michael, Texas A&M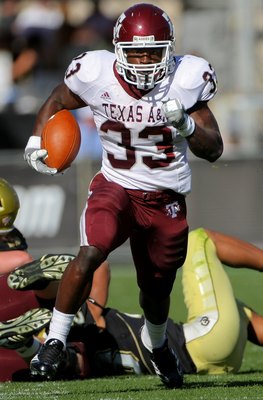 RB Christine Michael, Texas A&M
Doug Pensinger/Getty Images
Last year, Cyrus Gray took advantage of Christine Michael's season-ending injury and became one of the breakout stars in the Big 12.

Gray rushed for over 100 yards in each of Texas A&M's last six regular season games, which were all victories, and he saved his best performance for a showdown with archrival Texas, a game in which he rushed for 223 yards and two TDs.

With Michael returning, Gray will have to share some of workload once again, but the 5'10'', 195-pound senior will still be a major factor for the Aggies offense.

Texas A&M may lack the national pizazz that Oklahoma goes into the season with, but the Aggies should give the Sooners a run for their money if Gray and Michael can play up to their potential.
Michael Dyer and Onterio McCalebb, Auburn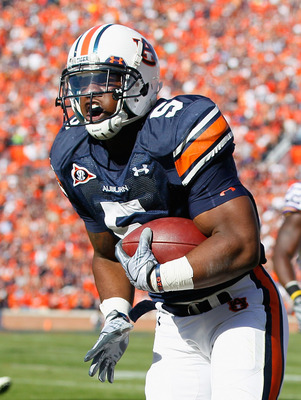 RB Michael Dyer, Auburn
Kevin C. Cox/Getty Images
The Cam Newton era in Auburn may have given Tigers fans something to cheer about but in the end, it didn't last very long.

With Newton gone after just one year, the Auburn offense will now have to regroup and figure out how to move on without college football's most exciting player from last season.

Offensive Coordinator Gus Malzahn will have a few tricks up his sleeve but there's no need for the coach to get too crazy.

Malzahn will welcome back the duo of Michael Dyer and Onterio McCalebb, who last season combined for over 1,900 yards on the gound.

Dyer, a powerful 5'9'', 205-pound sophomore, lived up to his 5-Star recruiting hype in his first year, as he rushed for over 1,100 yards and came up with the biggest run of the national championship game.

McCalebb, one of the most explosive players in the SEC, doesn't receive the same type of fanfare as his more heralded teammate, but he's still a big play waiting to happen.

The 5'10'', 170-pound junior averaged a whopping 8.5 yards on 95 total carries in 2010 and he scored 10 total touchdowns.

Auburn may not be able to match their undefeated season from a year ago, but with Dyer and McCalebb carrying the offense, the Tigers will still strike fear into the hearts of opposing defenses.
Edwin Baker and Le'Veon Bell, Michigan State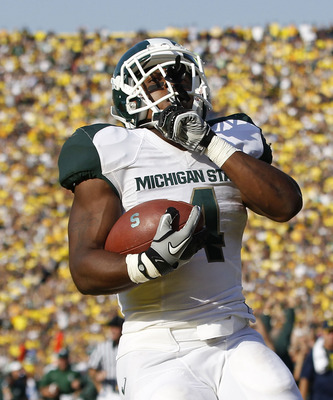 RB Edwin baker, Michigan State
Leon Halip/Getty Images
Edwin Baker has already said that one of his main goals for the upcoming season is to break 2,000 yards. While it may sound awful lofty, it actually may not be as far out of reach as it sounds.

Last year, Baker rushed for 1,200 yards and 13 TDs and he helped the Spartans run to an 11-2 record.

You could tell how valuable the 5'9'', 200-pound junior was because when he was off his game, Michigan State's offense fell flat.

Baker will be joined in the backfield once again by Le'Veon Bell, a big, bruising 6'2'', 230-pound sophomore who knows a thing or two about beating up defenders.
While Baker probably won't reach the 2,000 yard plateau by himself this season, he may get there with the help of Bell.

The two combined to rush for over 1,800 yards in 2010 and they should best that number this season.
Knile Davis and Ronnie Wingo Jr., Arkansas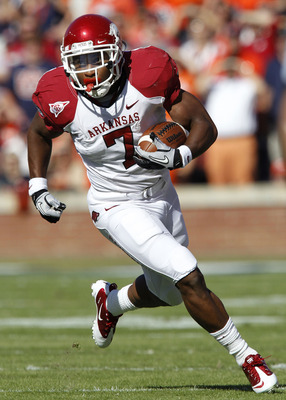 RB Knile Davis, Arkansas
Mike Zarrilli/Getty Images
For all of you NFL draft fans out there who are searching for next year's 'it' running back, you better make sure you take a look at Knile Davis, who could make a Ronnie Brown-like run up draft boards this year.

Davis, who offers up an intriguing blend of power and speed, is the total package as far as tools are concerned.

The 6'0'', 220-pound junior is the SEC's leading returning rusher after running for over 1,300 yards and 13 TDs in 2010.

Davis will be joined by big Ronnie Wingo Jr., who wowed onlookers in the spring.

Wingo Jr. hasn't had enough carries to prove he was worth the 4-Star hype he received as an elite Missouri high school recruit.
If Wingo Jr. finally puts it all together as a junior, the Razorbacks offense could be unstoppable this season.
Ed Wesley and Matthew Tucker, TCU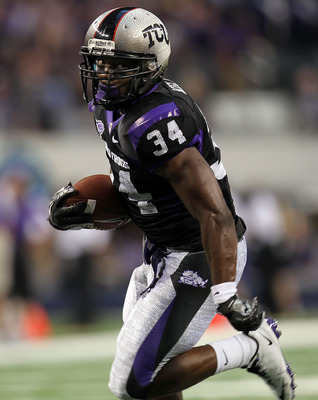 RB Ed Wesley
Ronald Martinez/Getty Images
There's no doubt that the TCU offense is going to miss the steady presence of long-time starting QB Andy Dalton, but the Horned Frogs still have enough talent at the offensive skill positions to compete for a Mountain West crown.

It starts with the running game, which will once again be led by Ed Wesley.

Wesley, who broke the 1,000 yard rushing mark last season, has averaged 6.4 yards per carry over the first two seasons of his TCU career and he shows no signs of slowing down any time soon.

The 5'9'', 200-pound junior was overshadowed by the play of Dalton last season but he was still an integral part in TCU's run to the Rose Bowl.

Both Wesley and teammate Matthew Tucker found their way onto the Doak Walker Award Preseason Watch list this summer.

Tucker, a 6'1'', 210-pound junior, has rushed for nearly 1,400 yards and 15 TDs in his first two seasons and he's displayed the type of ability that should have the NFL scouts taking notice this season.
Lamar Miller and Mike James, Miami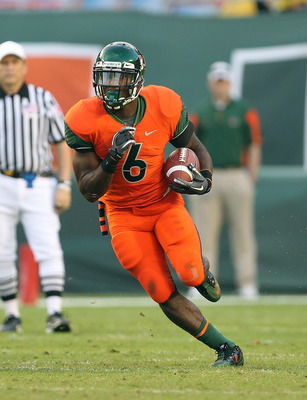 RB Lamar Miller, Miami
Mike Ehrmann/Getty Images
Miami's running back corps was weakened when former stud recruit Storm Johnson announced his decision to transfer during the offseason but don't expect new head coach Al Golden to hit the panic button.

The Hurricanes welcome back two talented backs, Lamar Miller and Mike James, who combined to rush for over 1,000 yards and nine TDs last year.

Miller, who averaged six yards per carry in 2010, is the prize playmaker of the offense.

The 5'11'', 210-pound sophomore earned Freshman All-American honors for his efforts last season and he now looks ready to take his game to the next level.

James, a junior who averaged an equally respectable 5.7 yards per carry, could start for a lot of BCS teams but he'll have to play second fiddle to Miller for another season.

Miami ranked third in the ACC in rushing last season and the Hurricanes should have no trouble repeating that feat this year.
Roy Finch and Brandon Williams, Oklahoma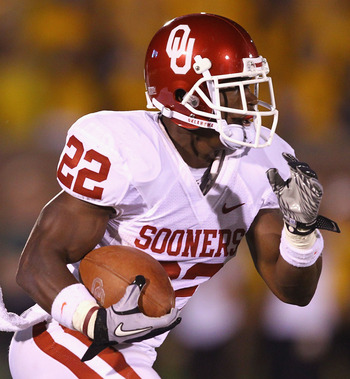 RB Roy Finch, Oklahoma
Dilip Vishwanat/Getty Images
Last year we saw two true freshman backs, Marcus Lattimore and Michael Dyer, take the college football world by storm, and this season, there could be another true freshman rusher who becomes an instant household name.

Oklahoma's Brandon Williams, a 5-Star recruit out of Texas, has out-of-this-world type ability and with last year's leading rusher DeMarco Murray off to the NFL, he'll have a great chance to prove that he's the real deal right away.

Williams will have some competition for the starting running back job from returning sophomore Roy Finch, who rushed for over 400 yards as a freshman in 2010, however, both should see their fare share of touches in 2011.

So much is made of Oklahoma's vaunted passing combination of QB Landry Jones and WR Ryan Broyles that many people seem to be overlooking how good this Sooners backfield could be this year.

Williams is my personal favorite freshman and I expect him to average at least five yards per carry behind an offensive line which returns four starters from a year ago.
Trent Richardson and Eddie Lacy, Alabama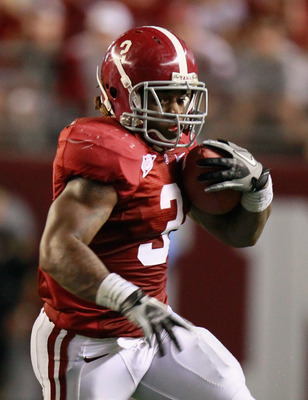 RB Trent Richardson, Alabama
Kevin C. Cox/Getty Images
So far this offseason, Alabama's backfield has lost a Heisman winner, Mark Ingram, to the NFL, and its star incoming recruit Dee Hart to an ACL tear.

Have no fear, though, the most important member of the Tide's running back stable, Trent Richardson, is ready and raring to go.

After consecutive 700-plus yard rushing campaigns, Richardson will now be looking to step out of Ingram's shadow and step onto the national stage.

Richardson was considered by many fans to be the more talented of the two but the 5'11'', 220-pound junior was forced to defer a large chunk of the carries to his more experienced former teammate.

With Ingram gone, Richardson, one of the strongest and most powerful backs in the country, will now be free to run over a lot more would-be-tacklers.

Richardson will be joined in the backfield by Eddie Lacy, a former 4-Star recruit.

Lacy, a 6'0'', 220-pound sophomore, averaged 7.3 yards per carry as a freshman and showed flashes of his intriguing potential with a few nice performances in blowout wins.
Vick Ballard and LaDarius Perkins, Mississippi State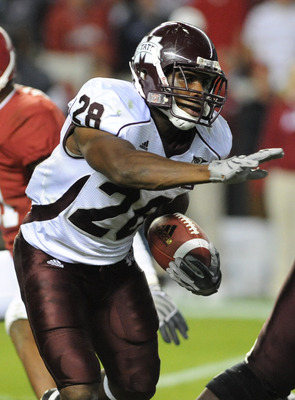 RB Vick Ballard, Mississippi State
Al Messerschmidt/Getty Images
Dan Mullen's spread offense is helping to revitalize the Mississippi State program and the Bulldogs can attribute much of their 2010 success to a potent ground game, which took the SEC by surprise last season.

Junior College transfer Vick Ballard arrived in Starkville with modest expectations, however, he quickly managed to make a name for himself, taking over for the departed Anthony Dixon, the school's all-time leading rusher.

Ballard came close to breaking the 1,000 yard rushing mark in his first season, rushing for 968 yards and scoring 20 TDs.

Now that the 5'11'', 215-pound senior is comfortable in Mullen's system, there's no telling what he's capable of doing in 2011.

Ballard will be joined in the backfield by emerging sophomore LaDarius Perkins.

Perkins, who averaged 5.6 yards per carry as a freshman, has the chance to be a star in the SEC and you'd have to figure that Mullen will give him every opportunity to shine this year.

With dual-threat senior QB Chris Relf back, the Bulldog backfield is shaping up to be one of the most overwhelming in college football this season.
Stepfan Taylor and Anthony Wilkerson, Stanford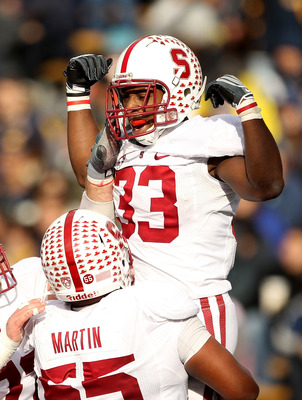 RB Stepfan Taylor, Stanford
Ezra Shaw/Getty Images
QB Andrew Luck is the undisputed star of the Stanford backfield but expect the future No. 1 pick to have plenty of help from his running game this season.

Luck's most reliable backfield mate, Stepfan Taylor, is one of the most underappreciated commodities on the West Coast.

Last season, Taylor proved to be the perfect bell cow for Jim Harbaugh's West Coast offense, rushing for over 1,100 yards and scoring 16 TDs.
The Pac-12 is loaded with great backs this year but the 5'11'', 210-pound junior ranks right up there with the big names like LaMichael James, Chris Polk and Johnathan Franklin.

Taylor will be complemented by sophomore Anthony Wilkerson, a former 4-Star recruit who rushed for over 400 yards as a freshman.

Wilkerson will eventually take over Taylor's starting spot in a few years, but right now, the two should work well together as they try to take some of the burden off of their star quarterback's shoulders.
A Few Other Dangerous Duos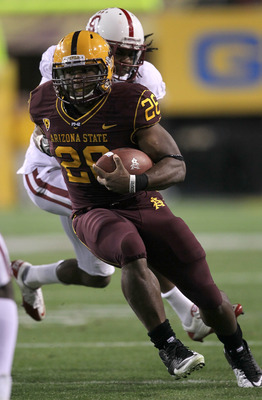 RB Cameron Marshall, Arizona State
Stephen Dunn/Getty Images
Cameron Marshall and Deantre Lewis, Arizona State
Victor Anderson and Jeremy Wright, Louisville
Brandon Bolden and Jeff Scott, Ole Miss
Silas Redd and Stephfon Green, Penn State
Chris Polk and Jesse Callier, Washington
Chris Thompson and Jermaine Thomas, Florida State
Johnathan Franklin and Derrick Coleman, UCLA
Boom Herron and Rod Smith, Ohio State
Keep Reading