Big Ten Breakdown: Michigan Wolverines, Part 1 (Overview and Offense)
August 8, 2011
Leon Halip/Getty Images
Team Overview
It's been an interesting five or so years for the Wolverines.
Five years ago, in 2006, Michigan had arguably the best squad it's had since the 1997 national championship team.
Then, 2007 began with high hopes that were squashed when Appalachian State opened the season by beating the Wolverines in the Big House. That was followed by later losses to Oregon, Wisconsin and yet another loss to Ohio State, but that UM team really wasn't too shabby. They finished with a nice bowl win over Florida for a nine-win season.
At that point, Lloyd Carr retired (or got pushed out, depending upon who's telling the story), and Michigan hired Rich Rodriguez, who is and was the antithesis of Lloyd Carr, and whose team and overall philosophy reflected this difference. In other words, the transition between the two was bound to be and was pretty rocky. 
I won't rehash all the bad memories, but 22 losses later, the Wolverines fired Rodriguez and hired Brady Hoke, thus leaving UM fans with the question, will the transition between Rodriguez and Hoke be anywhere near as painful as the never-fully-completed transition between Carr and Rodriguez?
In my opinion, no.
Firstly, the Rodriguez hire, though it might have made sense at the time, was the wrong choice. A coach has to be reflective of the institution and community he represents. No matter how many wins he might have picked up, Rich Rodriguez was not, nor was he ever going to be, accepted in Ann Arbor.
On the other hand, Brady Hoke is from Ohio. He played collegiate football at Ball State (in Indiana). The majority of his coaching career has been at institutions within the Big Ten footprint, if not within the Big Ten. On top of that, he was an assistant coach at Michigan from 1995-2002. In short, though he is an uncomfortable public speaker, he knows what it is to be "a Michigan man."
Secondly, there are players on the current Michigan roster that played for and were recruited by Lloyd Carr. Though there might be some re-learning involved, they are certainly fit to play on Hoke's team.
Finally, Hoke's schemes and philosophy are not as far removed from Rodriguez's, as Rodriguez's were from Carr's.
There will be a transition and discomfort, but it shouldn't be too painful. It remains to be seen if Hoke will get Michigan back into the national championship discussion, but there will not be any 3-9 years like Rich Rodriguez had in 2008.
Offensive Overview
2010 Scoring Offense: 32.8 PPG (third in the conference), total offense: 488.7 YPG (first), rushing YPC: 5.58 (first), passing efficiency: 145.99 (fifth).
Average scoring offense conference ranking over last five years: 5.4.
Best scoring offense conference ranking over last five years: Second (2006).
Worst scoring offense conference ranking over last five years: 11th (2008).
Returning Starters: QB Denard Robinson, RB Vincent Smith, RB Michael Shaw, WR Darryl Stonum, WR Roy Roundtree, WR Junior Hemingway, TE Kevin Koger, OT Taylor Lewan, C David Molk, OL Patrick Omameh, OL Mark Huyge.
Open Positions: FB, OL.
Offensive Breakdown
After Brady Hoke was hired, one of the first things he did was bring his San Diego State offensive coordinator along with him. That OC is Al Borges.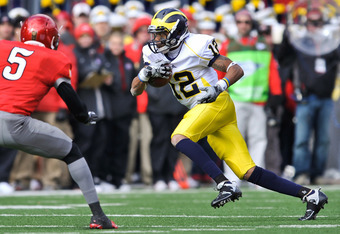 Jamie Sabau/Getty Images
Al Borges has been around football for a long time. He has been a professional offensive coordinator since 1986, and in that time, he has worked with nine different teams. Most of his experience has been in the Pac-10 (now Pac-12), though he did have one stint with Indiana under Gerry Dinardo.
He has a system, he believes in that system and while he is likely to make some tweaks here and there, he is not going overhaul his system no matter what personnel he is working with.
So, what sort of system does Borges run? From what I have read and from what I have gleaned from various reputable websites, articles and blogs, he is, according to mgoblog.com, "a veteran, pro-style, pass-first, West Coast disciple." But, as mgoblog.com further notes, and as one can infer based on his resume, there is a reason he has been around so long. It is because he is a solid offensive coordinator.
Despite his abilities, most accounts I have come across paint Borges as a decidedly stubborn system man.
And, to once again go to that same mgoblog.com article, "the prototypical Borges offense is one with an accurate (and not necessarily strong-armed) pocket passer, big NFL-type receivers on the outside to stretch the field, and a single stud running back as a home run threat out of the backfield."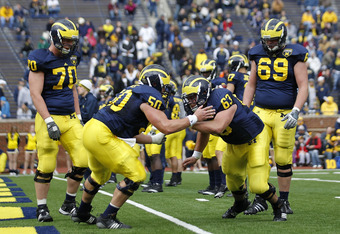 Leon Halip/Getty Images
Sound like the current Michigan offensive personnel?
Nope.
In fact, it sounds decidedly like a Lloyd Carr-coached team. On the other hand, there are a number of conflicting opinions, as well as reasons to be optimistic, as maizenbrew.com so aptly pointed out.
Quarterbacks
The biggest adjustment will begin with the quarterback.
I'll skip the huge introduction, and say that the quarterback in question is Denard Robinson—he of the Techmo Bowl stat-line, but who at some point left 11 of the 13 games he appeared in because a 193-lb. quarterback that is build like a slot receiver should not average almost 20 carries per game.
He will not be doing that much running in Brady Hoke's/Al Borges' offense. In fact, I'll be shocked if he averages double-digit carries per game for the remainder of his career as a Wolverine.
This brings into question how well he will adjust to Borges' traditional, pass-first schemes.
It is worth noting that Robinson did complete 62.5 percent of his passes in 2010. However, there are two issues with that number that could cause problems in his ability to adapt to his current offense.
Firstly, much of Robinson's success as a passer opened up directly due to his efficacy as a runner. He will be a dangerous runner no matter what offense he is playing in. Still, if defenses don't have to worry about him tucking the ball and running 20 times per game, they can instead focus on dropping more players back and forcing Robinson to beat them with his arm.
This will increase Robinson's effectiveness when he does run, but the bigger concern is his passing.
Secondly, a closer look at his situational stats reveals a few glaring numbers. Specifically, in the red zone, and in third-down with seven-or-more yards-to-go. he was decidedly ineffective and inaccurate.
In the red zone, Robinson completed 44.1 percent of his passes for seven touchdowns and three interceptions. In the red-zone situation, defenses use the end zone as the 12th man. In effect, they can bring more players into the box to take away the run (in this case, Robinson's running). This forces the big-time quarterbacks to step up and score points with their arms—something Robinson failed to do.
By comparison, Ohio State's Terrelle Pryor completed 69.1 percent of his red-zone passes and had 18 touchdowns to three picks. Iowa's Ricky Stanzi completed 56 percent with 16 touchdowns to no interceptions. Wisconsin's Scott Tolzien completed 82.4 percent with a 15:1 ratio.
In the 3rd-and-long situations, Robinson completed 47.7 percent of his passes, converted 20.9 percent of the first downs to go with a brutal 1:5 touchdown:interception ratio. Once again, in situations where Robinson had to be a passing quarterback, he was ineffective.
Using the same quarterbacks as measures of comparison, Pryor completed 55.1 percent of his passes, converted 36.7 percent of the first downs and had a 3:5 ratio. Stanzi was 54.1, 26.2 and 2:0. Tolzien was 69.2, 41.0 and 2:0.
In closing, I'm not saying that Robinson can't make the transition from being an option quarterback to a passing, pro-style quarterback. All indications are that he is a leader and an extremely hard worker; and if anybody can do it, he can.
I am saying that his 62.5 percent completion percentage is deceptive, and, in my opinion, he has yet to demonstrate that he can win games purely with his arm and be the quarterback that is needed to run Hoke's/Borges' offense.
If he can prove to be that quarterback, given the talent and experience UM has on the line and at receiver, the Wolverine offense might be unstoppable.
Big Ten Position Group Ranking: three
Running Backs
Arguably the biggest disappointment out of the Rich Rodriguez years were the running backs. Yes, the defense was consistently awful, but there were questions about Rodriguez's ability to coach up a defense from the beginning. Given his history, nobody questioned whether the program that produced Mike Hart, Tyrone Wheatley and Jamie Morris, among others, could produce a running back.
Yet, in three years, the most yards any individual running back managed was 601 by Vincent Smith in 2010. And that was with Denard Robinson to take the heat off him.
Some of it had to do with injuries and transitioning, but an inability to produce a quality Big Ten back in three full seasons speaks volumes.
So what was the problem?
It certainly wasn't recruiting, as Michigan recruits with the best of them, with Rich Rodriguez or without. This is especially relevant when one considers that running back, with its heavy emphasis on pure athleticism, is one position where stars and blue chips give a realistic indication of what the player in question can bring to the field (as opposed to offensive line, where stars barely indicate anything).
Perhaps, the problem was that the players that Michigan was getting and had were not suited to Rich Rodriguez's offense.
The above-linked article by maizeandbrew.com seems to agree with that sentiment. As the article states, outside of Smith and Fitzgerald Touissaint, Michigan's tailbacks are not really built to work out of a spread.
An ideal spread back is small, fast and shifty and does a lot of starting-and-stopping. An ideal pro-style back is big, durable, runs downhill and has powerful legs that run through tackles. Obviously, talent is talent and one type of back could succeed in a non-ideal scheme. Still, programs recruit certain types of players for a reason.
With that said, Michigan's top five backs are (in no particular order): sophomores Fitzgerald Touissaint and Stephen Hopkins; juniors Vincent Smith and Michael Cox; and senior Michael Shaw.
Shaw was recruited by Lloyd Carr for Lloyd Carr's offense. He never fit into Rich Rodriguez's offense, never succeeded in Rodriguez's offense and played a diminished role in Rodriguez's offense. He is currently listed at 6'1", 187 lbs., which means he should gain some weight. Odds are he kept his weight down in order to play in Rodriguez's offense. He will do better under Hoke.
As previously mentioned, Touissaint and Smith are ideal spread backs. Neither have been effective though injuries may have played a part in that. Moreover, Touissaint is fairly versatile and could probably do just as well out of pro sets.
Cox was recruited by Carr and as with Shaw, is more ideal for Carr's, and thus Hoke's offense.
Finally, Hopkins is a 6'0", 230-lb. Mack truck that was inexplicably recruited by Rodriguez, despite the fact he is not really a spread back.
With all of that in mind, guess who the top backs were following the spring game?
Hopkins and Cox, despite the fact that Smith has the most experience.
I am not necessarily calling for Hoke to do in one season what Rodriguez couldn't do in three, though I did call for that in March.
I am saying that despite a decreased rushing presence from Denard Robinson, the running game should be fine. Moreover, the Michigan running back group, while unproven, has a good deal of upside running out of Hoke's/Borges' offense.
Particularly look for either Cox or Hopkins to be one of the surprise Big Ten players in 2011.
At the other running back position—fullback—the starter looks to be either Hopkins doing double duty or senior John McColgan backed up by true freshman walk-on Joe Kerridge.
This is an area that may experience some growing pains, as Borges is sure to use a fullback, while Rodriguez barely had one touch the field. In effect, the majority of McColgan's stats over his career have been of the special team variety. Meanwhile, the likely backup is a walk-on true freshman for the simple reason that there are no other fullbacks on the roster.
Due to this, Borges might make less use of the fullback than he historically has.
Big Ten Position Group Ranking: seven
Receivers and Tight Ends
Most of Michigan's receivers, like almost every other offensive position other than running back, are physically more ideal for Rodriguez's offense.
Specifically, Borges' offense favors big NFL-type receivers that make plays downfield. On the other hand, Rodriguez's offense favored slot receivers that made plays in space. Thus, most of the Wolverine receivers (and quarterbacks and running backs) fall into the 5'8"-6'0", 185-200 lb. area. An ideal Borges receiver would look more like Braylon Edwards than Roy Roundtree.
But, unlike quarterback, it shouldn't be too much of a stretch to fit UM's talented receiving corps into a non-ideal offense. And those talented receivers should make Denard Robinson's transition to a passing quarterback that much more fluid.
The top receivers are seniors Darryl Stonum, Junior Hemingway, Martavious Odoms and Kelvin Grady; junior Roy Roundtree; and sophomore Jeremy Jackson.
Also, there are a slew of talented, if inexperienced, redshirt freshmen, sophomores and juniors that will push for playing time. In fact, there might be too many bodies, as Rodriguez's offense featured more receivers than Hoke's.
Michigan's most physically-ideal receiver, if not the top receiver, is Darryl Stonum. However, Stonum has been indefinitely suspended from the team, basically for being a bonehead. Hoke has yet to decide whether he will reinstate the senior, but, in presumably an attempt to appeal to young, upper class British recruits, he has stated that he "care(s) very much for the young lad."
Meanwhile, the top returning receiver is Roy Roundtree, who had 72 receptions for 935 yards and seven touchdowns last season. Roundtree was also the top receiver in 2009. At 6'0", 180-lbs., he is a quintessential Rodriguez receiver. Still, he is sure handed and knows how to run routes, and he will be a great asset to the UM passing game.
The second receiver—with Stonum out—is Junior Hemingway. Hemingway is a thick body (almost 230-lbs.) that, after Stonum, is the most appropriate for Borges' offense. He missed a good deal of time in 2010 with injuries, but he still picked up 32 receptions for 593 yards. He led the team in YPC with 18.53. If he can stay healthy, he could be the breakout player of the group.
Following the spring game, the top backup receivers were Odoms and Jackson.
Odoms missed much of last season with a broken foot. Meanwhile, Jackson has presumably passed more experienced players on the depth chart. Part of the reason for that is because, once again, at 6'3", he is more of the type of outside receiver that Borges is looking for.
Tight end is another position that was not favored by Rich Rodriguez, but is a used extensively by Hoke and Borges. In effect, Borges might employ fewer tight end looks than he normally prefers.
Senior Kevin Koger will be the starter. He will be backed up by junior Brandon Moore.
Last season, Koger had 14 receptions, which is the second-most receptions a Rich Rodriguez-coached tight end (at Michigan or West Virginia) ever had. The most was 16 by Koger in 2009. This should give one an idea of how little used the position was under Rodriguez.
On the other hand, in two seasons at San Diego State, Borges' tight ends averaged 36.5 catches per season.
It is a testament to Koger's abilities that Rodriguez used him as much as he did (his previous "record" with tight ends was eight receptions by Josh Bailey in 2002). Expect Koger to shine in Borges' offense, though depth is an issue as there is no experience behind Koger. In fact, the backups behind Moore—who has very little experience himself—are a senior converted defensive end and a freshman converted wide receiver.
The pass catchers in Ann Arbor are dangerous and deep. For the most part, the bodies are not ideal fits for the offense, but there are so many bodies and they are so skilled that opposing secondaries will not be able to take a second off. If Robinson can consistently get the ball in their hands, this group will put the ball in the end zone.
Big Ten Position Group Ranking: one
Offensive Line
Next to the quarterback, the offensive linemen will have the most difficult time transitioning to the new offense. Rodriguez's offense was about speed, zone blocking and block-and-release. With Borges' traditional offense, this will be standard Big Ten blocking, where the big uglies are looking to flat-out dominate the line of scrimmage.
Still, there is tons of experience and skill on the line, and most of these players will be able to play in either offense. After all, the majority of the players in question also had offers from Wisconsin, Iowa and Michigan State, the three most "traditional" programs currently in the Big Ten. Not to mention two of the probable starters began their college careers with Lloyd Carr.
Following the spring game, the offensive line was as follows (from left-to-right): sophomore Taylor Lewan, senior Mark Huyge, senior David Molk, junior Patrick Omameh and sophomore Michael Schofield.
Two other players of note are juniors Ricky Barnum and Rocko Khoury. Barnum could and likely will wind up at left guard with Huyge moving to right tackle where he will compete with Schofield for the starting spot. Khoury will back up Molk and serve as the seventh lineman.
Out of the bunch, Molk is the most notable. He is a three-year starter who earned all-conference honors last season. He is the leader on the line and will once again attract attention.
Taylor Lewan has the most upside. He earned the starting spot last season as a redshirt freshman. When he leaves UM, it is likely he will be a first-round draft choice. Playing in Hoke's offense will only help him in that capacity.
Mark Huyge, aside from having the greatest offensive lineman name of all time, is the most versatile of the players. He is a two-year starter and can play at either guard or tackle.
Patrick Omameh is also a two-year starter. At times last season, he, along with Molk, was the Wolverines' most consistent lineman, and he will compete for all-conference honors this season.
Both Barnum and Schofield have minimal experience, but a good deal of upside, though Barnum has been hampered by injuries throughout his career.
The top six should be very good, but after them, there is little to no depth. According to mwolverine.com, "This is the thinnest offensive line in Michigan Football History since I've been following the team in the 1960s."
Based strictly on the top six players, this group would be No. 2 or 3 in my conference rankings. However, a complete lack of depth, as well as the scheme change, causes me to drop them down two-three spots.
Big Ten Position Group Ranking: five

Coming tomorrow, defense and specialists.

Be sure to check out past installments of Big Ten Breakdown, beginning with the most recent, the Penn State Nittany Lions.