Badgers to Buckeyes: Ranking the Intimidation Factor of Big Ten Nicknames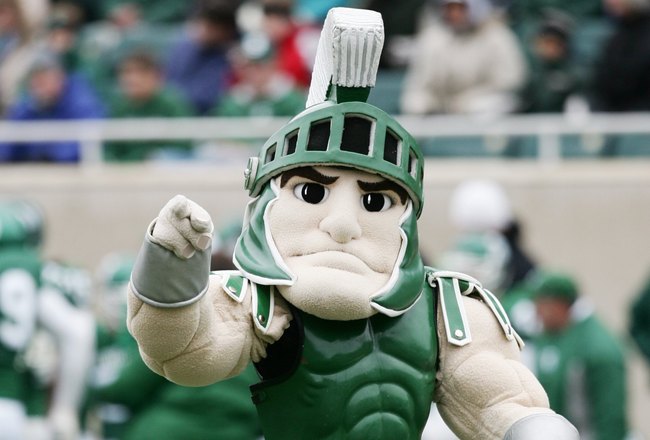 Harry How/Getty Images
Compiling this ranking was both fun and eye-opening.
It was fun in that the nicknames of college sports are seldom scrutinized and rarely questioned when, more often than not, they provide the scowling face of an entire athletic department.
The athletes themselves are even encouraged to take on the character of the nickname in many cases. It was eye-opening in that it quickly became clear that the Big Ten is not exactly chock-full of intimidating nicknames as it is.
We have among our ranks a fair share of rodents and less-than-glorious, blue-collar professions represented. The domestic seems to have won out over the exotic in the conference of the heartland. I hope you enjoy the rankings as much as I enjoyed putting them together.
12. Cornhuskers (Nebraska)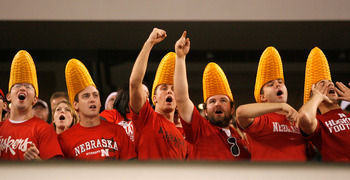 Tom Pennington/Getty Images
Welcome to the Big Ten, Nebraska. We are not afraid of you. Well, at least not your nickname.
Unless we're talking Children of the Corn, or something like that, "Corn Huskers" doesn't exactly spark fear in the minds of opponents.
I would venture to say that the nickname on its own inspires a classic Americana image of hardworking farmers putting in a long day's toil in the fields. It's creative, but not at all scary.
Blackshirts however, are another story.
11. Buckeyes (Ohio State)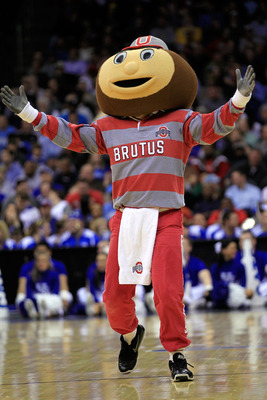 Chris Trotman/Getty Images
Like most mascots named after things that you eat, the intimidation has to be found elsewhere (legacy, uniform, stadium, etc).
To me, buckeyes are nuts, at best, and sweet peanut buttery confections at worst. And well, Brutus doesn't seem all that bloodthirsty either.
10. Golden Gophers (Minnesota)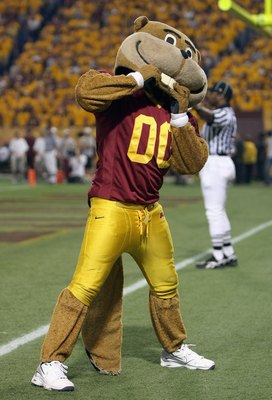 Doug Pensinger/Getty Images
Actually, I would like one as a pet. They sound very friendly and quite pleasant to look at.
However, if I ever had to play against one in football, I'm afraid I might call for "two-hand touch" out of fear of crushing my delightfully shiny, diminutive friend.
9. Hoosiers (Indiana)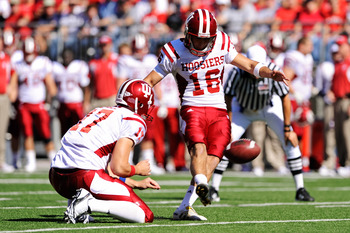 Jamie Sabau/Getty Images
People from Indiana are sometimes known as Hoosiers. What does that say for the state's other fine institutions: Purdue, Notre Dame, etc. Identity crisis?
After three minutes of minor research, it appears as though residents of other states use the term Hoosier to refer to the uncultured, the hillbillies. Did you know this, Indiana University?
8. Wildcats (Northwestern)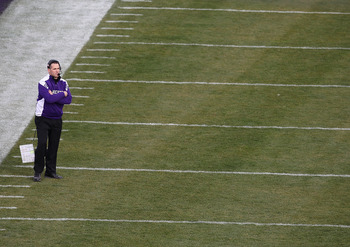 Jonathan Daniel/Getty Images
One word: trite. Kentucky, Arizona, Kansas State…In addition to sharing a nickname, these four schools share a tendency to spend years in mediocrity punctuated by brief periods of unexpected success. Not very intimidating...
7. Badgers (Wisconsin)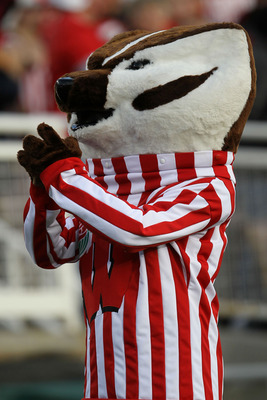 Stephen Dunn/Getty Images
Ok, so, the Big Ten must not be full of lions, tigers and bears. The fact that Wisconsin's furry namesake beats out five other schools is more a testament to the friendly nature of Big Ten nicknames than it is to the intimidation factor of the "badger."
It's not even the most intimidating rodent in the conference, as it turns out.
6. Fighting Illini (Illinois)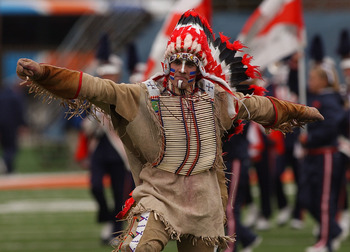 Jonathan Daniel/Getty Images
Illinois was prevented from continuing to use their traditional Chief Illiniwek (pictured here) as a mascot due to derogatory connotations for Native Americans. This neuters the nickname somewhat, obscuring the original intent. However, whatever Illini are, they are fighting. That's more than can be said for some of the nutty, corny, mousy friends I've already mentioned.
5. Boilermakers (Purdue)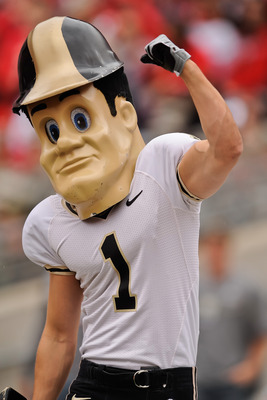 Jamie Sabau/Getty Images
Here we have another imaginative human nickname. Given the fact that it's more well-defined and characterized than Hoosiers or Illini, Purdue cracks the top half of the rankings.
If you've got what it takes to withstand the extreme conditions of boiler making, then your profession is probably one of the manlier ones (husking corn, anyone?)
4. Nittany Lions (Penn State)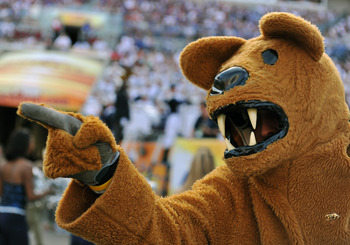 Al Messerschmidt/Getty Images
Well, you are from Happy Valley, aren't you. Nobody really knows what "Nittany" means, outside of PSU's campus, so it can really be as intimidating as you imagine it to be.
Lions on their own are pretty intimidating, so I'm giving Penn State a No. 4 ranking. Your on-field mascot is downright terrifying though.
This is a bank-robbing outfit first, a mascot second.
3. Hawkeyes (Iowa)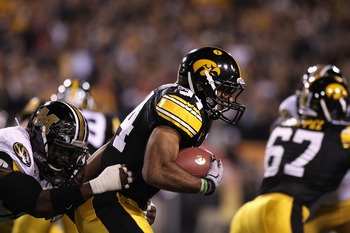 Christian Petersen/Getty Images
Other than a literal understanding, I have no idea what a "hawkeye" is. It probably shouldn't be as high as three, but it is.
This may be the sharp logo or the yellow and black or the nightmares I've had involving Kinnick Stadium.
Regardless, the thought of a hawk using its eyes to track you down from far above is at least a little unsettling, right?
2. Spartans (Michigan State)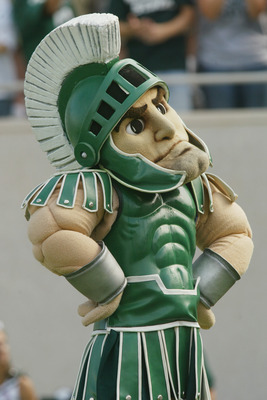 Danny Moloshok/Getty Images
Classic mascot; creative warrior moniker.
In the decidedly docile Big Ten, this earns you second place. Sparty is one of the best known sideline scowlers in the college football world.
As the most intimidating human-form nickname in the conference…top marks. (Sorry Purdue, Nebraska, Illinois, Indiana)
1. Wolverines (Michigan)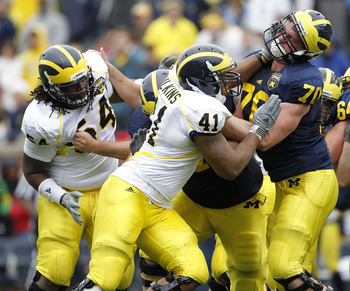 Leon Halip/Getty Images
So, I'm a little bit biased. Michigan does not have a mascot, at least for the time being. That may be because no furry-suited creature prancing around the sidelines would do the name justice.
Wolverines are known for being some of the most fearsome animals around. Michigan once kept a live wolverine on the sidelines, but I can't imagine that happening in today's age.
Keep with tradition guys. It's intimidating enough.
Keep Reading