Preseason College Football Rankings 2011: 5 Biggest Non-Conference SEC Games
July 28, 2011
Mike Ehrmann/Getty Images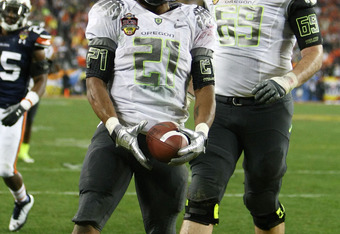 Jonathan Ferrey/Getty Images
OK, so many card-carrying members of the Gator Nation are a bit PO'd with me. After all, I had the gall to pick Florida to finish third in the SEC East.
My reasons were sound, and I was more than clear they were schedule-based. Still, apparently I am clueless if I walk around seeing the world without an orange and blue hue.
Speaking of schedules, today we're going to look at the top five non-conference games set to be played in 2011 by SEC schools.
Sorry, Gator fans—the Florida Atlantic, Alabama-Birmingham and Furman games didn't make the cut. Go ahead, I'm waiting on the "you're a moron," "you suck" and whatever other heartfelt salvos you might want to send my way.
1. LSU vs. Oregon (Sept. 3 in Dallas)
JerryWorld is the location for what might very well be college football's non-conference game of the year. Both the Tigers and Phil Knight U very well could be among the nation's five best teams, and each could contend for the BCS national championship.
Bravo to these two powerhouse programs for scheduling this fan-friendly contest. 
2. Boise State vs. Georgia (Sept. 3 in Atlanta)
Give the Smurf-turfed guys from Boise credit for traveling to the Georgia Dome for what should pretty much be a home game for the 'Dawgs. These two schools met in 2005, and it was ugly for the Broncos, who left Athens with a 48-13 loss. Since then, Boise State has improved exponentially as a program, while Georgia has stagnated a bit.
This will answer those questions about how the Broncos would do against an upper-mid SEC team. 
3. Florida State at Florida (Nov. 26)
Third place again...sorry, Gator fans. That said, this is one of college football's best rivalries (how many others can claim having the two teams meet in a rematch with the national title on the line like these two did to cap the 1996 season?).
However, on the bad side, there hasn't been a close game since UF knocked off the 'Noles 21-14 in 2006. Also, Florida State has beaten the Gators just once since 2003. Alas, that was last year, so maybe things are evening up.
4. Clemson at South Carolina (Nov. 26)
These two teams have split their last four meetings with each going 2-2 at home. The Gamecocks are the favorites to represent the SEC East in Atlanta, while the Tigers usually are among the top contenders for the ACC crown.
Like UF and FSU, these two fanbases don't like one another, and many of the players on the two teams have been rivals since high school.
5. Alabama at Penn State (Sept. 10)
When these two scrapped last September in Tuscaloosa, it was one-sided, as the Crimson Tide finished the day with a 24-3 win. The Nittany Lions would love to reverse their fortunes this season in Happy Valley.
Unfortunately for JoePa and Co., Alabama is a legitimate BCS National Championship contender. The best reason for PSU hope (aside from its home field) is the game will mark just the second start for Alabama's new quarterback (be it sophomore A.J. McCarron or redshirt freshman Phillip Sims). Even those factors probably won't prove to be nearly enough.