2011 SEC College Football Preview: Non-Conference Schedules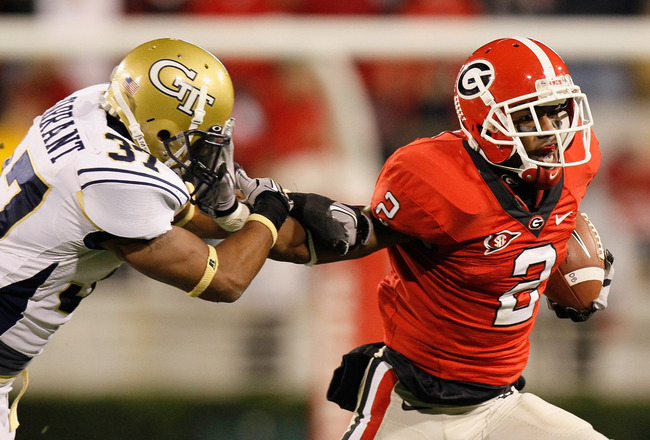 Georgia's All-Everything Player, Brandon Boykin
Kevin C. Cox/Getty Images
This is the third part in a series previewing the 2011 SEC college football season: SEC Non-Conference Games.
One of the only knocks against the SEC—by college football fans outside the SEC and most of the national media members—has been the easy non-conference schedules their teams play. The last few years the SEC has taken the rest of the country head-on and they do so again in 2011.
SEC Teams with Tough Non-Conference Schedules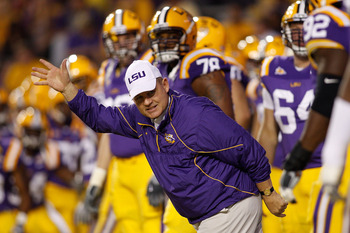 Go get'em men!
Chris Graythen/Getty Images
Kudos to LSU and its staff.
Regardless of how the season turns out, on paper the Tigers have the toughest schedule of any NCAA team. If they make it to any title game—SEC, BCS, or the Pee-Wee Championship Game—they will have earned it.
They play Oregon in Week 1 on a neutral site and at West Virginia in Week 4.
Tough Games for Houston Nutt and Ole Miss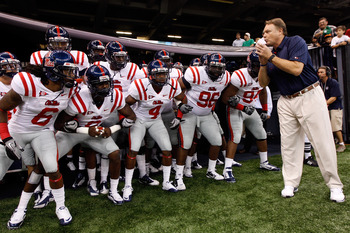 Rally the troops, we're going to need them!
Chris Graythen/Getty Images
Ole Miss didn't carve out an easy non-conference schedule either. The Rebels play BYU at home and Fresno State on the road.
Can the Georgia Bulldogs Take Care of Business in 2011?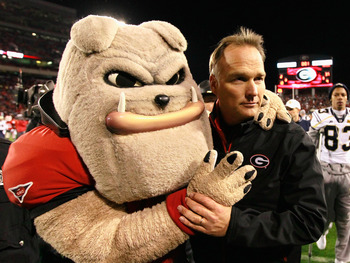 "I will eat you alive if you don't beat Boise State in week one!"
Kevin C. Cox/Getty Images
Georgia plays Boise State at home and in-state rival Georgia Tech on the road. Even when Georgia has not played well in the SEC, it still takes care of business against the Yellow Jackets.
What Conference Are You in Again?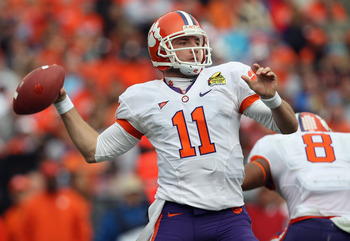 "I went into the ACC so I don't have to play against the SEC".
Streeter Lecka/Getty Images
University of Alabama-Birmingham (Conference USA) plays Mississippi State and Florida this year, while Clemson (Atlantic Coast Conference) plays South Carolina and Auburn.
SEC Non-Conference Games, Dates and Locations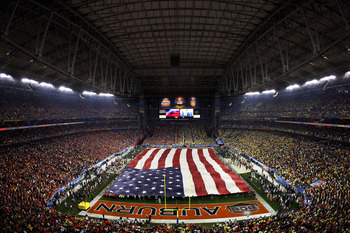 Welcome to the Big Time!
Christian Petersen/Getty Images
SEC Team/Opponent/Date/Site (off-campus location)
*Boise State at Georgia, Sept. 3, in Atlanta
BYU at Ole Miss, Sept. 3
*Oregon vs. LSU, Sept. 3, in Arlington, Texas
*Alabama at Penn State, Sept. 10
University of Connecticut vs. Vanderbilt, Sept. 10
Auburn at Clemson, Sept. 17
Louisville at Kentucky, Sept. 17
LSU at West Virginia, Sept. 24
Vanderbilt at Wake Forest, Sept. 26
*Arkansas vs. Texas A&M, Oct. 1, in Arlington, Texas
Ole Miss at Fresno State, Oct. 1
*Florida State vs. Florida, Nov. 26
* DVR them if you can't watch live.
Breaking Down the Implications of the Non-Conference Games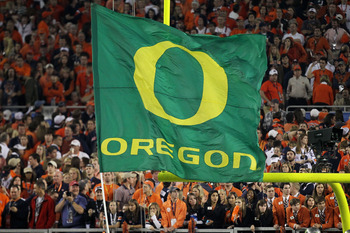 Will Oregon be 0-2 in their last two games, also vs. SEC teams?
Jonathan Ferrey/Getty Images
LSU vs. Oregon and Boise State vs. Georgia could set the pace for all end of the season BCS games in Week 1. LSU and Oregon have legitimate shots at playing for a national title and whoever wins could be in the BCS National Championship driver's seat for the rest of the season.
If Boise State beats Georgia, it will use the Georgia and TCU games as reasons for a chance to play in the title game. Boise State makes the jump to the Mountain West this season; the good thing about this for college football fans is no more horrible BCS matchups featuring Boise State against TCU (see: the Tostitos Fiesta Bowl in 2010).
The bad news is only one of the two may get a BCS game from here on out. That should make for an intense conference rivalry from day one for those two schools.
Showdown in the Sunshine State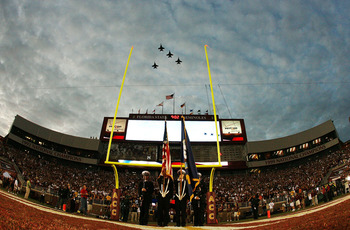 Can the Gators get revenge for last years 31-7 loss to FSU?
Doug Benc/Getty Images
Florida State vs. Florida could have several implications come the end of November. If Will Muschamp and company can reverse the mediocre play of last year's Gators squad they could be an outside shot at the SEC title game in Atlanta. Winning that game could put them in a BCS bowl. If Florida were to beat Florida State that could give them an outside shot at a BCS National Championship game.
It could happen.
Chances are this game will mean more to UF for recruiting and a higher second-tier bowl than a National Championship Game or even a BCS bowl berth. If Florida State has taken care of business against Oklahoma at home (Sept. 17) this could be the last bump in the road before FSU reclaims its glory days and plays in the BCS title game.
Who Do They Play? Why?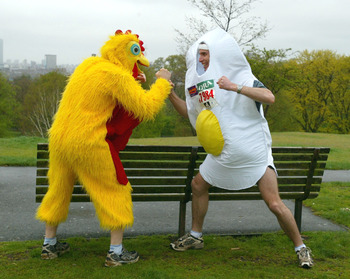 What came first, the schedule or the scheduler?
Christopher Lee/Getty Images
Mississippi State and Tennessee lay eggs with their non-conference schedule.
Tennessee plays a Cincinnati team that "hopes" to turn things around in 2011—they were 4-8 in 2010. But if Cincinnati comes up short in 2011, neither Tennessee nor Mississippi State will play a bowl team from last year or a potential bowl team from this year in non-conference play.
At least MSU goes on the road twice (got to find a silver lining here).
Mississippi State's Non-Conference Lineup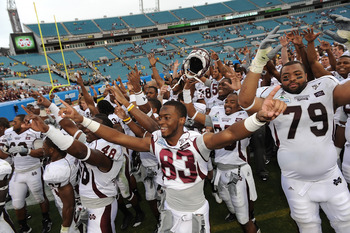 Rick Dole/Getty Images
Mississippi State
Sept. 1—at Memphis
Sept. 24—Louisiana Tech
Oct. 8—at UAB
Nov. 5—Tennessee-Martin
University of Tennessee's Non-Conference Schedule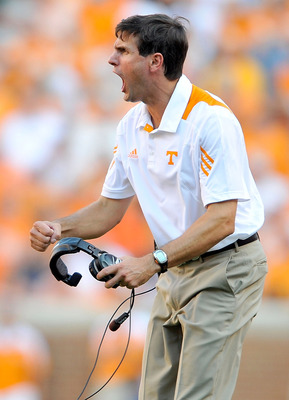 "We have to win all of our non-conference games".
Grant Halverson/Getty Images
Tennessee
Sept. 3—Montana
Sept. 10—Cincinnati
Oct. 1—Buffalo
Nov. 5—Middle Tennessee
Keep Reading