Nebraska Cornhuskers Picked to Win Big Ten: Can They Live Up to the Hype?
July 26, 2011
Otto Greule Jr/Getty Images
For once, the expectations of the general population for Nebraska's football team may actually be higher than those of Husker Nation.  At least that seems to be what an unofficial poll conducted by the Cleveland Plain Dealer would seem to indicate.
The voters in the poll were 24 journalists that cover the Big Ten on a daily basis (two from each team).  The writers were asked whom they thought would win each division, the conference, offensive and defensive player of the year awards, as well as who they thought was the best coach in the conference.
Nebraska received the most votes in the Legends Division by a wide margin, receiving 19 of the 24 votes.  Michigan State was picked to finish second and received four first place votes.  The voting for the overall conference favorite was much closer.
In the Huskers first season in the Big Ten, 12 writers picked Nebraska to win their new league. The Wisconsin Badgers came in just one vote behind with 11 first place votes.
No doubt there are members of Husker Nation who agree with half of the writers polled and believe Nebraska will win the Big Ten in 2011.  However, I believe there is a large contingent of Big Red faithful that think the Huskers have a lot more questions to answer this fall than those 24 voters apparently do.
It is entirely possible that the more skeptical Nebraska fans have a valid point in not being so sure the Huskers will win the Big Ten this year.  There are more than a few legitimate concerns facing Bo Pelini and company as they prepare to start practice.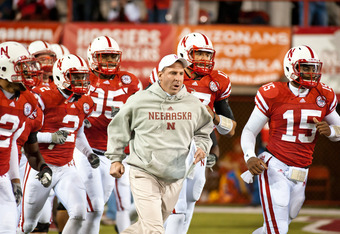 Eric Francis/Getty Images
For example, how will the Huskers replace the production of Roy Helu?  Will the inexperienced receivers (behind Brandon Kinnie) be able to add a more explosive facet to the offense?  What affect will facing a new lineup of conference foes have on Nebraska's ability to game plan effectively?
I believe those are all questions with reasonable answers though.  Rex Burkhead is poised to take over as the full time starter at running back and has a talented stable of young backs behind him to help share the load.
At receiver, Jamal Turner brings a spark to the position that Husker wide-outs do not usually possess and Kyler Reed provides a constant mismatch at tight end for Nebraska to exploit in the passing game.
As far as the schedule filled with unfamiliar teams is concerned; I think it is a factor that has been completely blown out of proportion.  You have to remember, the teams the Huskers will be facing are just as unfamiliar with Nebraska as Nebraska is with them. To me, that's pretty much the definition of a wash.
There is still one question left that the Huskers have to answer and it will almost certainly determine whether or not the media's prediction comes true.  That question is, what exactly is Nebraska going to get out of Taylor Martinez?
That is a question no one seems to have the answer to and if anyone tells you differently, they are lying.  What I do know about that question is that the perception of Taylor Martinez in the national media is vastly different than the perception of him in the local media.
The national media views Martinez as a returning starter who showed some flashes of brilliance as a freshman.  They see him as a guy who was having a fantastic season before a nagging injury derailed him for the rest of the season.  The national media expects Martinez to take his experiences from last year and build on them to take his talents and his team to the next level.
On the other hand, the local media sees Martinez as a guy whose job could very well be in danger.  They see him as a quarterback that was challenged to beat teams with his arm and came back with mixed results, at best.  The local media sees Martinez as a guy whose struggles in the second half of the season had as much to do with what was going on between his ears as it did with that nagging injury.
The truth probably lies somewhere in between the two perceptions of Martinez. Nebraska's quarterback situation is more of a question mark than the national media realizes, but is not necessarily in as critical a condition as residents of the Cornhusker state may believe.
If Martinez has gotten himself healthy, developed his passing skills and gotten his head on straight since the end of last season then the media members who believe the Huskers will be Big Ten champions will look like prophets.
However, if Martinez is still a one-dimensional threat at quarterback and has not fixed some apparent attitude problems over the off-season, then there is a better chance that Nebraska will re-hire Bill Callahan than there is that they will win the Big Ten.