Analyzing the Most Important Game of the Utah Utes' Season
August 1, 2011
The University of Utah football team is no stranger to big games. It's true that, in the past, the Utes have not faced a schedule you would call "packed" with those big games, but that's all about to change.
Entering their daunting new conference affiliation with the Pac-12, Utah will have a lot to prove. Four games this season stand out, especially: at BYU, at Pitt, vs. Arizona State and at USC.
While an argument could be made for all those games (except possibly Pittsburgh) as Utah's most important game of the season, USC stands above the others.
Utah opens its conference schedule at USC on September 10.
This will be, hands down, Utah's most vital matchup of 2011 and here's why:
USC is considered the preseason top team/contender in the Pac-12 South Division this year. With Matt Barkley returning at quarterback, the Trojans have the offensive firepower to back that spot.
The Utes are a heavy underdog in this matchup, and I can't say that I disagree. The Colosseum is no joke and those fans will be hyped.
Issues the Utes might face on the field include, but aren't limited to: an unproven secondary, I say unproven because there has yet to be such a thing as a bad Utah secondary (Utah has sent nine DBs to the NFL in the last six years), a depleted offensive line and a lack of depth at quarterback.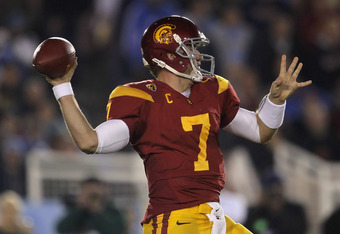 Jeff Gross/Getty Images
The biggest concern of those three, in my opinion, is the depleted O-Line because it directly affects the depth at QB issue. With the insane talent that USC always has at linebacker and defensive line, I'm very concerned about Jordan Wynn's physical well-being.
Should Utah lose this game, it will be more than just a loss. Depending on the final score, a loss also signifies validation for all the other conference members and really, all other BCS schools, skeptical of Utah's chances in their new situation. I don't even want to think about how much bad publicity that will stir up with the ESPN analysts.
In the event of a blowout loss to the Trojans, all Utah's credibility could go right out the window and they still won't have a good measurement of where they will fit in the new conference. They could just become the Louisville of the Pac-12.
Should they lose a close game, I think it's a definite confidence boost but likely a wash with regards to national respect.
Now on the other hand, if Utah can swing the "W" in their first ever Pac-12 game, on the road, against arguably the most successful college football program of the last decade, well...it gives me goosebumps.
Hello, conference respect. Hello, national ranking. Hello, national cred. 
Goodbye, nerves. Goodbye, doubt. Goodbye, haters. Goodbye, small-time.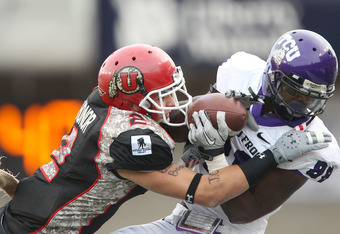 George Frey/Getty Images
Okay, maybe I'm going a little overboard.
How can the Utes pull off the victory? Well, as tough as USC is, I honestly believe the Trojan offense will play into their defensive comfort zone. With Barkley taking snaps under center, their amazing pass rush will have plenty of time to get to the future first-rounder.
With breakout sensation Brian Blechen moving to linebacker and pairing up with veterans Matt Martinez and Chaz Walker this year, good luck to Marc Tyler (a.k.a. "Mr. TMZ") gaining yardage, if he's even eligible to play.
Jordan Wynn will have to play an amazing game. Coming off of offseason surgery on his throwing shoulder (which he injured mid-season against Iowa State), Wynn reports that he feels great and can't wait for fall camp. With an offensive coordinator fit for his pro-style abilities and three new running backs capable of starting, things look good for the Utes' offense. 
Utah offensive coordinator Norm Chow's experience with USC, both as Trojans' OC and with their rivals UCLA over the last decade, should be nothing but beneficial when drafting up an offensive game plan against the Trojans.
The most encouraging thought in all of this, is Utes head coach Kyle Whittingham's record in big games. (5-1 in bowl games, 2-0 in BCS bowl games as both head coach and assistant head coach). 
With a victory in this game, Utah will have beaten the most talented team on their schedule and possibly in the Pac-12. Having the toughest and most anticipated game at the beginning of the year is something that, quite honestly, Utah fans have not experienced.
In-state rival BYU has always occupied the last game on the schedule and put the Utes in a situation where the season isn't over 'til it's over.
I have not, am not, and likely will not ever be on board with the Pac-12's notion of Utah and Colorado being or becoming rivals. 
Through a hard fought game and a Ute victory, a rivalry will begin between Utah and USC as division leaders and competitors and, who knows? Maybe the showdown September 10 will go down as one of the most important games in Utah history, not just this season.