Florida Football: Top 5 Impact Players in the Gators' 2011 Recruiting Class
With this year's Florida Gators recruiting class ranked only 12th in the nation, what can we expect from their pickups this year?
Eleven 4-star recruits, coupled with eight other commits, gives the Gators 19 new freshmen for the upcoming year.
Here are the top five Florida football recruits who have the best chance to make a big impact next year.
5. FB Hunter Joyer (Wesley Chapel High School)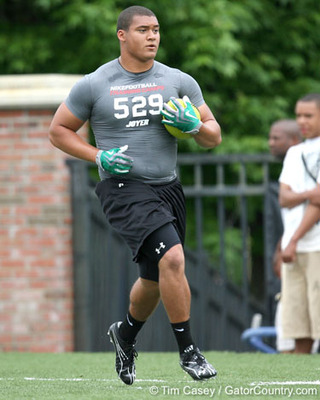 Position Ranking (all rankings from Rivals): 1
National Ranking: N/A
State Ranking: 93
First on my list is the big fullback from Wesley Chapel, Florida, Hunter Joyer.
This freshman clocks in at six feet and 240 pounds, an absolute monster.
Having a new fullback who can go in on third-and-short yardage will help new coach Will Muschamp's transition to a pro-style offense.
Considering that the Gators haven't run the pro style offense in a while, it makes sense to have a solid FB back up the two little backs, Jeff Demps and Chris Rainey.
Just another way that the Florida Gators can beat their opponents.
4. CB Marcus Roberson (St. Thomas Aquinas High School)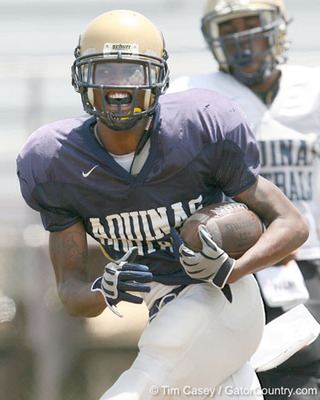 Position Ranking: 2
National Ranking: 37
State Ranking: 12
This long and lean defensive back has the instincts of a hawk. This kid gets to places on the field before others would think about being there.
With Roberson's height and speed, it will be very difficult for receivers to beat Roberson. He has the height to defend big wide receivers and the speed to cover the quick ones.
3. WR Ja'Juan Story (Nature Coast High School)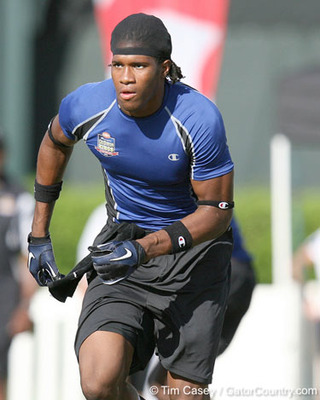 Position Ranking: 31
National Ranking: NA
State Ranking: 45
Ja'Juan has the body of a possible professional receiver with his 6'4", 200-pound stature.
I believe that Story will put on 20 pounds of muscle when working out with UF trainers. Coupled with his height, Story will be a serious threat over the next four years.
Not only is Ja'Juan tall, but he also has breakout speed, running a 4.4 40-yard dash.
This kid just looks like an athlete all around. Don't be surprised if you see this kid get a good amount of playing time at wide receiver.
2. TE A.C. Leonard (University Christian School)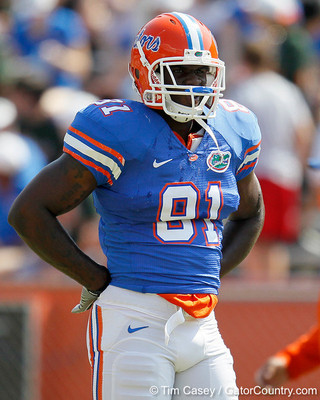 Position Ranking: 5
National Ranking: 57
State Ranking: 15
This 6'4", 245-pound tight end is overall just a huge guy. Not only does Leonard have a good build, but he has hands that any wide receiver coach would die to work with.
Considering that the Gators haven't had a great tight end since Aaron Hernandez, A.C. will allow the Gators to have another big option downfield, while also contributing his great run blocking skills.
1. QB Jeff Driskel (Hagerty High School)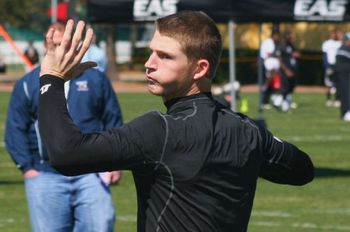 Position Ranking: 1
National Ranking: 32
State Ranking: 10
The top player that the Gators signed this year was a QB phenom out of Oviedo, Florida, Jeff Driskel.
Driskel, with his big 6'3", 225-pound frame, has the stature and skill to become the next Tim Tebow.
With Driskel running a 4.5 40-yard dash, he has the speed and arm to be deadly against SEC defenders.
After sitting behind John Brantley for his first year, Driskel will have the ability to feel out the speed of the college game. However, I believe that if Brantley isn't performing well within the first three games, we will see Coach Muschamp call for the freshman.
Being able to watch Driskel has given me the opportunity to see how skillful and threatening he truly is.
Keep Reading

Florida Gators Football: Like this team?