USC Football Recruiting: 2011 Signee DL Steve Dillon Fails To Get Grades
July 20, 2011
Steve Dillon of Palmdale, California, failed to make the grades this summer to qualify academically for USC.  He confirmed this in a text message to ESPNLosAngeles.com on July 19.
The Trojans coaching staff took a chance on him, and it didn't pan out.  He was listed on page nine of the 2011 USC media guide as a DE along with fellow 2011 recruits Greg Townsend Jr. and DeVante Wilson.  Fortunately, this is a position that USC is strong in and expects to do well with 2012 recruits also.
Dillon requested a scholarship release from USC on July 18 and awaits the signed paperwork from head coach Lane Kiffin.
Academics have been a problem for Dillon, and he was the last of the 31-member USC 2011 top four recruiting class to sign on March 16, 2011. 
Although he committed to USC in October 2010, he did not receive a LOI on National Signing Day in February 2011 due to his academic issues. 
When Dillon provided USC with updated SAT scores and grades in March, he received the LOI which he signed. 
USC will now have one more scholarship available for another 2012 early enrollee.  Due to NCAA sanctions, the Trojans are limited to 15 scholarships per year for the next three years and 75 total so the early enrollee scholarships may be very helpful.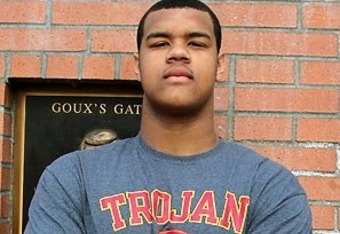 USC took a chance on Dillon because he has great potential on the DL, and the Trojans had so many 2011 scholarship slots due to the NCAA sanction appeal and eight early enrollees. 
Dillon's senior honors included Super Prep All-Farwest, Prep Star All-West and Los Angeles Daily News All-Area second team.
Since he didn't qualify with the minimum high school academics required by the NCAA, it is going to be difficult for him to satisfy the college academic requirements. 
Junior college would appear to be the most likely path for him because he has a lot of work to make up.
Dillon may have some Division I options if he goes Proposition 48, but it won't be in the Pac-12.  As a partial qualifier, his options will be limited.  But, junior college would reopen his recruitment.
Dillon indicated that he would not re-sign with USC. Apparently, his mother wants him to get away from the southern California area due to distractions. 
If that is the reason for his poor grades, then maybe it is appropriate, however it is hard to imagine any college without a lot of distractions to handle.
Dillon looked hard at the California Golden Bears in December 2010 even though he was committed to USC.  He may also be interested in Florida.  But, it is hard to believe anyone will be interested in him until he shows that he can handle the academic requirements.
Another USC DL recruit who may not qualify academically is DT J.R. Tavai.
USC is pursuing DT Ellis McCarthy and Aziz Shittu (possible early enrollee) in the 2012 class, and has a commitment from the best DE in the class, Arik Armstead (plans to be early enrollee).  Other highly rated DE candidates include Tyriq McCord and Jordan Jenkins.
Although Dillon's failure to qualify is a disappointment, it may work out well for USC. 
Rather than dealing with his academic challenges in the future and the risk he will not play, the Trojans can use this scholarship to provide some flexibility for positions of greatest need during the reduced scholarship years.