Washington Football: Will Chris Polk Eclipse Napoleon Kaufman as Best-Ever RB?
July 19, 2011
Otto Greule Jr/Getty Images
There was a moment in October 2009, playing under the lights in Notre Dame Stadium, that UW running back Chris Polk took a handoff from quarterback Jake Locker and broke to the sideline on a memorable run.
Multiple Irish defenders grappled and wrestled with the relatively diminutive Polk in desperate attempts to bring him down.  But Polk's legs kept churning, refusing to stop, refusing to yield.  His sublime determination netted the play an additional nine yards simply by dragging tacklers. 
Although such displays are rare for running backs not built like Larry Csonka or Rick Fenney, they've become common in the past two seasons for Polk.  His moxie and grit are like something out of the movie "Rudy."  But unlike the undersized and talent-shy Rudy Ruettiger, Polk is loaded with ability.
Polk is reminiscent in stature and ability of former UW running back Napoleon Kaufman (1991-94), who remains Washington's all-time leading rusher with 4,401 yards.   Both backs were relatively diminutive, possessed great vision, gained additional yards after contact, and played with tremendous heart. 
Back in the day, Kaufman's electrifying style and charismatic swagger endeared him to fans as a symbol of Washington's dominating success in the early 1990s.  His ability to bench press over 400 pounds and drag tacklers was equally impressive, though he was faster hitting the hole and breaking into the clear.   Broadcaster Keith Jackson once stated that when Kaufman ran his legs moved like "a needle in a sewing machine."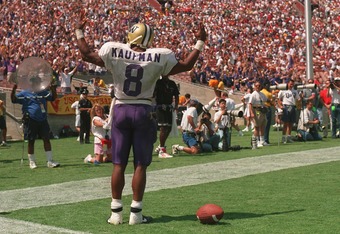 Al Bello/Getty Images
Napoleon Kaufman played in vastly different era than Polk.  Kaufman arrived in 1991 with great fanfare and joined a Washington team that had just crushed Iowa in the Rose Bowl. 
In his first year, Kaufman was third string, playing behind tailbacks Beno Bryant and Jay Berry.  Kaufman returned kickoffs and thrilled fans as a backup.  The Huskies went 12-0 that season and won the 1992 Rose Bowl and subsequent national championship.
Kaufman became a starter his sophomore season, played in another Rose Bowl, and rushed for 1,000 yards in three consecutive seasons.  He concluded his UW career by being named an All-American and becoming a first round draft pick for the Oakland Raiders.
On the other hand, Chris Polk arrived in Seattle in 2008 with decent fanfare for a doomed UW team that was in a downward spiral of four consecutive losing seasons.  Polk spurned USC to sign with Washington, when then-UW coach Tyrone Willingham promised him an immediate starting position if he signed with the Huskies.  
In Polk's first two games of his freshman season, he looked like a deer in headlights.  He rushed for 33 yards on 20 carries before a shoulder injury ended his season.  Meanwhile, the team as a whole suffered through an 0-12 season.
By 2009, he was a year older and playing for new coach Steve Sarkisian.  Under Sark, the team improved to 5-7 including a mind-blowing win over heavily-favored USC.  Polk began making a name for himself as a great running back and produced the first of consecutive 1,000 yard seasons.

In 2010, Washington enjoyed its first winning season in eight years by going 7-6.  Amidst all the fanfare for quarterback Jake Locker, the dirty little secret in Seattle was that the winning season was thanks largely to the steady efforts of Polk, and not the sporadic performances of Locker. 
When Sarkisian abandoned his vision of having Locker throw for a million yards and turned the offense over to Polk, the team's fortunes shifted at once.  Polk racked up 1,415 yards and ran wild in the Apple Cup.  Against Washington State, Polk ran 29 times for 284 yards – the second most in Husky history, behind Hugh McElhenny's 296 also against WSU in 1950. 
In the Holiday Bowl win over Nebraska, Polk rushed 34 times for 177 yards and was named the game's MVP.
Polk now enters his junior season with a chance to eclipse Kaufman as Washington's best-ever running back.  Polk's 2,561 career rushing yards currently rank him sixth in Husky history.  And he has two seasons yet to play, assuming he doesn't leave early for the NFL.
Fair or not, Polk probably needs his team to win a BCS game in 2011 for him to be considered on Kaufman's level.  But this time around, he will be the unquestioned go-to-guy on offense from the opening game. 
He won't have the spectacular offensive line that Kaufman enjoyed, but if he stays healthy and the defense can improve on its great showing late last year, the sky's the limit for the Washington tailback.
Derek Johnson is the author of three books, including the recently-released Bow Down to Willingham.  Read a free excerpt at www.derekjohnsonbooks.com