The Many Casualties in Ohio State's Fall from Gridiron Grace
July 16, 2011
Jamie Sabau/Getty Images
One would like to believe the legendary Ohio State football coach Woody Hayes would have been appalled by the way Jim Tressel ran his old program.
The deceit and hypocrisy Tressel nurtured during his reign apparently went on for years while school officials were either left in the dark or looked the other way. Now the Buckeyes face some of the harshest NCAA sanctions imaginable.
And if all that's not bad enough, there's the unfortunate sidebar about Kirk Herbstreit, one of the most identifiable OSU alumni, who had to leave the state after years of harassment by some of the program's most over-the-top loyalists.
First, Tressel. We learned Friday that in an evaluation of his job performance dating back as far as 2005-06, he was told by then-athletic director Andy Geiger he rated "unacceptable" for how he was self-reporting NCAA violations.
Notice the timeline here. This is five years before a fresh set of scandals caught up with Tressel, causing him to have to hit the road despite a career record at Ohio State of 106-22 and a national championship.
The coach also was warned that he and his staff needed to do a better job of monitoring the cars team members were driving, an issue that would also haunt him this spring amid allegations that players were selling championship rings and other memorabilia—yet more information Tressel didn't feel compelled to tell school officials or the NCAA.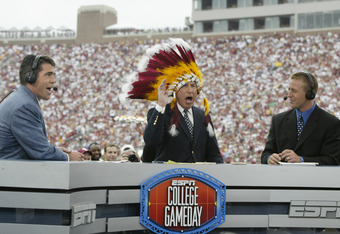 Craig Jones/Getty Images
It turns out Tressel was even reprimanded before he ever coached a game at OSU for illegally giving a team jersey to a recruit.
Ohio State recently vacated the 2010 season, its share of the Big Ten Football Championship Game, and put itself on a two-year probation. But the worst is almost certainly to come when the school goes before the NCAA's Committee on Infractions on Aug. 12.
A devout Christian, Tressel would lead Bible study with OSU coaches and athletes in which a portion of the discussion would center on accountability. Clearly, the coach didn't practice what he preached. What a lousy example to set for those who looked up to him as a pious man, especially the kids he was tasked with mentoring.
Then there's the actions of a small but volatile group of OSU fans who just couldn't bear to hear their beloved Buckeyes criticized by a national college football commentator—one who just happens to be one of them—and decided they were going to make Kirk Herbstreit pay.
All you need to know about Herbstreit, a one-time standout OSU quarterback and current ESPN/ABC analyst, is contained in his comments from an interview in the book "Those Guys Have All the Fun: Inside the World of ESPN," by James Andrew Miller and Tom Shales:
"My dad played at Ohio State. He was a captain there. So before I even went to Ohio State, I was probably more of an Ohio State fan than I was while I was at Ohio State, and since leaving.
"Now, I'm not going to hide the fact or pretend when the camera's off I am not an Ohio State fan and that my four boys aren't dressed every Saturday in their scarlet-and-gray jerseys and are at home with my wife singing the fight song when they wake up to breakfast. I mean, that's just the way I am and that's the way I always will be and that's the way my kids will be.
"But with that being said, I still feel that I would challenge anybody to look at me in the 15 years that I've been on air to ever see if—without somebody on set kind of needling me about Ohio State, you wouldn't know where I went to school. And that's my goal: just to tell it like I see it, and if its good, it's good, and if it's bad, it's bad, and nothing personal."
Herbstreit does indeed tell it like he sees it but as a consequence, in March he and his family were forced to move from their home in Columbus to Nashville, Tenn., because they could no longer be subjected to the fans' verbal assaults.
"From a sports perspective, this is rough," Herbstreit told the Columbus Dispatch. "I love Ohio State. … I don't like moving. I love living here. I don't want to leave. But I just can't do this anymore. I really can't keep going like this.
"Eighty to 90 percent of the Ohio State fans are great. It's the vocal minority that make it rough. They probably represent only 5 to 10 percent of the fan base, but they are relentless."
After years of institutional dysfunction, Ohio State has begun to takes it medicine. Tressel's scofflaw approach to coaching generated plenty of wins on the field but, in the end, has cost the school dearly. In the days surrounding its Aug. 12 hearing before the NCAA committee, Tressel's actions will continue to be worthy of intense scrutiny by all media, Herbstreit included.
The old quarterback and others with allegiances to Ohio State have had to come to the realization that they all bear the scars of a damaged program the "accountable" ex-head coach allowed to run amok.
This post originally appeared on SportsCouchPotato.com.