Texas Football: 5 Games That Could Derail the Longhorns in 2011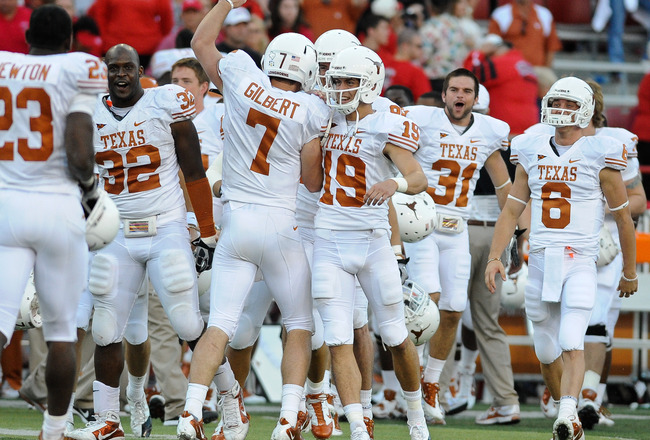 Eric Francis/Getty Images
The Longhorns are ready to embark on a season of redemption as they try to show the college football world that last season was a fluke. The season ended with a regular season loss and a trip to the couch for bowl season. As a result, the players are destined to turn things around.
This upcoming season features a lineup of unbelievable teams and it will require the best out of Mack Brown's team to survive. Longhorn Nation is quietly waiting for a starting quarterback to be announced as Manny Diaz and Bryan Harsin prepare their respective sides of the ball for 2011.
However, there are five games on the schedule that might mean the difference between making a bowl or spending the holidays at home. Read on for more.
September 10: BYU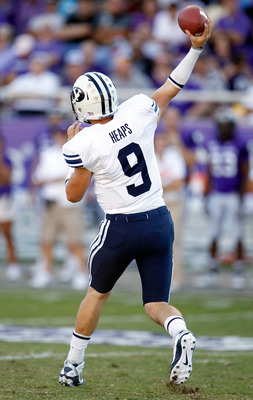 Tom Pennington/Getty Images
BYU was a weak team last year but that's no reason to discount them this season. They will be returning 10 starters on offense and are sure to turn heads on that side of the ball. Let's not forget about the opener of the 2009 season where they shut down an ineffective Oklahoma offense in what was a huge and early upset that year.
Texas will need to shut them down on offense in order to gain an edge over the Cougars. The Longhorn offense is expected to be more potent than they were last year and limiting turnovers will be key both in this game and during the rest of the season.
This game will be determined by the better defense and forcing BYU to turn over the ball will lead to a Texas victory as long as the offense pulls its weight.
September 17 @ UCLA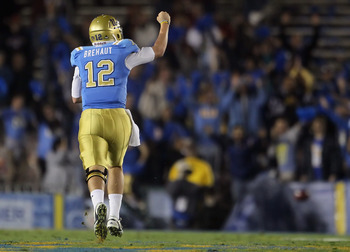 Jeff Gross/Getty Images
UCLA embarrassed the Longhorns at home and the Bruins are prepared to do it again on their turf. Texas returns to the Rose Bowl for the first time since their heartbreaking loss in the 2010 BCS National Championship game.
The Bruins employed a solid running game and were able to score enough to defeat Texas at home. This will be the key to a win for Mack Brown and company. Stopping the Bruins' running game and limiting turnovers on offense will be more than enough to get Texas the win.
But don't count UCLA out. They will be a tough team to defeat and the road to a bowl bid could very well go through Pasadena.
October 1 @ Iowa State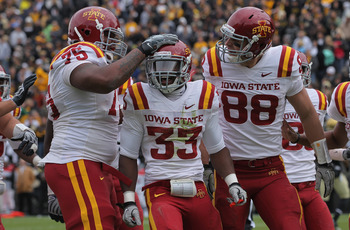 Doug Pensinger/Getty Images
Another game against Iowa State brings back memories of another embarrassing loss at home for the Longhorns. The Cyclones took their balanced attack to Austin and left with a stunning victory.
This game will be as raw as they get. The better team will win and it will demand an outstanding effort on offense and defense for Texas.
Iowa State is known for its amazing comeback wins against great teams and another loss, while possible, could be devastating to the team.
The main reason a loss is unacceptable is due to the next team on the slide that would benefit from a momentum shift away from Texas.
October 8: Oklahoma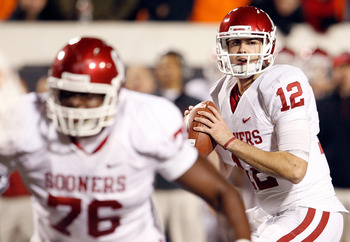 Tom Pennington/Getty Images
This game is really hard to dissect due to its unpredictable nature. The past 10 years worth of games alone are proof enough of that statement. Oklahoma will be a great team this season but will this guarantee them a win in Dallas? Absolutely not.
Manny Diaz and the defense will have to do what gave Texas such an edge against Oklahoma in last year's game: blitz Landry Jones to oblivion.
The Sooners will still have a decent running game regardless of the loss of DeMarco Murray but the passing game is the OU weapon of choice.
A terrible Longhorn offense was still able to score 20 points on the Sooners so a victory in the Red River Rivalry is still in view. If they can shut down Landry's aerial assault then the Golden Hat could be going back to Austin.
But expect the best out of Oklahoma since this game could very well push the fight for the Big 12 title into the hands of Oklahoma State and Texas A&M.
November 19: Kansas State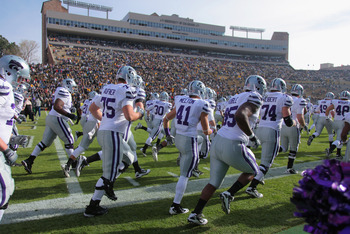 Doug Pensinger/Getty Images
When the Longhorns traveled to Manhattan, they left with another embarrassing loss. The Wildcat running game and Garrett Gilbert's love of the turnover led to a whopping that gives Kansas State the edge in this rematch.
Bill Snyder and crew will be a serious threat in Austin and a win against them will demand a stellar performance by the Longhorn defense. If they can shut them down then this game will be pushed into Texas' favor.
Obviously this will require a good performance by Texas on offense but a Wildcat team that is allowed to run all over Joe Jamail Field could end the high hopes that this team has for the 2011 season.
Keep Reading

Texas Longhorns Football: Like this team?