Alabama's 2011 Season: What Are the Chances?
July 18, 2011
Kevin C. Cox/Getty Images
.0001 Percent Chance Alabama loses to Kent State:
During Shula's tenure I'd give them a 50 percent chance of the upset but Nick Saban takes no team for granted, ever.  He may not have Alabama well motivated but the players will be too scare of losing their starting jobs to loaf it on the Golden Flashes.  It's always possible another F-4 Tornado could take out the team bus leaving random students to play the game,  thus the .0001 percent chance.
20 Percent Chance I can predict the starters on the defensive line:
Alabama's instability on the defensive line has been, well...consistently unstable.   With no one beyond possibly Dameon Square locking down a starting job on the line I could throw any number of names on a sheet and not hit the opening day starters right.
50 Percent Chance tailback Jalston Fowler will hurt someone:  
There was likely an audible exhale of disgust in the Kent State locker room when news arrived that super freshman Demetrius Hart had blown out a knee and was out for the year.  Now instead of the 5'8", 187-lb. freshman trying to cut his college teeth against them they are going to get red shirt sophomore Jalston Fowler, all 6'0" and 245 lbs of him.  He's been sitting the bench for a while and he's probably pretty tired of it.  With Hart's injury and two transfers he is about to get his opportunity.  The Kent State tacklers are what stands in the way, good luck with that.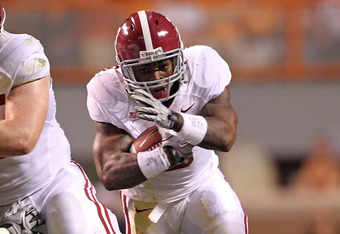 Andy Lyons/Getty Images
90 Percent Chance an undefeated Alabama and Arkansas will be the game of the week in week four:
Alabama has been squeaking by Arkansas since Patrino took over.  With the Florida Gators waiting in the swamp the following week Alabama will need all its luck and skill to get past the hogs one more time.  Alabama's biggest obstacle to this equation is getting out of Happy Valley still happy.  Arkansas should not be tested prior to playing Alabama.
92 Percent Chance Trent Richardson will have an ESPN highlight run in the first three games:
Trent Richardson is the most amazing combination of power, speed and moves I've seen in a very long time.  His freshman season he ripped off several jaw dropping runs that left both sides of the stadium speechless.  His injury plagued 2010 season didn't see much of that.  A healthy Richardson has a good chance of a magical moment early on.
60 Percent Chance newcomer Duron Carter becomes a regular contributor:
Alabama has the luxury of a number of experienced wide receivers but none have the big body and control of Duron Carter.  He has to learn the offense but he has a better than average chance of becoming an important part of the offense. 
85 Percent Chance the Alabama LSU game will be another instant classic: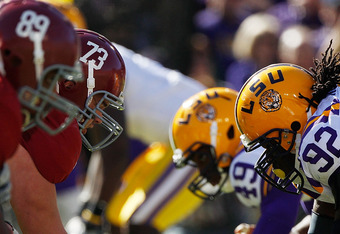 Chris Graythen/Getty Images
Alabama's series with LSU has a long and storied past,  but it may have reached new heights since Nick Saban came to Alabama.  Every game has been a knock down drag out game with everything on the line and a fourth quarter finish.  LSU is one of the few teams that can match Alabama "star" for "star" when it comes to recruiting prowess.  If both teams arrive healthy it's a virtual certainty this game will be another classic. 
Four Percent Chance the Auburn Tigers will be as bad as Alabama fans hope:
Auburn had a huge senior class in 2010 that went out with a bang.  They will be celebrating that season for decades but life has to go on with out them.  Though Auburn will be breaking in a lot of new players including five offensive lineman the chances of them sucking as bad as most Bama fans want them to are slim.  Auburn has had back to back banner recruiting years They only have to hit about 25 percent of those to have a good team.  Even with the felony convictions they should field a good team.  
There is however a commonly held belief that there is only so much good luck in the world and it has to balance out.  If that is true Auburn used up about a quarter century worth of good luck winning all their games in 2010.   Thus a four percent chance a meteor will strike Auburn leaving random students to play the season out.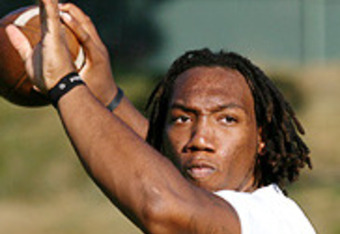 98 Percent Chance someone will pull out the race card between AJ McCarron and Phillip Sims:
It's been 24 years since Doug Williams dominated the second half of Super Bowl XXII proving once and for all what everybody who didn't wear a pointy white hat on the weekends already knew, that skin color has nothing to do with playing quarterback. 
It doesn't matter if it's A.J. McCarron or Phillip Sims who starts the opening game somewhere some moron is going to say it's because of the color of his skin or that the other guy should be starting because of the color of his skin.  
Though these things garner more attention in the south idiots have been found in all 50 states. 
99 Percent Chance Nick Saban loses his temper with a reporter:
It has become practically a right of passage for young reporters to be sent to a Nick Saban presser with the job of asking about the "depth chart" or some other question that gets under Nick Saban's skin.  Saban plays the PR game as well as any coach in football but his relationship with the press is like a stormy marriage.  It makes for great TV though and Tide fans have come to almost relish his occasional explosive outbursts.  It reminds them the passion still burns hot inside. 
100 Percent Chance someone will call for the backup quarterback:
No matter which quarterback starts there is no chance he will throw for enough completions or touchdowns to avoid the call for the backup.  Greg McElroy had one of the most successful first seasons as a starter as you could possibly wish for and mid season he looked like he couldn't hit a receiver if he was eight feet wide. 
Alabama's starter this year has little or no experience.  He will struggle at times.  Hopefully like with Greg he will work his way through and shine in October and November when it really counts.  It will certainly help him if Trent Richardson remains healthy.