South Carolina Football 2011 Season Preview, Part 2: Weeks 3 and 4
July 13, 2011
Al Messerschmidt/Getty Images
South Carolina vs Navy—Saturday, September 17 (6:00 pm ET)
This is an interesting matchup for at least three reasons. First, Navy, East Carolina and South Carolina will each play one another in 2011. Second, the last time South Carolina faced Navy, most (if not all) of this year's starters weren't even born yet. And third, it was the Navy Midshipmen who seriously crippled South Carolina's fabled "Black Magic" season.
Considered by most South Carolina fans to be the greatest season in Gamecock football history (Lou Holtz's 2001 rebound team would probably be a close second), 1984's matchup with Navy was without question a twisted, demonic nightmare. And for fans of South Carolina football, it's an all-too-familiar tale.
Second-ranked South Carolina was coming off an explosive 38-to-26 win over Bobby Bowden's Florida State Seminoles. They entered the game against the Midshipmen with an unprecedented 9-0 record. South Carolina had already knocked off Georgia, Notre Dame, and North Carolina State. Nothing was going to stand in their way. 
Especially not a service academy team with a dismal 3-5-1 record.       
The general consensus is that South Carolina—with heads full of dark-horse fantasies and postseason glory—overlooked and severely underestimated the scrappy Midshipmen, who had lost earlier in the season to the Irish by a single point. Standout LB James Seawright was out with an injury that game, and the Gamecock offense gave up six turnovers on their way to a lopsided, inexcusable 38-to-21 loss to a bunch of guys who still dressed up in sailor outfits.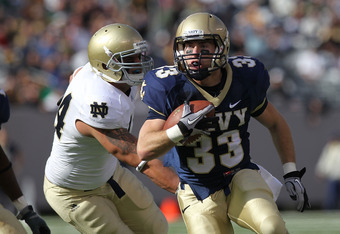 Nick Laham/Getty Images
Does anything about this sound familiar?
Will history repeat itself in 2011?
This ain't your 0-10 Navy team of a decade ago. With impressive nine- and ten-win seasons in the last couple of years, and a sneaky option attack that propelled them to sixth overall in rushing yards among FBS teams in 2010, this is not a squad to be overlooked. 
As I predicted in the previous installment, it's quite possible that South Carolina enters this game with a 2-0 record. There's also been a lot of "dark horse" chatter surrounding the Gamecocks this offseason. Some observers think if South Carolina is going to make a deep run, this has to be the year. That's a lot of pressure.     
Then again, it's Navy.
South Carolina 31, Navy 14
South Carolina vs Vanderbilt—Saturday, September 24th (TBA)
The Vanderbilt game is a lot like an irreverent bumper sticker. It's mostly just harmless fun—sort of a novelty to pass the time.   
But every so often it's biting and more than a little cruel.  
Thankfully, South Carolina hasn't dropped one to the Commodores since 2008, and even with some impressive recruiting successes lately, most of those players won't suit up in black and gold for at least another year. 
First-year head coach James Franklin has the Commodore faithful—all 18 of them—very excited about what the next few seasons might bring. Some believe that if Vanderbilt can wrestle some of the SEC's raw athletic talent away from the traditional powerhouses, good things can happen in Nashville.
Unlike in years past, I'm not too worried about this one.
South Carolina seems to lose to Vanderbilt when they lose focus and make mental mistakes. There's no question which team has the stronger talent, but the same factor that makes it difficult for Vandy to compete in the SEC is the same factor that often dooms the Gamecocks in games they should win—mental toughness. 
Vanderbilt is typically a smart, well-coached team with a high football IQ. Every now and again they manage to translate that into a "W"—even when they are physically outgunned. 
On a final note, I do find it mildly interesting that three of South Carolina's first four games this season have a naval theme: the Pirates, the Midshipmen and the Commodores.
I just hope they don't sink our season. (Apologies.)     
South Carolina 28, Vanderbilt 17