Oregon Football: Predicting the Defensive Depth Chart for the Season Opener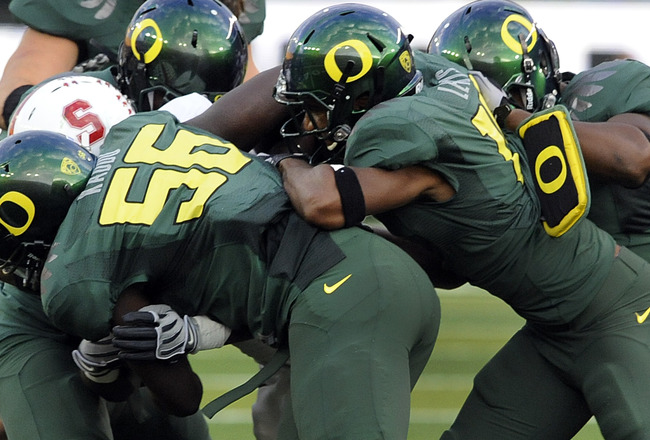 Steve Dykes/Getty Images
Since Chip Kelly arrived in Eugene, the Oregon Ducks football team has been known for their offense. But in 2010 Oregon also had one of the best defenses in the country.
That defense was a big reason why the Ducks were able to make it to last year's BCS National Championship Game. Oregon has graduated several players from last season's stellar defense, and there are new faces who will need to step up for the Ducks to make it back to the national championship.
With opening kickoff less than two months away, let's take a look at the projected starting defense for the 2011 Oregon Ducks.
Defensive End: Terrell Turner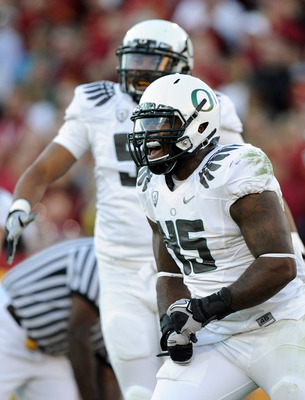 Harry How/Getty Images
As the lone returning starter on Oregon's defensive line, Terrell Turner is going to need to have a big 2011 season. With the graduation of long time starters Kenny Rowe and Brandon Bair, Turner will need to take on more of a leadership role this year.
In his first year as a starter last season, Turner put up solid numbers but will be counted on to be a bigger force rushing the passer. Luckily for Duck fans, Oregon rotates a lot of guys on their defensive line so the new starters next to Turner will have more experience than most first time starters.
Backup: Brandon Hanna
Defensive Tackle: Taylor Hart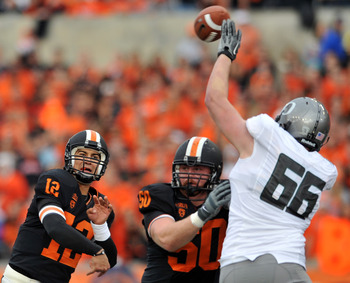 Steve Dykes/Getty Images
Oregon will have two new starters at defensive tackle come their Sept. 3 matchup with LSU. Although no starters have been announced, sophomore Taylor Hart is close to locking up one of those spots.
Hart is a big boy at 6'6" 275 pounds and had a good season in limited action in 2010. Last year Hart made 18 tackles and a couple sacks coming off the bench, and the Oregon coaches hope that he can continue to play fast and aggressive as he transitions into his starting role.
Backup: Jared Ebert
Defensive Tackle: Ricky Heimuli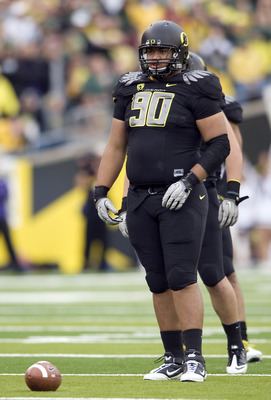 Steve Dykes/Getty Images
Some Oregon fans were surprised that Ricky Heimuli was one of only two true freshmen to play in every game for the Ducks last season. When they get a closer look at Heimuli, they'll know why he deserved the playing time.
Heimuli may remind some Oregon fans of former Duck Haloti Ngata because of his 6'4" 320-pound build, but hopefully he can start playing like Ngata. As a backup last season, Heimuli was a space eater on the defensive line, but defensive line coach Jerry Azzinaro will need him to cause more disruption up the middle as a starter in 2011.
Backup: Wade Keliikipi
Defensive End: Dion Jordan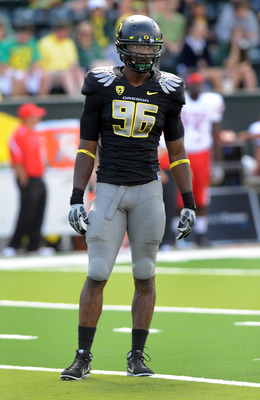 Steve Dykes/Getty Images
Ducks fans are hoping that 2011 can be the year that Dion Jordan lives up to his physical potential. Jordan started his Oregon career at wide receiver before quickly transitioning to tight end. With so much talent at tight end going into last season, the Oregon coaching staff decided to put Jordan on the defensive side of the ball at defensive end.
In a reserve role last year in his first season at the position, Jordan racked up 30 tackles, two sacks and a forced fumble. This season Jordan should start in the place of the departed Kenny Rowe and should be a terror for opposing quarterbacks with his 6'7" frame.
Backup: Tony Washington
Outside Linebacker: Josh Kaddu
Steve Dykes/Getty Images
Although the Ducks lost two outstanding linebackers after last season in Spencer Paysinger and Casey Matthews, they did retain a pretty good one. Josh Kaddu is often forgotten by many football fans, but people will definitely remember his name in 2011.
Now he is the lead linebacker in Oregon's rotation and will be counted on to continue to produce at a high level. Beyond his size and athletic ability, Kaddu has valuable experience that is critical as the Ducks embark on a long and difficult season.
Backup: Boseko Lokombo
Middle Linebacker: Dewitt Stuckey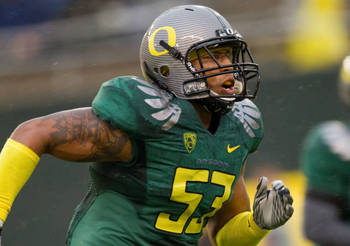 goducks.com
Oregon Linebacker Dewitt Stuckey may not be a household name today, but he probably will be by the end of the 2011 season. Entering his senior season Stuckey has made most of his impact on special teams but will need to play a bigger role in Oregon's defense this season.
Although Stuckey is not the biggest linebacker the Ducks have, but he has great instincts and knows the defense inside and out. Look for the Ducks to employ a rotating group of linebackers again in 2011 to keep their best guys fresh in the crucial moments.
Backup: Jennings Stewart
Outside Linebacker: Michael Clay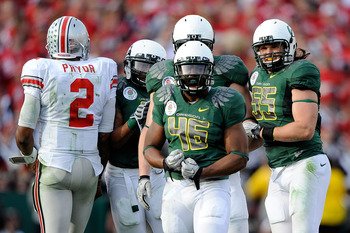 Kevork Djansezian/Getty Images
After backing up former standout Spencer Paysinger for a couple seasons, linebacker Michael Clay is ready for his time in the starting lineup. In 2010 Clay was one of the first linebackers to come in off the bench for the Ducks, so he has plenty of experience despite not starting a game in college yet.
Clay plays very aggressively and has great sideline-to-sideline speed. Last season he totaled 42 tackles coming off the bench, and Clay should become one of the leaders of the 2011 Oregon defense.
Backup: Blake Thompson
Cornerback: Anthony Gildon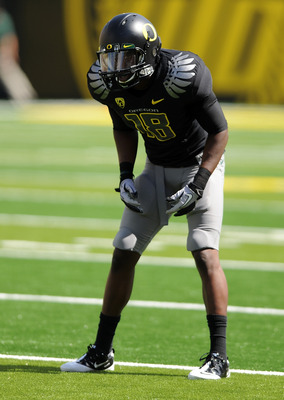 Steve Dykes/Getty Images
When Cliff Harris returns to the Ducks' starting lineup, expect a lot of balls to be thrown in the direction of Anthony Gildon. As he approaches his senior season, Gildon hopes that he can make his opportunity to start count.
Gildon has made eight starts in his Oregon career, including the 2010 Rose Bowl, but injurys have limited him throughout his career. Unlike Harris, Gildon is not a spectacular athlete, but he is a very reliable pass defender. If he can stay healthy in 2011, Gildon should have a senior season to be proud of when it's all said and done.
Backups: Scott Grady, Avery Patterson, Brian Jackson
Strong Safety: Eddie Pleasant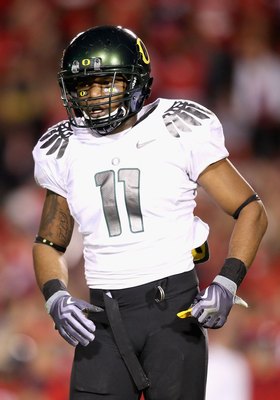 Christian Petersen/Getty Images
Starting safety Eddie Pleasant has had an excellent career as a Duck and will hope to cap it off with an outstanding senior season. Pleasant is a very unique talent who can line up at multiple positions on the defensive side of the ball, which is very rare.
In 2009 Pleasant had a great season playing linebacker in his first year as a starter. Many fans anticipated the return of all three linebackers in 2010, but Pleasant threw them a curveball switching to the safety position.
The one knock on Pleasant is his lack of interceptions, but with a strong senior season, he could prove the doubters wrong.
Backup: Erick Dargan
Free Safety: John Boyett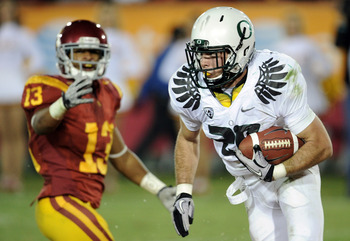 Harry How/Getty Images
Of all of the talented players in the Ducks' secondary safety, John Boyett may not be the most athletic, but he sure has a knack for making the big plays. Last season he had key interceptions on the road at games against Arizona State, USC and Oregon State.
As Boyett enters his junior season, coaches are hoping that he can build on his experience as a starter and be a real leader on their defense. Over his first two seasons playing for the Ducks, Boyett has recorded 156 tackles and eight interceptions.
If he continues to put up the same kind of numbers next year, the Ducks will be lucky to keep him for his senior season.
Backup: James Scales
Cornerback: Terrance Mitchell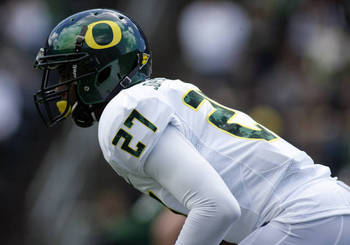 goducks.com
Normally this would be Cliff Harris's spot in the secondary, but with his indefinite suspension, the Ducks will need to find a replacement for their season opener. Although no starter has been named yet, all signs point to Harris's replacement being red-shirt freshman Terrance Mitchell.
In spring practice Mitchell caught the eye of several coaches and was pushing for the starting spot opposite of Harris. Anthony Gildon has since secured the job, but Mitchell should get plenty of opportunities to showcase his talent in 2011.
Although there is going to be an inevitable drop off with Harris on the sideline, Oregon fans will hope that drop off isn't big enough to lose them games.
Backups: Dior Mathis, Troy Hill
Keep Reading

Oregon Ducks Football: Like this team?