Alabama Football: Are Bama Fans Forgetting the Tennessee Rivalry?
July 13, 2011
Larry Burton (Syndicated Writer)
Few people realize that Alabama has played Tennessee more than any other team in their history. Seventeen more times than Auburn, 18 more than LSU and 35 times more than Ole Miss.
The rivalry was once known by its date alone, "The Third Saturday in October." It was the first game that had true rivalry for Alabama. It has seen stretches where wins went back and forth, stretches that went into long streaks by one and then by the other.
It's spawned great quotes, like this one by the man who was the "Bear" Bryant of Tennessee: "You never know what a football player is made of until he plays against Alabama." - Former Tennessee Coach Bob Neyland.
It was the first "must win" game for Alabama, and it went the same way for Tennessee. How bad did the players back then want to win? How about this quote? "His ear had a real nasty cut, and it was dangling from his head bleeding badly. He grabbed his own ear and tried to yank it from his head. His teammates stopped him, and the managers bandaged him. Man was that guy a tough one. He wanted to tear off his own ear so he could keep playing." Tennessee lineman Bull Bayer talking about his counterpart, Bully Van de Graaff in the 1913 game.
The fans may be taking the Tennessee rivalry for granted now. While Fulmer was there, they wanted to crush the Orange because of Fulmer's work in getting the Tide placed on probation. Then they simply wanted to shut Lane Kiffin up, now with Dooley, a former Saban student at the helm and the Vols in disarray; it's easy for the fans to overlook the Tennessee rivalry.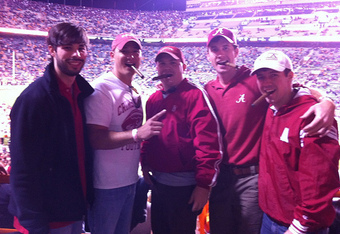 That isn't the same for the players, who not only remember but revere the rivalry. For players who come in from other states, they may not realize the intensity of the rivalry and the importance to the players.
My first year in the press box and interviewing players, I asked Rashad Johnson about it, and he said," I was sad that they (the NCAA) took the cigars away from us after the game. (It was ) Something about extra benefits the school was giving us. It's the only game where that was done after a win. But the NCAA can't stop us from buying our own and lighting up afterwards. Even if you don't smoke, you'll smoke that one after that game and smile the whole time."
With Tennessee possibly years away from getting back on an even playing field with Alabama talent wise, fans may get complacent, but players won't.
A Tennessee team under Lane Kiffin that was woefully outmatched on paper, and in every other sense, came within a hand-slapping, last-second field goal attempt of keeping Alabama from winning a national championship just two years ago.
For Tennessee, that was the season, and they came within inches of doing it.
The Tide leads the series 47 wins, 38 losses and seven ties. For those of you keeping score, that means that Tennessee has beaten Alabama four more times than Auburn.
Today's youthful fans may not realize or care even less about these facts as long as the Vols are down. But once they get back up to speed, it will be nice to have this rivalry placed back up among the great ones across the county.