College Football 2011: Predicting Every Game on the USC Trojan's Schedule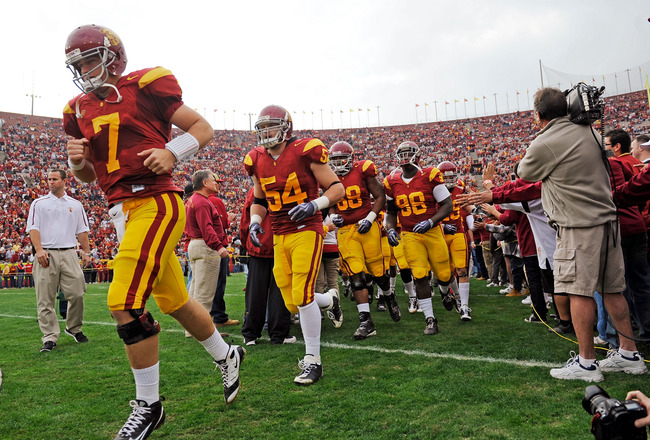 Kevork Djansezian/Getty Images
The USC Trojans are looking to make a big splash in the new PAC-12 this season.
With one more year of post season ineligibility for the Trojans, USC will be playing for a PAC-12 South Championship and even the chance for an AP National Championship.
In order for the Trojans to do that, they will need to tame their challenging schedule that features road games against the defending PAC 10 champion, Oregon Ducks, and longtime rival Notre Dame.
The Trojans have the talent to do it, with the return of offensive stars Matt Barkley and Robert Woods along with a top five recruiting class.
Just how many games will they win?
Here's a game by game breakdown of the USC Trojans schedule complete with predictions and scores.
Follow Will Tober on Twitter
Week 1 vs. Minnesota Golden Gophers, September 3rd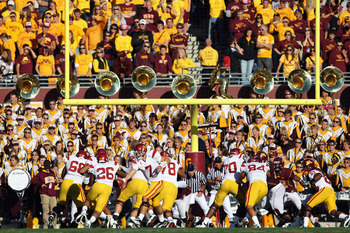 Jamie Squire/Getty Images
The Minnesota Golden Gophers are coming off a disappointing 3-9 season, including a 32-21 loss at the hands of the USC Trojans.
Although the Golden Gophers will be returning 14 starters, including eight on defense, the result of the 2011 matchup with USC will likely be very similar to the result of the first game.
With USC's defense much improved from just a season ago and the game at home, don't expect Minnesota to find the same success against the Trojans in 2011.
Predicted Score: USC 35, Minnesota 13
Week 2 vs. Utah Utes, September 10th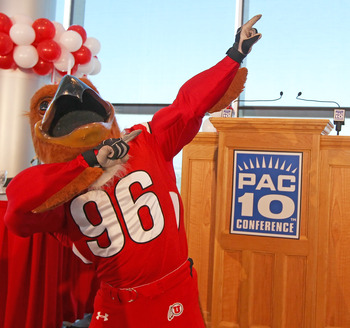 George Frey/Getty Images
The Utah Utes are entering their first year as a member of the PAC-12 conference and will face the USC Trojans in week two for the first PAC-12 matchup of the year.
As a member of the Mountain West Conference, the Utes were an elite squad, winning 10 games including an overtime victory over Big East Pittsburgh.
It'll be interesting to see how the higher level of week to week competition affects Utah. The Trojans will be Utah's first test of the year and their first taste of major conference football, but although Utah will likely be tough, USC will come out on top.
The game is at home for the Trojans and with the Utes losing four key starters on an offense that ranked outside of the top 40 in passing and rushing yards per game, USC will be able to have their way with the Utes.
Predicted Score: USC 27, Utah 14
Week 3 vs. Syracuse Orange, September 17th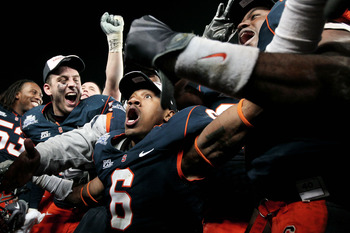 Chris McGrath/Getty Images
The Syracuse Orange will face the USC Trojans in just the third week of the season.
Unfortunately for the Orange, their first road game of the year won't turn out they way they hope.
Last season the Orange had one of the worst offenses in college football ranking 91st in passing yards, 76th in rushing yards and 93rd in points per game.
The news gets worse for Syracuse too. The Orange will be playing the 2011 season without their starting running back, who finished his career at Syracuse third in school history with 3104 yards an 24 touchdowns.
With that loss, don't expect Syracuse to have much offensive success against the Trojans and with another home game for USC, don't expect the Orange to have defensive success either.
Predicted Score: USC 31, Syracuse 14
Week 4 at Arizona State Sun Devils, September 24th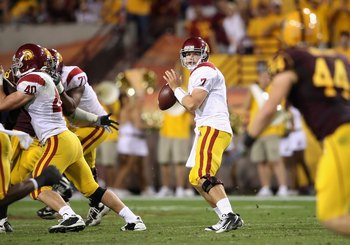 Christian Petersen/Getty Images
The first test the USC Trojans will face in 2011 comes in week four game at Arizona State.
Last season's game against the Sun Devils ended in a 34-33 victory for the Trojans — a game in which USC had both a blocked extra point returned for a touchdown and a field goal late in the fourth quarter.
With the Sun Devils returning every starter on offense and all but two starters on defense in 2011, the game could be even tougher for the Trojans this season.
Arizona State is a very popular underdog pick — so much so that they don't seem to be underdogs anymore — and one of the front runners to win the PAC-12 south, but the Trojans have improved since last year too.
Matt Barkley will be back for his Junior season along with his favorite target, Sophomore Robert Woods. USC will be bringing in another top recruiting class and although sanctions will prevent them from playing in the PAC-12 Championship game and/or a bowl game, the Trojans will be able to have a tangible goal of winning the PAC-12 south.
Unfortunately for Arizona State, they are the first step toward that goal.
The Sun Devils will be dangerous in 2011, but I like the Trojans in a close game.
Predicted Score: USC 31, Arizona State 27
Week 5 vs. Arizona Wildcats, October 1st
Stephen Dunn/Getty Images
The USC Trojans will come back home in week five to face the Arizona Wildcats.
In a game that was crucial for PAC 10 standings last season, the Trojans squeaked out another close victory in Arizona.
Running back Marc Tyler had a career game, carrying the ball 31 times for 160 yards and a touchdown, while Matt Barkley struggled a little bit with 170 yards, a touchdown and an interception.
Arizona quarterback, Nick Foles had a field day against the Trojan secondary passing for 353 yards and three touchdowns with no interceptions.
Foles will be one of the top quarterbacks in the PAC-12 again in 2011 and will have no lack of weapons to throw to, with All-American candidate Juron Criner returning as one of the nation's top receivers.
Arizona will have a lot of question marks on the offensive line though, with only one returning starter and no seniors, which may affect Foles ability to get the ball to Criner among others.
Despite my every inclining to pick USC in this matchup, the Trojans seem to always lose at least one conference game that they should win and I think this could be that game.
Predicted Score: USC 20, Arizona 24
Week 6 at California Golden Bears, October 13th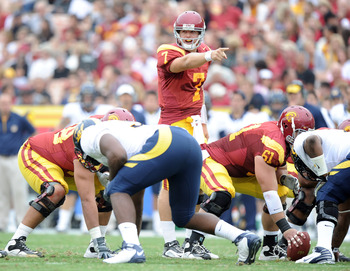 Harry How/Getty Images
In week six, the USC Trojans will make their annual trip up north to face the California Golden Bears.
USC had their most dominating victory of the season last year against Cal, winning the matchup 48-14.
Matt Barkley had a field day against the Bears with a career best and school record-tying five touchdown passes on 352 yards. Naturally, the night was good for Trojan wide receivers as well with Robert Woods catching seven passes for 116 yards and two touchdowns.
The Bears have plenty of questions surrounding them this season including a big uncertainty at quarterback.
A Thursday night game in San Francisco, this game has all the makings of an upset, but in the end the Trojans will be just too good for the Bears.
Predicted Score: USC 38, Cal 14
Week 7 at Notre Dame Fighting Irish, October 22nd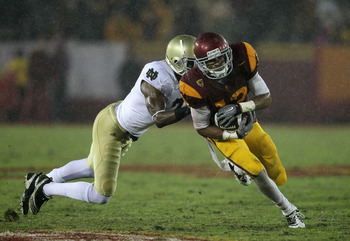 Stephen Dunn/Getty Images
In one of the most anticipated match-ups of the season, the USC Trojans will travel to South Bend to face rival Notre Dame.
After fifteen straight home victories over Notre Dame, the Trojans lost to the Fighting Irish in a rain soaked coliseum last season.
Ronald Johnson dropped what would have been the go-ahead touchdown late in the fourth quarter to seal the victory for USC in a game that Matt Barkley did not play.
Despite Barkley's absence, the Trojans had plenty of opportunities to win, with Notre Dame turning the ball over four times, all of them occurring within thirty yards of the Notre Dame endzone.
Notre Dame will be returning 19 starters and is being hyped as a possible 10 game winner this season, but you can bet that the Trojans will play much better than they did last season in this year's matchup.
USC will be motivated by the humiliating senior night loss from last season and should be able to reestablish their dominance in this rivalry game.
Predicted Score: USC 28, Notre Dame 24
Week 8 vs. Stanford Cardinal, October 29th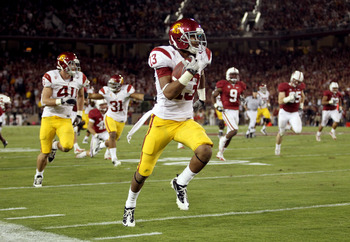 Ezra Shaw/Getty Images
The Stanford Cardinal will travel to Los Angeles for a rematch with the USC Trojans in week eight.
USC had yet another heartbreaking loss against the Cardinal last season in a game that ended with a last second field goal by Stanford kicker, Nate Whitaker.
Even in the loss, the Trojans had a lot of positives they could take away from the game.
Matt Barkley had another brilliant performance with 390 yards passing and 3 touchdowns. However, he was not the player of the game for the Trojans. Robert Woods, in only his sixth career collegiate game caught 12 passes for 224 yards and three touchdowns.
With Andrew Luck returning for another season as the Cardinal quarterback, USC will certainly be challenged. But, with the game being played in L.A. and Stanford coach Jim Harbaugh gone I like USC to avenge last season's loss.
Predicted Score: USC 35, Stanford 31
Week 9 at Colorado Buffaloes, November 5th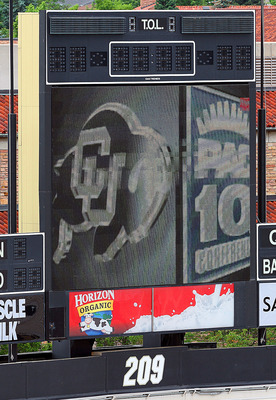 Marc Piscotty/Getty Images
The Colorado Buffaloes will likely be limping into their matchup with the USC Trojans in week nine.
With games against Ohio State, Stanford, Oregon and Arizona State all before the Buffaloes play the Trojans, it's possible that Colorado will have five or six losses by the time USC comes to town.
This matchup is another no-brainer with the Trojans superior in nearly every facet of the game.
Predicted Score: USC 41, Colorado 17
Week 10 vs. Washington Huskies, November 12th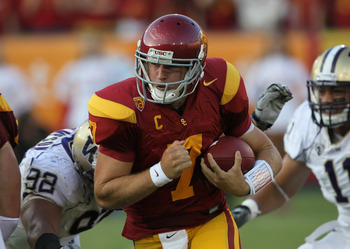 Stephen Dunn/Getty Images
The USC Trojans will hope to defeat the Washington Huskies in 2011 for the first time in two years.
USC has lost two straight games to the Huskies, both coming by last second field goals.
The Trojans won't miss former Washington quarterback Jake Locker, who tore up USC's defense in 2010, passing for 310 yards and rushing for another 110 yards.
New quarterback, Keith Price will take over a Washington offense that features eight returning starters, including running back Chris Polk, who ran for 92 yards and a touchdown against the Trojans last year.
With Allen Bradford running for over 200 yards (223) and adding two touchdowns last season, I expect Marc Tyler to have a career day in this game.
New kicker Andre Heidari will also help USC, especially if the game ends up being another close one.
Predicted Score: USC 31, Washington 21
Week 11 at Oregon Ducks, November 19th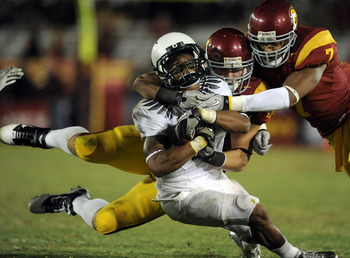 Harry How/Getty Images
The USC Trojans' game against the Oregon Ducks on the road in week 11 is by far their toughest challenge of the year.
While the Ducks are certainly facing some unwanted adversity with the suspension of Cliff Harris and the ongoing allegations of recruiting violations, they are still one of the strongest teams in the nation.
Both Darron Thomas and LaMichael James are back for another national championship campaign in 2011, which is bad news for the Trojans, who saw the two combine for 527 yards and seven touchdowns in last season's game.
Although the Trojan Defense will be much improved this season, the Ducks will be playing at Autzen Stadium — a place where the Trojans have historically struggled.
USC is capable of performing an upset in week 11, but in the end I think the Ducks hand the Trojans their second loss.
Predicted Score: USC 38, Oregon 45
Week 12 vs. UCLA Bruins, November 26th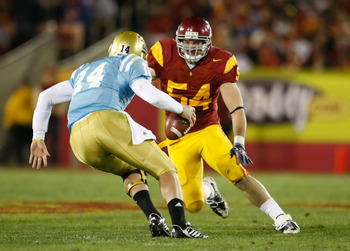 Jeff Gross/Getty Images
The battle for the victory bell will take place on November 26th in the Coliseum between the USC Trojans and UCLA Bruins.
Most teams with 15 returning starters would be competitive the next season, but unfortunately for the Bruins, that's not the case for them.
Last season the Bruins were one of the worst offensive teams in the country, particularly in the passing game — ranking 116th out of 120 in passing yards — so the return of quarterbacks Richard Brehaut and Kevin Prince doesn't mean much.
UCLA has been able to upset the Trojans a couple times in the past decade and although I think the game will be closer than expected, USC will come out on top.
Predicted Score: USC 28, UCLA 10
Summary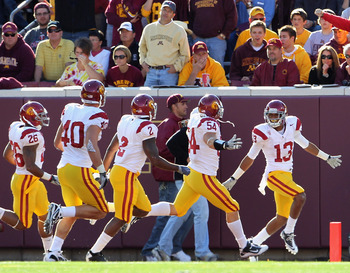 Jamie Squire/Getty Images
If my predictions pan out, here's what the Trojans record would look like:
Minnesota @ USC: W 35-13
Utah @ USC: W 27-13
Syracuse @ USC: W 31-14
USC @ Arizona State: W 31-27
Arizona @ USC: L 20-24
USC @ Cal: W 38-14
USC @ Notre Dame: W 28-24
Stanford @ USC: W 35-31
USC @ Colorado: W 41-17
Washington @ USC: W 31-21
USC @ Oregon: L 38-45
UCLA @ USC: W 28-10
That's 10 wins for the Trojans. Not many USC fans would be disappointed with a two-loss season, especially considering the sanctions they are up against.
Not only would the 10 win season be good for moral, but it would also likely be good enough for a PAC-12 South title and a top 10 finish in the AP Poll.
Here's to the 2011 Trojans. Fight On!
Keep Reading

USC Football: Like this team?