College Football 2011: Predictions for the Top Quarterbacks in Each Conference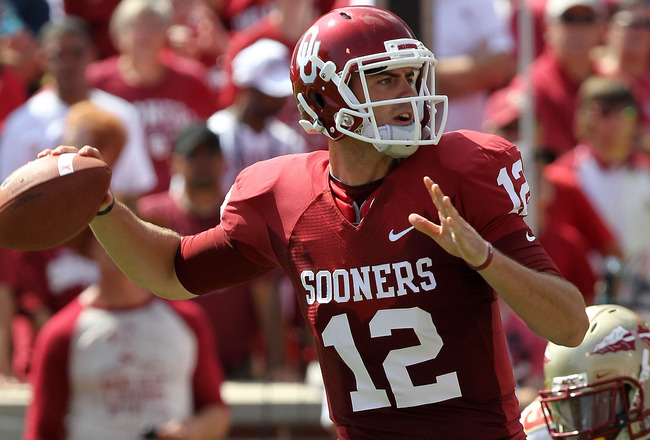 Ronald Martinez/Getty Images
The 2011 college football season will contain plenty of terrific athletes at the quarterback position. Whether it be in the Mid-Atlantic conference or the Southeastern, talent is undoubtedly everywhere.

Twelve quarterbacks were selected in April's NFL draft—four in the first round—to prove that last year's expertise at the position was abundant.
Although it'll be difficult to top those outstanding statistics, the NCAA's best QBs in '11 will be nothing short of excellent.

Here is my prediction for the first-class quarterback in each conference.



*Note: Each quarterback rating prediction is based on the NCAA's passer rating formula...

(8.4 X yards) + (330 X touchdowns) + (100 X completions) - (200 X interceptions) / attempts
Sun Belt: Corey Robinson, Troy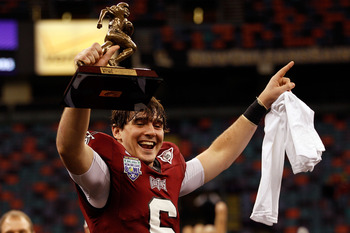 Chris Graythen/Getty Images
Corey Robinson threw for an incredible 90 touchdowns as a senior in high school to just four interceptions.

No, this is not a typo, and no, this is not a false inquiry. Here's the link for proof.

He hasn't exactly translated these ridiculous stats to the college level, but he has definitely made his mark. Robinson led the Sun Belt in passing attempts (505), completions (321), completion percentage (63.6), yards (3,726), touchdowns (28) and quarterback rating (137.9). He threw 15 interceptions throughout the season, but none in his 387-yard, four touchdown performance against Ohio in the R+L Carriers New Orleans Bowl.

Oh yeah, this was all as a freshman.

The Trojans lose a good portion of their receiving core, including Jerrel Jernigan to the New York Giants. But they do return a solid trio of wideouts in Chip Reeves, Jamel Johnson and Brett Moncrief. The three combined for 69 receptions, 987 yards and 10 touchdowns in 2010.

Robinson should have no problems staying atop of the Sun Belt in 2011.



2010 Stats:

321-505 (63.6%) 3,726 yds, 28 TD, 15 INT (137.9 rating)


2011 Prediction:

324-489 (66.3%) 3,620 yds, 30 TD, 13 INT (143.4 rating)


C-USA: G.J. Kinne, Tulsa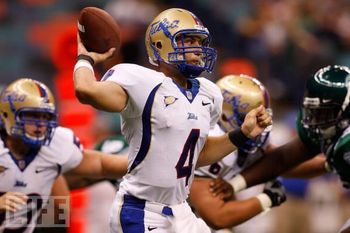 Picture used courtesy of the Orlando Sentinel
G.J. Kinne has a winning record (15-10) as the starting quarterback for the Tulsa Golden Hurricane, going 10-3 in 2010 and leading his team to a 62-35 victory against No. 24 Hawaii in the Sheraton Hawaii Bowl.

The 6'2", 215-pound upcoming senior has passed for 6,382 yards and 53 touchdowns in his two seasons under center.

He looks to continue adding to that margin.

Tulsa returns practically everyone on an offense that scored 41.4 points per game (sixth in the nation) in 2010, with the exception of Trae Johnson. Kinne's leading receiver, Damaris Johnson, returns for his senior season and is currently the NCAA's all-time record holder for kick return yards.

Kinne tore up Conference USA last season and will extend his numbers in 2011.



2010 Stats:

275-460 (59.8%) 3,650 yds, 31 TD, 10 INT (144.3 rating)


2011 Prediction:

308-497 (61.9%) 3,812 yds, 38 TD, 12 INT (146.8 rating)
Independent: Dayne Crist, Notre Dame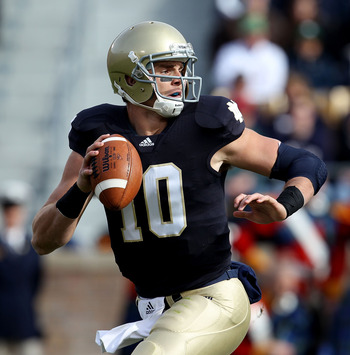 Jonathan Daniel/Getty Images
Dayne Crist didn't have an eye-popping season, but we can credit this to his ruptured patella tendon injury that knocked him out for almost an entire five games.

In seven starts for the Fighting Irish last season, Crist completed 174 of 292 passes for 15 touchdowns and seven interceptions. He threw two incomplete passes in his eighth start against Tulsa before going down with the injury.

However, expectations are high for Crist's senior season. Since 2008, Brian Kelly's starting quarterbacks are a combined 765-1,218 (62.8 percent) with 9,283 yards and 81 touchdowns to just 30 interceptions. This calculates to a 143.7 passer rating—better than Arizona's Nick Foles and Nebraska's Taylor Martinez.

My instincts say Crist will be just fine.



2010 Stats:

174-294 (59.2%) 2,033 yds, 15 TD, 7 INT (129.3 rating)


2011 Prediction:

252-409 (61.6%) 2,993 yds, 27 TD, 11 INT (139.5 rating)
MAC: Chandler Harnish, Northern Illinois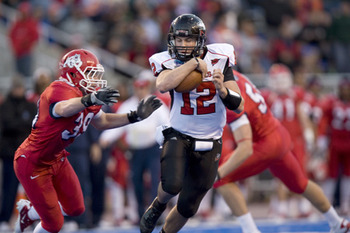 Picture used courtesy of NIUHuskies.com
Chandler Harnish dominantly led the Mid-American Conference in passer rating last year. He completed nearly 65 percent of his passes and only threw five interceptions to his 21 touchdowns.

Harnish found his way to a 157.8 rating, while Western Michigan's Alex Carter trailed behind at second place with 140.6.

The upcoming senior from Bluffton, Indiana also ran for 836 yards off of just 137 attempts in 2010, scoring seven times on the ground. He is a very versatile quarterback and his dual-threat abilities keep opponents off balance for much of the time.

The Northern Illinois Huskies bring back nine starters on offense, including the entire offensive line, which yielded just 13 sacks all of last season.

However, a Husky defense that allowed just 18.9 points per game in 2010 return just four starters to the field. Harnish may find himself on the field less than he did a year ago as the young squad grows.

But he'll still be the most efficient in the MAC by a landslide.



2010 Stats:

189-292 (64.7%) 2,530 yds, 21 TD, 5 INT (157.8 rating)


2011 Prediction:

198- 307 (64.5%) 2,709 yds, 23 TD, 7 INT (158.8 rating)
Mountain West: Kellen Moore, Boise State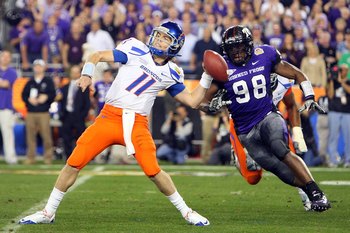 Christian Petersen/Getty Images
Kellen Moore led the entire NCAA quarterback field with a 182.6 passer rating in 2010—the highest since Colt Brennan's 186.0 mark in 2006.

The former Heisman finalist owns a breath-taking record of 37 wins to just two losses while playing for the Boise State Broncos. His two defeats are a 17-16 setback to TCU in 2008 and a 34-31 overtime thriller versus Nevada last season.

Moore was among the top six quarterbacks in the nation in completion percentage (71.3), yards (3,845), yards per pass attempt (10.0) and touchdowns (35).

However, some major firepower will be missing in the Broncos' offense with standout receivers Titus Young and Austin Pettis being selected in the NFL draft. The two combined for 142 receptions, 2,166 yards and 19 touchdowns in 2010.

Also, two solid starting offensive linemen and running back Jeremy Avery will not be returning.

Moore will undoubtedly be the best QB in the Mountain West, but his usual overwhelming statistics will suffer (if that's what you want to call it).



2010 Stats:

273-383 (71.3%) 3,845 yds, 35 TD, 6 INT (182.6 rating)


2011 Prediction:

242-366 (66.1%) 3,267 yds, 28 TD, 8 INT (161.9 rating)






WAC: Tyler Lantrip, Nevada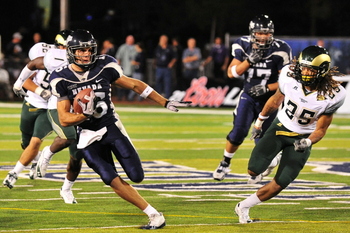 Picture used courtesy of SilverAndBlueSports.com
And finally, our first quarterback that isn't the returning starter.

Tyler Lantrip has backed up Colin Kaepernick since signing with the Nevada Wolf Pack, coming into his senior season with only 23 career passing attempts.

But this kid can play, and the nation will soon find out what he's capable of.

Lantrip averaged 235 yards per game his senior season in high school, passing for 21 touchdowns in pursuit of a 6-3-1 record, according to Rivals.

He'll have some major help, too, with the dynamic return of Rishard Matthews—the team's No.1 receiver—back for more in 2011. He had 56 catches, 879 yards and five touchdowns in '10.

However, the Pistol offense requires more of a run-first mentality, and the Wolf Pack will be expected to continue doing so. Nevada was ranked third in the country on the ground (292.2 yards per game), but loses leading rusher Vai Taua (1,610 yards). Senior Lampford Mark is expected to replace Taua—he carried the ball 55 times for 413 yards and three touchdowns in 2010.

Lantrip will be in a pretty good position for success.



2010 Stats:

8-13 (61.5%) 155 yds, 1 TD, 0 INT (187.1 rating)


2011 Prediction:

179-307 (58.3%) 2,439 yds, 22 TD, 10 INT (142.2 rating)
ACC: Danny O'Brien, Maryland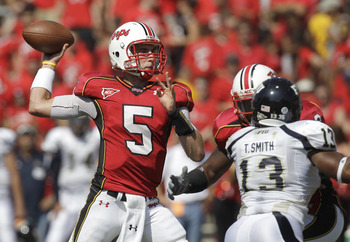 Picture used courtesy of TheMatadorSports.com
The freshman out of North Carolina started 10 games and led his Maryland Terrapins to a 9-4 record in 2010, beating East Carolina 51-20 in the Military Bowl.

It was the team's first nine-win season since 2006.

And with the exception of Paul Pinegar, the entire offensive line returns—one that allowed just 21 sacks all of last year.

O'Brien completed 16 of 23 passes for 199 yards in the Terrapins' spring game, which included a 27-yard scoring pass to Ronnie Tyler in the fourth quarter. This clinched a 12-play, 81-yard drive.

It's apparent that he's prepared for an explosive 2011 campaign.




2010 Stats:

192-337 (57.0%) 2,348 yds, 22 TD, 8 INT (134.5 rating)


2011 Prediction:

230-359 (64.1%) 2,478 yds, 24 TD, 10 INT (138.5 rating)
Big East: Geno Smith, West Virginia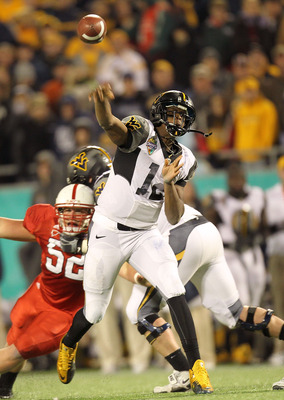 Mike Ehrmann/Getty Images
Dana Holgorsen's offense shouldn't be missing any pieces this year.

Quarterback Geno Smith produced so-so numbers last season, but wasn't utilized to his full abilities (plus the fact that he played with a broken foot for a good majority of the time).

He should bloom in Holgorsen's dangerous system and could be the Big East's top offensive player in 2011.

Although the Mountaineers lose Noel Devine at running back, Trey Johnson and Vernard Roberts are two talented RBs that are battling for the spot. Both did well during WVU's spring game.

Tavon Austin returns as West Virginia's leading receiver from 2010. The 5'9", 175-pound flanker put up 787 yards and eight touchdowns last year. These numbers should be exceeded as plenty of screen plays and creative passing offense is added.
Offensive linemen Don Barclay and Jeff Braun are coming into the fall season with injuries but are assumed to be good-to-go for Week 1. Their presence is very important for the success of Smith.

And I forecast Smith to have a very luxurious performance in 2011.




2010 Stats:

241-372 (64.8%) 2,763 yds, 24 TD, 7 INT (144.7 rating)


2011 Prediction:

303-454 (66.7%) 3,205 yds, 33 TD, 10 INT (145.6 rating)
Big Ten: Dan Persa, Northwestern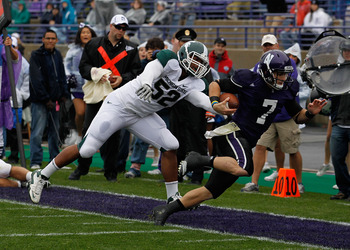 Jonathan Daniel/Getty Images
When it comes to accuracy, Dan Persa is an expert. He led the NCAA in completion percentage in 2010 at an impressive 73.5 percent.

But that's not his only beneficence. Before rupturing his Achilles tendon in Week 10 last year, Persa had accumulated 2,581 yards through the air and only threw four interceptions to his 15 touchdown slings, rushing for 519 yards and nine scores as well.

The All-Big Ten quarterback is a certified dual-threat athlete.

And he'll have plenty of weapons to help him lead the conference once again in '11.

Receivers Jeremy Ebert and Drake Dunsmore come back to a Northwestern offense that averaged almost 240 yards through the air a game. The two, standing at 6'1" and 6'3" respectively, combined for 102 receptions, 1,334 yards and 13 touchdowns.

Starting tailback Mike Trumpy returns for his sophomore season after a subpar 530-yard, four touchdown contribution a year ago. However, the gifted RB saw limited carries due to a pass-first system and should continue to improve with a solid O-line. He will aid Persa in what will be an exceptional offensive attack.

It's the defense that Persa will have to worry about.

It allowed 29.0 points per game last season and will need to keep the opponent's offense off of the field for Persa to truly flourish. Northwestern will be involved in quite a few high-scoring games, so it will be key to keep the Wildcat QB on the gridiron.





2010 Stats:

222-302 (73.5%) 2,581 yds, 15 TD, 4 INT (159.0 rating)


2011 Prediction:

291-407 (71.5%) 3,554 yds, 26 TD, 6 INT (163.0 rating)
SEC: Aaron Murray, Georgia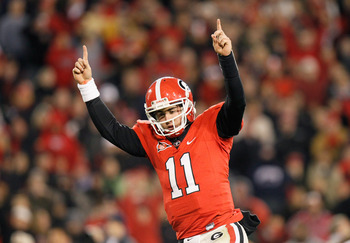 Kevin C. Cox/Getty Images
Aaron Murray was the fourth-best QB in the SEC last year—but let's face it, he was in competition with names like Greg McElroy, Ryan Mallett and Cam Newton.

Those players are no longer active in the NCAA, ultimately making Murray the favorite to top the conference.

Murray is a complete pocket-passer but has great footing and can jump into open throwing lanes. His elite awareness and adept accuracy allows him to make great decisions and plays.

The Georgia Bulldogs only finished with a 6-7 record in 2010, but Murray led them to five wins in their final eight games, completing 75 of 107 passes (70.1 percent) for 1,165 yards, 10 touchdowns and zero interceptions.

That's good for a 192.4 quarterback rating.

Sure, Murray loses A.J. Green—last year's best wide receiver and the No. 4 overall pick in the NFL draft—but he'll still have WR Tavarres King and a solid backup tailback in Carlton Thomas, who has averaged 4.3 yards per carry on the ground in his two-year career.

He'll have competition with South Carolina's Stephen Garcia (if he plays) and Tennessee's Tyler Bray, but Murray will indeed be atop of the SEC when it's all said and done.




2010 Stats:

209-342 (61.1%) 3,049 yds, 24 TD, 8 INT (154.5 rating)


2011 Prediction:

195-312 (62.5%) 2,972 yds, 23 TD, 7 INT (162.4 rating)
Pac-12: Andrew Luck, Stanford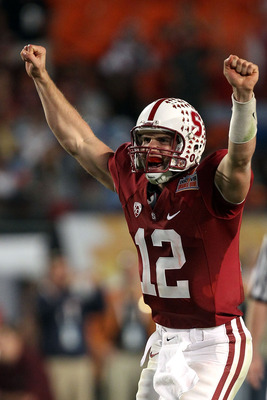 Streeter Lecka/Getty Images
Andrew Luck is arguably the best quarterback in college football.

The potential No.1 overall pick will be a front-runner for the Heisman in 2011 and the Stanford Cardinal will once again be racing with the Oregon Ducks for the (newly renovated) Pac-12 conference.

Luck will continue to be the athletic, intelligent and tough playmaker that he's so famously known for. He may lose a large chunk of his offensive line, two star receivers, an outstanding fullback and six starters on defense and a head coach, but it won't set him back—winners find a way to win.

And Luck is a proven winner.

Tackle Jonathan Martin and guard David DeCastro are reigning All-Pac-10 athletes and are candidates for being nominated All-Americans in '11.

Wideout Chris Owusu should be back completely healthy. The senior is an extremely talented NFL prospect and has caught 67 balls for 1,158 yards and eight scores during his stay at Stanford.

Andrew won't need much luck to find himself as the best quarterback in his conference once again.




2010 Stats:

263-372 (70.7%) 3,338 yds, 32 TD, 8 INT (170.2 rating)


2011 Prediction:

259-382 (67.8%) 3,112 yds, 29 TD, 8 INT (157.1 rating)
Big 12: Landry Jones, Oklahoma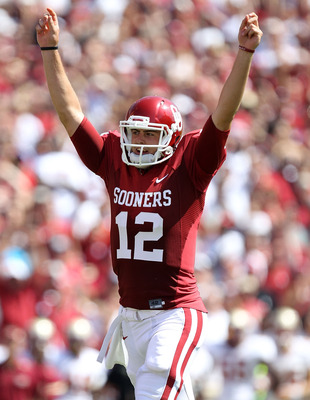 Ronald Martinez/Getty Images
To most analysts and experts, the Oklahoma Sooners are the unanimous favorites to win the BCS national championship this upcoming season.

And quarterback Landry Jones, a likely Heisman finalist, will have a lot to do with it.

He threw for 4,718 yards and 38 touchdowns last year—second in the nation—and completed 65.6 percent of his passes. And with the Sooners' receiving core returning in '11, these numbers should be surpassed.

Jones attempted and completed more passes than any other QB in the conference, proudly carrying the title for most touchdowns as well.

He has big-play capability at all times and always keeps his eyes downfield, especially for the deep ball—his expertise. Jones' arm strength sets him apart from others at his position and makes him a valuable NFL prospect.

Oklahoma's nearing opponents have a combined 89-64 record from 2010. The Sooners have tough non-conference matchups against Tulsa and Florida State before taking on the always-competitive Big 12.

If the OU squad does end up fighting through its schedule to go undefeated, you can guarantee Landry Jones will be the reason why.

And he'd presumably lock up a Heisman Trophy—the third Oklahoma quarterback selected in the last eight years.




2010 Stats:

405-617 (65.6%) 4,718 yds, 38 TD, 12 INT (146.3 rating)


2011 Prediction:

440-632 (69.6%) 5,051 yds, 41 TD, 13 INT (154.1 rating)
Keep Reading