Should the ACC Consider Becoming the Nation's First 16-Team Super Conference?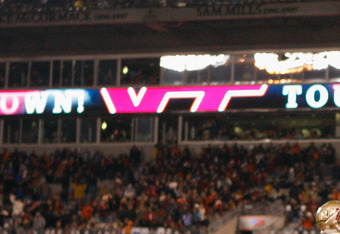 Streeter Lecka/Getty Images
It can be argued either way, whether or not the 2003 raid on the Big East by the Atlantic Coast Conference (ACC) has been successful.
If you look at things from an on-the-field and on-the-court perspective, their success is debatable. They have produced national championships in basketball, yet many feel as though the league's overall hoops prowess has taken a step backwards.
In terms of football success on the field, you can count zero national titles and exactly one BCS bowl victory over the much maligned Big East. Even the Big East has three BCS bowl wins since losing Boston College, Miami and Virginia Tech to the ACC.
And of course there have been cries about the lack of excitement recently surrounding the ACC basketball championship tournament, and do not forget the passion that engulfs the ACC football conference championship game.
However, the real point of the ACC expanding had more to do with money than winning ball games.
Regardless of what was said during and after the fact, the raid of the Big East was believed by some to be a hostile attempt to eliminate east coast competition by taking away three of the conference's strongest, most marketable teams.
Eliminate the competition, and that frees up more money for your own organization. I think the mob likes to work that way, but I digress.
There is no question that the ACC met its goal in terms of creating a product that would generate more money, as their latest television contract reveals. But, is the ACC leaving money on the table?
Recently, the college football blog site, SouthernPigskin.com had a blog about the possibility of the ACC expanding again and bringing in the Pittsburgh Panthers and West Virginia Mountaineers. Needless to say, that created quite a stir of thought, rumor, emotion and speculation.
Alas, however, it was merely a blogger thinking out loud, as there was nothing more to the concept than his own daydreams of what could be. You have to give him credit, however. His straw stirred the drink.
Still, it makes you wonder.
And wonder we all still do, particularly at the concept of conference expansion, and specifically at the idea of the 16-team super conference.
The belief among the fans is that all the other conferences are waiting to see what the Big 10 and Pac-12 conferences will do. The Pac-12 at least flirted with the idea of growing to 16 teams when it courted Texas last year. And speculation about the Big 10 is that they will eventually grow bigger, seeking more large market revenue for their successful cable network.
Look at the Big 10's new logo and decide for yourself whether you think they might grow to 16 teams some day.
If things play out as is theorized, the winners of the super conference expansion sweepstakes will be the Big 10, the Pac-12 and of course the SEC. They will pillage the ACC, Big 12 and Big East for teams of their choosing, and there will be next to nothing those conferences can do about it.
Or can they?
In all honesty, can any Big 12 fan out there honestly say they believe their conference will stay intact for the long term? For even the next 10 years? Sure, some of you may be hopeful or thinking wishfully, but there is little to no belief the Big 12 is any more stable than the San Andreas Fault.
And the Big East? While they have lasted longer than many believed possible, they still appear to be living on borrowed time.
On the other hand, though, is the ACC. Despite rumors of Maryland leaving for the Big 10, bogus innuendo of Boston College secretly wishing to go back to the Big East, and mythical stories of Florida State and Virginia Tech leaving for the SEC, the ACC is the one possibility the "other three" BCS conferences have of withstanding a charge by the Big 10 or SEC.
What if the ACC made the bold decision to become the nation's first 16-team super conference in football instead of waiting around to see what might first happen elsewhere?
The first thought many will have in response to that idea is that it will never happen. And, there is plenty of reason to feel that way, particularly when you consider that for many, the jury is still out on whether ACC expansion has been a complete success.
The way expansion went down previously had to initially leave a bad taste in ACC Commissioner John Swofford's mouth. Of course things turned out okay in the end, but at the time, being force fed Virginia Tech when you wanted Syracuse had to sour Swofford on expansion a little.
Part of the reason for expansion was to grab a stranglehold on the lucrative and populous northeastern television market. When Syracuse was taken off the table, and only Boston College was left to carry the league's banner in the northern states, it definitely hurt the mass appeal they were looking for in the region.
For argument's sake, let's assume that the ACC has decided to give expansion one more try. Maybe they see the writing on the wall that they are vulnerable to other, more powerful conferences. Maybe they see themselves as leaders and not followers. Or, maybe they just want to finish what they started in 2003 and completely take over the east coast.
With that said, we need to decide who the best options for expansion are and move quickly before the Big 10 gets an itchy trigger finger.
THE CRITERIA
Before we get ahead of ourselves, we need to lay some ground rules for this round of expansion.
The first is that taking a school in a large market solely based on the size of the market is not a recipe for success. Boston College has been its usual average self in terms of on-the-field performance, but they are hardly even second page news in their home city.
Along those lines, Blacksburg, Virginia is not exactly a metropolis, yet no one can argue that adding Virginia Tech has been a resounding success for ACC football, and it may even be considered the savior of ACC football when all is said and done. Further, the SEC is more concerned with having strong programs than just having large markets, and some people tend to think the SEC is a pretty strong football conference.
The second rule we have to consider is that sticking only to schools in coastal states seriously limits your options. Now no one would suggest that the ACC should reach out to Boise, Idaho to grab the Broncos, but staying within the eastern region is reasonable.
Next on the list of rules is that the ACC has to forget about the pipedreams. The ACC is not last in the college conference pecking order by a long shot, but they are not capable of just taking anyone they want from the other power conferences, either. The ACC isn't getting the Bulldogs, Gamecocks or Gators. They make too much money in the SEC. End of story.
Obviously the two homeruns out there for the ACC are Notre Dame and Penn State. If the B10 can't get Notre Dame to join with about twice the money and equally prestigious academics of the ACC, the ACC has no chance of getting them to join either. And likewise, Penn State has no reason to move from the B10. They already have everything they need in the B10.
So with those concepts in mind, we can begin the selection process for ACC expansion.
THE CHOICES
There were rumors last year of the Big 10 inviting Rutgers because of its location near NY/NJ/Philly. It didn't happen. And you can bet the main reason it didn't happen was because the B10 saw that Rutgers has a history of failure in athletics. They are annual bottom feeders in Big East basketball, which one can actually understand when you consider all the teams they have to face annually in the Big East.
The thing is - and think about this for a second - Rutgers has struggled to be competitive in Big East football. Think about that a little more, then tell me how moving to the ACC would suddenly make them better at football?
Despite the cries that would be heard from New Jersey, Rutgers should be avoided at all costs as a potential member of the ACC.
In order for this next round of expansion to be a home run, the ACC needs to bring in not only decent market teams, but also solid dual sport schools that do not harm either football or basketball.
Because they are making a comeback in football and are annually ranked among top 25 in basketball… and because they missed out on the last round of expansion, Syracuse should be the first choice for this round of ACC expansion, and become the conference's 13th team.
Syracuse itself may not have a top 10 television market, but they do reside in the state of New York, and although New York City is a professional sports town, one can safely assume that a successful Syracuse program can capture the city's heart like Rutgers did back in 2006. The bottom line is New York likes winners. If Syracuse wins, they will take Manhattan.
The next team the ACC should bring into the fold is UConn. They have a solid top 30 television market, a stud basketball program, and you may have heard they play a little women's hoops there, too. And just for good measure, they made it to a BCS bowl last year.
Adding UConn as the 14th member of the ACC is a slam-dunk, home run when you consider they are coupled with Syracuse. Those are two national marquee basketball programs. They instantly add TV revenue to the ACC's basketball contract, and what would be better at generating interest in BC football than having to play nearby UConn every year?
For the next two slots, you are looking at a package deal, and those two schools are WVU and Pitt. Both are solid football programs AND solid basketball programs. Everything that can be said about bringing in Pittsburgh and West Virginia has already been said very well by SouthernPigskin.com.
And for those that are opposed to West Virginia due to academic rankings, when you consider that Florida State and NC State are sub-top-100 schools academically, and they have been members of the ACC for years, there isn't any reason to believe that a school that produced 26 Rhodes Scholars and an MIT president shouldn't be allowed to join.
However, if college rankings are your thing, read this little story and then tell me how solid the ranking criteria for schools truly is.
ON THE FIELD
Generating conference heat won't be an issue as there are already strong histories between WVU, Pitt, Syracuse, BC, VT and Miami. WVU plays Maryland annually, so the familiarity among the teams is solid.
For scheduling in basketball, the easiest way to work it is to use the Big East's current 18-conference-game format. Play each team at least once for 15 of the conference games, and then play three teams an additional time for three home and home games to round out the schedule.
For football, moving to a nine-conference-game format will allow for each team to play each team in its division, as well as two teams from the other division each season in conference, and still have room for three nonconference matchups.
The divisional alignment will be a little easier to comprehend than trying to remember which team was in the Atlantic Division and which team was in the Coastal Division. Here in the new 16-team ACC super conference, we will use good ole geography to determine divisional membership.
The divisions will look like this:
ACC North
Syracuse
UConn
Boston College
Pittsburgh
West Virginia
Maryland
Virginia Tech
Virginia
ACC South
UNC
NC State
Duke
Wake Forest
Clemson
Georgia Tech
Florida State
Miami
This line up will be the most dominant basketball league in the land, which should keep the ACC basketball purists happy. That is a 12-bid league in any given year.
It is also safe to assume that this new and improved version of the ACC will be capable of landing a television contract that dwarfs even the recent three billion dollar television deal that the Pac-12 just inked. The potential for 30 million dollars per year per team seems like a realistic possibility.
And as for football, the conference is adding three competitive tradition-laden teams and one upstart with nowhere to go but up. It is an absolute win for the conference on all fronts.
Perhaps the biggest plus to setting up the divisions this way is that most of the traditional ACC schools will stay together to eliminate breaking up most annual gridiron rivalries, and most of the northeastern schools that have shared historic rivalries either as part of the Big East or as independents will continue or be renewed.
And divisional strength is very well balanced between the north and south.
So there you have it. I will not go so far as to say the writing is on the wall, but for the ACC, the chance to secure its future, financially and on the field, it has to be too good to pass up.
Update: It was brought to my attention a similar article was penned recently. Here is the link to that story as well.
This article is
What is the duplicate article?
Why is this article offensive?
Where is this article plagiarized from?
Why is this article poorly edited?

Virginia Tech Football: Like this team?