Tennessee Football: Janzen Jackson and the Top 5 Defensive Backs to Wear Orange
July 6, 2011
Kevin C. Cox/Getty Images
With the huge news of Janzen Jackson's return fresh in my mind, I can't help but wonder if he will someday be regarded as one of the greatest defensive backs to play ball in Knoxville. He has all the tools.
He's got great speed, instincts, and can hit like a Mack truck.
But it also had me wondering, who are the best defensive backs to play at Tennessee? Well, this is the list I came up with.
5) Dwayne Goodrich (1996-1999)
Dwayne Goodrich was an outstanding player on an amazing team. I think he gets a bit overlooked when fans think back to 1998 and all of his starting years. If you take a minute to look back at his time, you will see that he was an excellent corner.
The main thing about Goodrich is that he stepped up in big moments. He completely shut down All-American and Heisman candidate Peter Warrick on the biggest stage of them all. He also had a 54 -yard pick six to put UT up 14-0 in the second quarter.
He was a great shutdown corner and deserves this spot.
4) Deon Grant (1997-1999)
Deon Grant had one of the greatest seasons of the modern era in 1999 when he recorded nine (that's right, nine!) interceptions in a single year. Grant was no one year wonder, though. He had made his presence known in 1998 when he helped lead the Vols to an undefeated season and a national championship.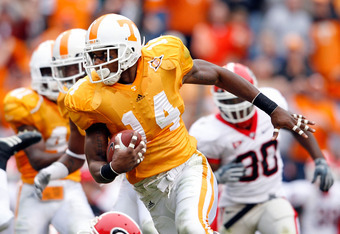 Andy Lyons/Getty Images
Many remember Grant's heroic one-handed interception in the Florida game to help send the game to overtime, but Grant made many more game deciding plays in his career.
That's why he is on this list.
3) Bobby Majors (1969-1971)
The brother of the beloved Heisman runner-up Johnny Majors, Bobby "could do everything in a uniform," some say. And how could you argue with it?
He returned punts and kicks like no other and is easily one of the best coverage guys Tennessee has ever seen. He ranks seventh   all-time on UT's interception list with 13.
In the end, Bobby stepped out of his brother's enormous shadow and made a name for himself, a name that's still uttered with the best to wear orange.
2) Tim Priest (1968-1970)
Still comfortably atop UT's interception list, no one can deny the absolutely brilliant career of Tim Priest. But one of the things I most respect about Priest's career is the academic side.
Priest made SEC Academic Honor Roll in 1968, 1969, and 1970. He was also on the Academic All-American team in 1970. That is an incredible feat not often done by any, much less a great athlete like Priest.
 Priest was as good on the field as he was in the classroom, though. He tallied and unbelievable 18 interceptions in just three years. That ranks fifth all-time in the SEC.
Priest was one of the best, but who could ever forget his interview with Deon Grant? "You played football?!"
1) Eric Berry (2007-2009)
James Eric Berry was everything you want in a football player. He was a class act and one of the most outstanding athletes to ever play in Neyland Stadium.
He was the son of former Tennessee running back and Captain James Berry. He is as Tennessee as Orange and White. He loved UT and the fans loved him.
He is the epitome of the term "beast." Every Saturday he would show just how superior he was than most on the field.
As amazing as he was, Berry came just short of breaking the NCAA record for interception return yards. Finishing with 494 yards he ended his career only seven yards short of the record.
Regardless of records, Berry gave UT fans a show every game, even in a few lackluster years. You don't get 100,000 people to chant your name by being average.