2011 Crimson Tide: Game 1 Versus Kent State, Preseason Preview
July 26, 2011
Kevin C. Cox/Getty Images
Three weeks ago was the 5th of July, and that day always feels like "Black Friday" after Thanksgiving in preparation for Christmas. Stepping out on a limb and calling the 5th of July "Crimson Five-day" just feels right; maybe it'll catch.
The caveat is that Ole Kris Kringle, Saint Nick, the "Saban Claus" and his "helpers" need to usher in championship No. 14 this year. The feat should not be overly difficult for the 2011-2012 Tide team because it will be led by the likes of Trent Richardson, Marquis Maze and William Vlachos on offense and Dont'a Hightower, Mark Barron and Josh Chapman on defense. I have a sense that 2011-2012 "'tis the season to be jolly" in Tuscaloosa!
However, there is no place in the SEC West for complacency; the Tide must FINISH. If the Tide execute their game-plan day-in and day-out, week-in and week-out, with such the degree of precision, class and consistency that Bama Nation expects, then their season will look like a choreographed ballet. A ballet of beat downs filled with swarms of Crimson executing bone-shattering contact on defense, runs etched with scissor-cutting craftiness and passes with sound-barrier breaking spirals on offense and both sides of the ball will ebb and flow like tidal waves crashing into the shore, only to retract back to sea so that they can crash again and again.
A message for the players going into preseason:
The irony to success is that those who get to play lose the opportunity to grow to their maximum potential. Everyone has a talent in something, and talent only focuses on what comes to a person easily. Everyone who plays college football has talent, or they would not be playing college football. Reality is hard and takes sacrifice. That means that the players who may receive the best education at the Capstone never get to play a single down. Strive to be the best and require the best from each other. You are a family and have the opportunity to be a team. Make memories, fulfill your dreams and have a darn good time playing ball this year!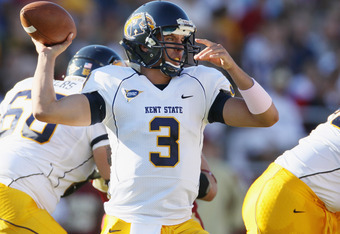 Elsa/Getty Images
What should we expect out of the gate in Game 1?
Game 1: Kent State at Bryant-Denny
No team should be taken lightly, and the Golden Flashes are no exception (lest we forget Louisiana-Monroe). Kent State has a veteran quarterback in Spencer Keith (6'3", 215 pounds), who completed 215-of-364 passes for 2,212 yards, eight touchdowns and 11 interceptions in the 2010 season. They also have senior incumbent [Speedy] Jacquise Terry (6'0", 183) and junior Dri Archer (5'7", 162) as the team's premier running backs. Their anticipated receivers include junior flanker Tyshon Goode (6'1", 182) and fifth-year senior slot man Sam Kirkland (6'1", 191), a pair who started every game last year and combined for 115 catches, 1,342 yards and six touchdowns. Finally, the team has fifth-year senior center Chris Anzevino (6'2", 305), a two-time Rimington Award watch-list honoree, who spearheads a veteran line with four returning starters.
On the defensive line, Kent State has freshman Roosevelt Nix (6'0", 240), who technically only started one game but amassed 10 sacks and 20 tackles for loss, forced four fumbles and blocked two kicks and was MAC Defensive Player of the Year. The rest of its defensive line consists of veterans and the team also has two returning veteran cornerbacks. However, the weaknesses in the predominantly veteran corps are at linebacker and safety.
Assessment:
Kent State provides Alabama with the perfect opening game to test the proverbial waters of leadership for Alabama. Kent State has lots of returning depth on offense to challenge key Tide players on defense. The Golden Flashes have a good defensive line to test our running game and pass block fundamentals, cornerbacks to test our receivers and weaknesses at linebacker and safety to be exploited by one or both of our to-be-determined quarterbacks.
Considerations:
Alabama has many returning players; however, key leadership gaps exist (e.g. quarterback, halfback, defensive line, wide receiver and offensive line). We ASSUME that Richardson will step-up at halfback, Chapman at defensive end, Maze at wide receiver and Vlachos at offensive line. The significance of Game 1 at face value is virtually beyond the scope of comprehension. A narrow, but vast, opportunity exists for the Tide to fire out of the starting blocks and set the tone for the season. Whether the Tide gaff off this game and members of the team make poor decisions because they downplay the competition or the Tide attack and execute like it's the national championship will foreshadow the success or failure of the entire season.
Prediction:
Selflessness over selfishness. Saint Nick leads the Tide to achieve consistency on both sides of the ball. Kent State fights hard, but the Tide perform masterfully. Final score: 38-6.
Some may think this article is too premature. I think the same thing about shopping for Christmas the day after Thanksgiving...preparation never sleeps.
ROLL TIDE ROLL!