West Virginia Football: The Lesser of the Two (or Three) Evils
July 4, 2011
What does it really mean to be "Mountaineer Faithful" or "A True Mountaineer"?
Over the last few months, I have asked myself this question over and over.  Yeah, when RichRod decided to abandon his post as head coach at WVU for a seemingly better gig in Ann Arbor, I was hacked off.
I wanted him to fail, over and over again.  I wanted the Wolverines of Michigan to have the worst seasons ever.  
Turns out, my wishes pretty much came true.  After three seasons of failed attempts at Big Ten football, the University of Michigan chose to fire the West Virginia native Rich Rodriguez as head coach of its football program.
I have to admit that I believe the powers that be in the Michigan Athletic Department, made a mistake. Coach Rodriguez would have given them a stellar performance in the 2011-12 season.
He had built his program just the way he wanted, and it was ready to blossom.  Oh well, not my call, and I am glad.
Looks like the folks at Clemson now have a reason to be excited.
Fast forward to December 2010—newly hired West Virginia University Athletic Director, Oliver Luck, announces the hiring of a new offensive coordinator, Dana Holgorsen.
Holgorsen, with previous stints at several schools, including Oklahoma State and Houston—probably where Luck became familiar with him—seemed to be the saving grace for current WVU head coach, Bill Stewart, his football program and the Mountaineer Faithful.
Weeeeell, not quite.
Yes, Holgorsen has shown he is quite capable of leading an offense to do great things.  Yes, he has had great success everywhere he has been.  Yes, I was excited when he was named OC at WVU.
However, then came the news of the horrific plan that Luck had in his mind.  Holgorsen is actually the head coach in waiting for WVU.
Argh!! OK, Scott deal with it.  Though I did not like what Luck and Holgorsen were doing to Bill Stewart, I had to accept it.   
With a past, present and future like Holgorsen's, I knew there would be times when the athletic department at WVU would have to answer to some sort of report concerning a drunk and disorderly coach.  
Although, I had no clue that it would happen this soon.  What made it all worse was the fact that it would be the head coach (in waiting).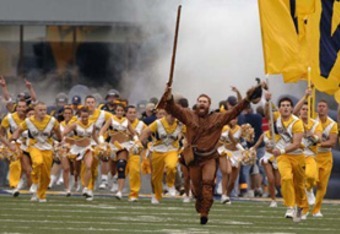 I give you that background of my thoughts and facts to say this...
A true Mountaineer would never stab a great coach in the back like Luck did Stewart.  
A true Mountaineer would not go on drunken escapades—over and over—and cause a bad light to be so brightly illuminated on the great University and state of West Virginia, as did Holgorsen.  
A true Mountaineer would not abandon the state to become a weasel—the dictionary definition of wolverine.
But, a true Mountaineer should have an easier time forgiving a fellow Mountaineer and product of West Virginia, than forgiving and forgetting one who might be what is considered "an outsider"—who damages the reputation and admiration of a great state and its great University.
Now, I'm not saying don't forgive Oliver Luck and Dana Holgorsen.  I am just saying forget them.
It's time the Mountaineer Faithful stand up and tell Oliver Luck and Dana Holgorsen how we feel and what we think of their ignorant, hasty, alcohol-induced decisions.
Even if it means bringing back a Mountaineer who wasn't as faithful as he should have been.