ASU Football: Do Kerry Taylor's Comments on Dennis Erickson Matter?
June 30, 2011
Christian Petersen/Getty Images
Social media strikes again.
By now, you've likely heard the reports of how former Sun Devil wide receiver Kerry Taylor lashed out against head coach Dennis Erickson on his Twitter account following an interview with a local television station.
While an athlete making waves on Twitter for their comments (see: Mendenhall, Rashard) is nothing new, this story has garnered far more attention that it warrants—at least for now.
At the core, Taylor feels that Erickson is not the right man to lead Arizona State football past their long standing place as a chronic underachiever on the national stage, both as a coach and a recruiter.  He also believes that Erickson is more concerned with surrounding himself with his coaching buddies to give them "a couple last checks before they retire."
A scathing assessment for sure, but what is it all worth?
By most accounts, Taylor is a thoughtful and intelligent individual who comes from a football family (his uncle, John Taylor, was a star wide receiver for the San Francisco 49ers ).   He was a star at Hamilton High School in Chandler, Arizona and came to ASU with high expectations. 
He made minimal impact over his first three seasons, and he did not make his feelings about former offensive coordinator Rich Olson's conservative offense a secret.
"The first two bowl-less seasons had a lot to do with what we were trying to do offensively," Taylor told me in an interview I conducted with him in March. "A lot of players just didn't believe in the offensive schemes, and once the players don't believe in the plan, then it's all downhill from there."
Taylor, never lacking confidence in his own skills, improved greatly last season under new offensive coordinator Noel Mazzone's wide-open attack, leading the team with 54 receptions. 
"Having a coach like (offensive coordinator) Noel Mazzone who actually wanted to get me the ball helped out a lot.  The players really bought into the system and believed in it."
Yet despite the success during his senior season, Taylor's comments indicate that he feels he was not properly utilized and developed during his time as a Sun Devil.
This could indicate that his attack on Erickson could be a case of a recently undrafted player who blames his shortcomings on the school and coaching staff.  Or, it could be that he is genuinely concerned for his alma mater and is speaking out in hopes of making a positive change by helping to remove Erickson.
Either way, his words don't matter.  Yet.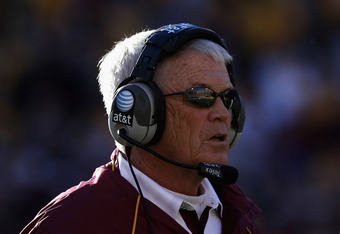 Christian Petersen/Getty Images
After Erickson's debut season that ended with a piece of the Pac-10 title, the Devils have missed a bowl game for the last three seasons.  Erickson has made it clear—rightfully or not—that his plan to build a winning program placed tremendous importance on his fifth season in Tempe.
That make-or-break fifth season is two months from starting.
If ASU can deliver on their lofty preseason expectations, then Taylor and his comments will be forgotten as the beliefs of a jaded former player.
However, if the Sun Devils fall short—and given the hype, anything less than a Pac-12 South title would qualify—then Taylor's words would become the earliest and most impactful of a certain chorus calling for Erickson's ouster.
The entire interview with Taylor (it may be worth noting he is wearing a t-shirt of ASU's conference rival Washington Huskies, the school in which his younger brother will attend) will air locally in Phoenix this Sunday on Channel 3 at 9:30pm. 
It will be five more months before we will learn if Taylor knows what he's talking about.
Follow me on Twitter @ASU_Examiner for the latest updates and analysis on ASU football.