College Football 2011: Oregon Ducks Will Be Tested Against LSU Tigers
June 29, 2011
Jonathan Ferrey/Getty Images
With the 2011 college football season just around the corner, the Oregon Ducks are preparing for a Texas-sized showdown against the LSU Tigers on September 3rd at Cowboys Stadium in Arlington, Texas. The Ducks are coming off of a BCS National Championship appearance and back-to-back Pac-10 titles. This season, they will try to become the first ever Pac-12 champion.
This game won't make Oregon's season, but it could break it. One of the disadvantages to playing in a "weaker" conference like the Pac-12 is that if you want to go to the national championship, perfection during the regular season is required. One loss, and the Ducks will be smelling roses instead of tasting sugar.
LSU most likely won't have nearly as much pressure on them. As we've seen before in college football, a team in the SEC that loses one game could still go to the national championship. The 2008 Florida Gators lost one game, but still went on to win it all. Sometimes a two loss SEC team can still go all the way, as was the case with the 2007 LSU team. That season the Tigers lost to Kentucky and Arkansas, but still won the national championship.
The fact that LSU could technically afford to lose this game could give them a psychological boost, allowing them to play more relaxed than the Ducks. For both teams however, "relaxed" is not the word to describe this game.
Expect Oregon's high octane offense to come out swinging against one of the most feared defenses in all of college football. Oregon is bringing back key players, including quarterback Darron Thomas, Heisman finalist LaMichael James, and senior wide receiver Lavasier Tuinei.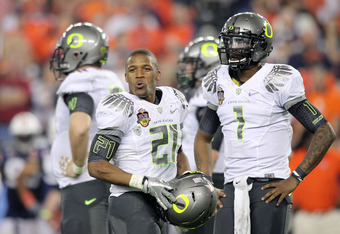 Jonathan Ferrey/Getty Images
Last season, LSU's defense ranked 11th in college football in scoring defense and 12th in total defense. Even though the Tigers lost some key players from that defense, they're still among the best in the nation. Teams like LSU don't rebuild, they just reload.
Even though Oregon has proven they can put up big numbers against elite schools, look for this match-up to be similar to the BCS National Championship last season. Many people predicted there would be at least 80 points scored between Oregon and Auburn. It was just the opposite though, as there were only 41 combined points.
A defensive battle will be a huge test for the Ducks. In 2010, the Ducks scored 40 points or more in 10 of their 12 regular season games. Up until playing California in November, the least amount of points they scored in one game was 42 against Arizona State.
Don't expect Oregon or LSU to put up more than 24 points in this game. It will be low scoring like the BCS title game, and it also could come down to who has the ball last. If the Ducks can pull off a big first win against one of the top teams in the nation, it would be the perfect start for a run to New Orleans and the BCS National Championship.