Boise State Broncos in the College Football Food Chain
June 28, 2011
Ethan Miller/Getty Images
Last December, Boise State University President Bob Kustra ripped the BCS in a scathing, public message for its unfairness toward teams from non-AQ conferences. Kustra's widely supported complaint even went so far as to accuse the BCS of being structured with the direct intent of making it virtually impossible for non-AQ schools to play for the national championship.
Who knew that within a matter of a few months Boise State would turn down an opportunity to get the storied Nebraska football team onto the smurf turf because the payout for appearing in Lincoln was too meager? Earlier in the season, BSU Athletics Director Gene Bleymaier clarified to ESPN, "We'll play anybody in the country home and home."  
It seems Boise State has said different things to different people. While pandering to the college football blue bloods for equity and altruism, Boise has turned its nose at longtime instate rival Idaho and leveraged its Mountain West membership to avoid playing the Vandals on a home-and-home basis. 

Coach Chris Peterson said this at WAC Media Day regarding the rivalry game, "Why would we [go to Moscow]? I don't think our fans even like to go up there." 
Kustra added, "I frankly don't care whether we ever play 'em again as long as it goes. I don't see any reason to do it in Boise, but if somebody sees a reason to do it in Boise, fine."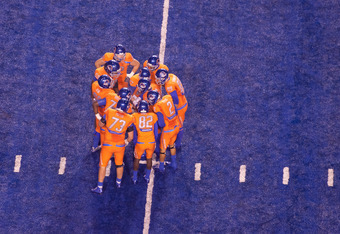 Otto Kitsinger III/Getty Images
I can't say I disagree with Peterson or Kustra's disinterest toward playing in Moscow, but the hypocrisy doesn't pass the smell test. If you're plugging for equity you don't stick it to another school just because it's in your best interest. By the same token, if you're team is criticized for having too weak of a schedule, you don't turn down an opportunity to play Nebraska.
So what is Boise State getting at? Like virtually every other program in the country, Boise finds itself somewhere in the middle of the college football food chain, trying to climb higher and higher. And despite the Broncos' success on the field, difficulty in scheduling suggests that Boise State is much lower on that food chain than Kustra and Bleymaier would like to believe.
Debate on the overall quality and merit of the program is constant and ongoing, but there is little question that Boise State football is in a fragile position. Bleymaier said, "Right now we're an outlier–plain and simple. We've got the smallest budget of any school, by far, in the top 25. Being an outlier in that kind of situation is not a great spot to be in."
All Boise State has going for it right now is its reputation. And that can evaporate over a few bad seasons (by Boise State standards), which is more likely now that Boise will have to face improved competition from week to week as a member of the Mountain West. 

Broncos fans would be naïve to think a dip in the program couldn't happen to them. With an annual athletic budget of only $21.8 million, it would be difficult for the Broncos to finance a rebuilding. Compare that amount to Nebraska's $75.5 million budget. 
To strengthen the competitive position of the football program, Boise State announced plans for a beautiful stadium expansion that would add offices for coaches and administrators, improved facilities for players and most importantly create additional seating for fans to reach capacity of 53,000. 

This expansion will do wonders for Boise State in attracting better recruits and making a trip to Boise more attractive for quality opponents. Just one little problem—Boise has struggled to raise the estimated $100 million to fund the project. 

Peterson leveraged interest in his coaching services from Stanford to get BSU administration to make the expansion a greater priority in tagging a deadline of 2013 for the completion of the expansion, but little other news is available on the progress of the project. The project is designed such that it may be completed in phases, and it remains to be see what the true timeline will be to reach the capacity Boise State needs.
Until that happens, expect more of the same from Boise State. Kustra and his gang will look out for No. 1, while selling the public into cheering for them as the underdog. Boise State will take limited chances, probably one per season, and will be paid handsomely for it. And we'll have much more debating on how good and how deserving Boise State really is.