The 25 Ultimate College Football Fanbases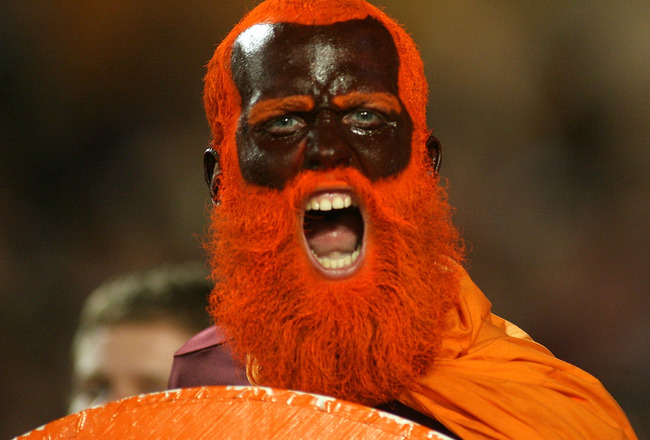 Marc Serota/Getty Images
Which school has the ultimate fan base?
Who has fans that are vitriolic in their hatred of rivals, cry when their team loses and know how to tailgate?
People who name their children "Bear", "Woody" and "Bo".
Schools where Saturdays revolve around football, and the epicenter of that pigskin universe beats in the heart of every crazy fan begging with all his might for that crucial first down.
This list has them all.
All schools have "fans".
This is list of schools whose fans make the word "diehard" look silly.
25. Georgia Tech Yellow Jackets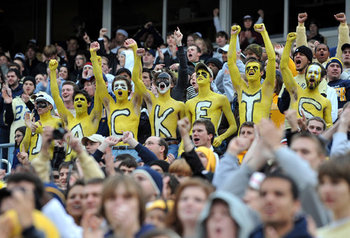 You would be hard pressed to find uglier colors than the ones worn by Tech, and still their fans paint their bodies yellow.
Tech has a unique stadium and some interesting traditions, but in and around the city of Atlanta, it's hard to find a more dedicated group than the fans of the Jackets.
The surest way to start a fight is ask a Tech fan "How 'bout them Dawgs".
On game-day, Bobby Dodd stadium is jumpin' and opposing teams can find it difficult to hear over the noisy crowd.
Forget the Falcons, it's all about the Yellow Jackets for these fans.
24. Fresno State Bulldogs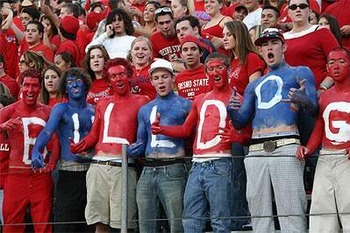 They may be a small school in a small town, but the Bulldog faithful keep the stadium rockin'.
Fresno State has some of the most obnoxious fans in the country, but hey, who isn't when it comes to college football?
The Bulldogs have had a few down years, but this has done little to lessen the fervor with which their fans watch the game.
Some of the bigger schools have more fans, but Fresno State has some dedicated people cheering every Saturday.
23. Boise State Broncos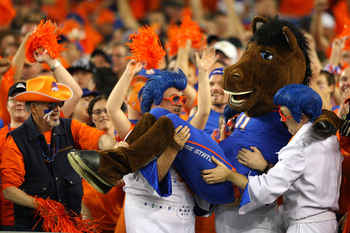 Ah, Boise State faithful.
The Bronco fans are a rowdy bunch.
It takes a brave soul to sit staring at the "smurf turf" of Bronco Stadium for an entire football game, but BSU has plenty of fans willing to deal with sore eyes for a chance to watch the Broncos.
What really sets Boise State's fans apart, however, is there intensity in the face of criticism.
It's virtually impossible to convince a fan that the Broncos don't deserve a shot at the BCS every season.
Try arguing with one, you will see.
Their loyalty to the orange and blue knows no bounds.
22. West Virginia Mountaineers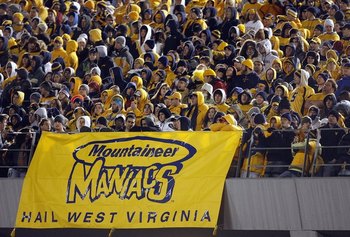 The Mountaineer fans make the list for their intensity and involvement more than any other reason.
No WVU experience is complete without listening to the entire stadium sing along to John Denver's "Country Roads".
The Mountaineer fans do a darn good job of it too.
The noise level for a smaller stadium indicates the fervor with which these fans operate.
It's easy to see how some of those Backyard Brawls against Pitt can turn ugly, but these fans are the cream of the Big East crop, cheering on the Mountaineers with an intensity bordering on insanity.
Especially whenever WVU's legendary fullback, Owen Schmitt, carried the ball.
21. Georgia Bulldogs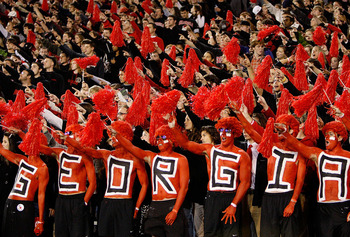 The Bulldogs may have been down the past few seasons, but their fans are certainly not.
Georgia has sold out home games at Sanford Stadium for eleven consecutive seasons.
The Stadium used to be home to the infamous "Track People".
Football in Georgia is a way of life, and the phrase "How 'bout them Dawgs", can be heard at least once a day on the streets of any small town int he state.
Any fan-base that enjoys shouting "Hunker Down Hairy Dawg" on opponents' third down attempts deserves to receive some sort of props.
20. Florida State Seminoles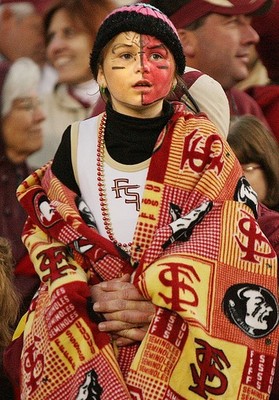 The 'Noles have, easily, some of the best traditions in college football.
Try arguing this point with one of their fans, and you will come to see my point.
Besides this, the 'Noles deserve some kudos for having fans that know how to have a good time, while still keeping things family friendly.
The "Downtown GetDown" has a little something for everybody, and the fans seem to be a little more courteous to others than some of their SEC or Big Ten brethren.
Here's to you, FSU fans, for showing the rest of the country you can be passionate without being an idiot.
19. TCU Horned Frogs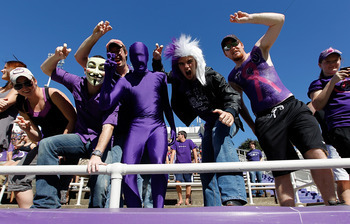 Gary Patterson has the Horned Frogs back to the forefront of national consciousness.
You think these fans haven't noticed.
College students love to do crazy stuff.
What is crazier than a purple body suit?
Amon G. Carter stadium is a great place to watch a game, and 44,000 fans are more than enough to rock the house.
Fear the Frogs!
18. Tennessee Volunteers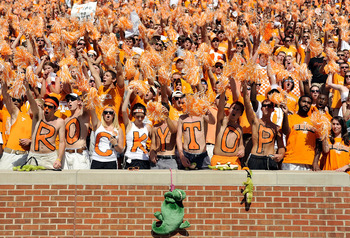 Yes, that is a Gator hanging by it's neck.
These fans don't play around.
Tennessee fans routinely fill the 100,000+ seats in Neyland Stadium, and they love to let everyone in attendance know they are present.
The painting of "The Rock" is always colorful and full of panache, cheering on the Volunteers and announcing "gameday is here".
The SEC is replete with splendid fans, who respect the game and love their team, and Tennessee has as great a fan base as any of them.
17. Texas A&M Aggies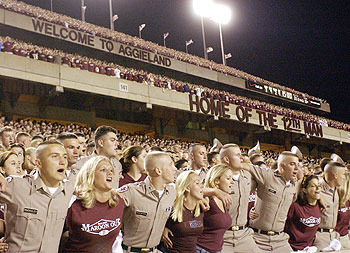 The Aggies student section, "the 12th Man" remains standing for the entire football game.
Pretty dedicated.
For a school that usually plays second fiddle to Texas, and in recent years, TCU, the Aggies have a great group of fans.
Kyle Field is routinely filled to capacity, and "gig em'" is the standard salute upon parting ways.
The tailgating around the stadium is second to none, so if you are in the mood for grilled anything, this is the place to go.
16. Virginia Tech Hokies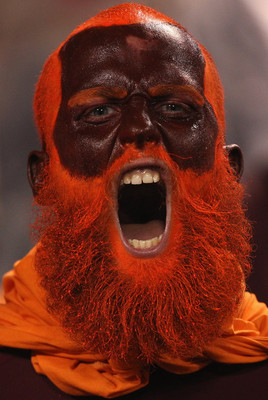 Virginia Tech has been a model of consistency for the past decade or so.
The fans have also maintained the same high standards.
Lane Stadium is not one of the largest stadiums in the country at just over 66,000, but it sure seems like it.
The food is incredible, especially the hot turkey legs the size of my thigh, and the fans have no shame.
From the first strains of "Enter Sandman" to the "Hokey Pokey" young and old alike turn from ordinary people, to extremely passionate proponents of their team.
It's football fandom at it's finest.
15. Wisconsin Badgers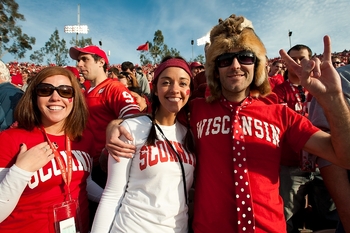 Why this guy is throwing up the "Hook em' Horns" is tough to say.
Other than being confused at times, the Badgers' fans are a tough crowd to beat.
Just head to Madison on game-day, and there will be plenty of people willing to show you around.
The student homes near the stadium are party central before the game, and State Street is one of the best environments for hanging out in the country.
If you can get past the sometimes obscene chants from the student section of Camp Randall Stadium, Badger fans are an exciting bunch, cheering on Bucky with reckless abandon.
As Ohio State found out in 2010, it's very difficult to think when the Badger fans get wound up...
If you are an Ohio State fan, don't click here.
14. Clemson Tigers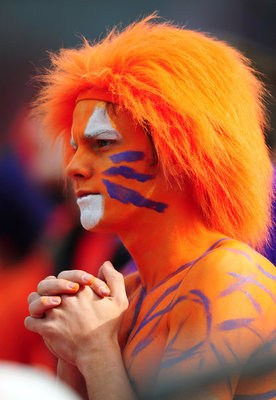 Listen, you have got to go to a game at Clemson.
It's insane.
All the roads into this little college town start backing up long before game-time, as fans get there early to tail-gate, and Death Valley is rockin' from the minute the Tigers rub Howard's Rock on their way down to the field.
As demonstrated by the ridiculous apparel of the character in the picture, Clemson fans are an avid bunch, fervent in their love all things having to do with the Purple and Orange, and not afraid to show it.
13. Notre Dame Fighting Irish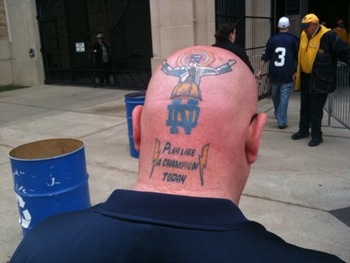 Yes, that man has "Play like a champion today" and "Touchdown Jesus" both tattooed on his head.
This is the kind of insane action that leads one to believe the Irish may have the most passionate fan base in college football.
For a special experience, take the time to line the way for the "Irish Walk" to the stadium.
The team is particularly close to the fans during this time, and the respect for the players is palpable among the Irish faithful.
Among the student section, it is rare for a fan to leave, win or lose, before singing the alma mater with the team, and besides all that, everyone knows there is a "higher power" watching over Notre Dame fans.
He just hasn't been too kind in recent seasons.
12. Texas Longhorns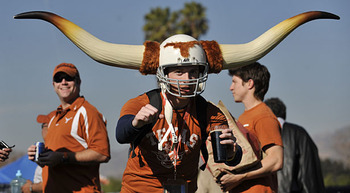 Wouldn't you hate to meet him in a dark alley?
Interesting mental picture, is it not?
The Longhorns have one of the most storied histories in college football, and plenty of fans to keep hyping up those traditions.
It's hard to go anywhere in this great country and be able to get away from all of the Longhorn fans, they just keep showing up, kinda like your in-laws.
When over 40,000 people show up for a spring game, you know they have some passionate fans.
11. Ohio State Buckeyes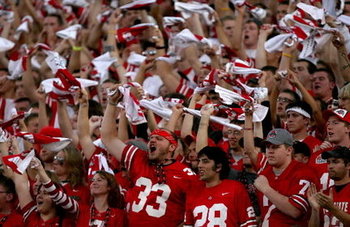 Anyone willing to stick with a football program doing it's best imitation of the Titanic is an incredibly loyal fan.
On a more serious note, Buckeye fans are nuts. (No pun intended)
These people scream, beg, cry, yell and react with a fervor that is astounding, even for the most ardent fans.
The sound of over 100,000 people holding their breath while a pass is in the air is an experience not soon forgotten.
Add to this their love for the team, in good times and bad, and it's easy to see why the Buckeyes own one of the most passionate fan bases in the country.
10. Auburn Tigers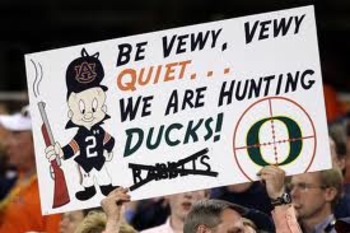 Where else do fans toilet paper trees, and it's supposed to be a good thing?
The Tiger faithful have a long and storied history of which to be proud, and they take it seriously.
If you wish to see a grown man cry, just bring up some of Auburn's more bitter Iron Bowl losses.
The "Tiger Walk" before the game always boasts several thousand screaming fans, and the atmosphere of respect in the stadium during "War Eagle" is incredible.
Once the game starts, all bets are off, and the Auburn faithful are not shy about supporting the Tigers.
9. Service Academies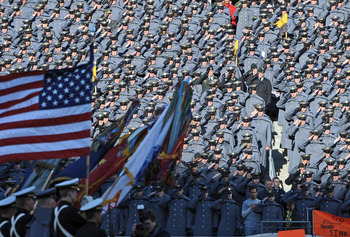 Is there a greater tradition in football than Army and Navy saluting at the end of their annual game?
I think not.
The fans of Army, Navy and Air Force are not just your ordinary football fan.
Many of them are members of the academies.
They have dedicated their lives and fortunes to the good of our country.
Yes, they are ardent supported of their football teams, but they are even more ardent supporters of our country, and for that dedication, they earn a spot on this list.
8. LSU Tigers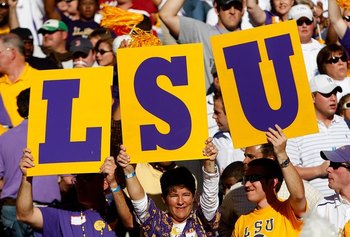 What is it about a trip to Tiger Stadium at night that makes it so intimidating?
Besides the great football team, it's the raucous crowd of fans, that do everything in their power to be as loud as possible.
You ask for evidence?
Look no further the famous "Earthquake Game" of 1988.
LSU trailed 6-0 going into the final two minutes.
When they scored to tie the game 6-6 then kicked the extra point, the crowd was so loud, a seismograph on campus recorded a reading.
And not only was there a reading, it's reported that there was 15-20 minutes of seismic activity picked up by the machine.
That's loud.
7. Oklahoma Sooners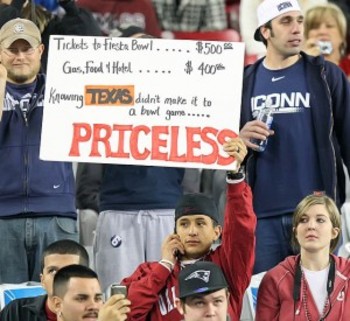 Sooner fans are great people, as evidenced by the picture above, where an Oklahoma follower is gloating over the absence of rival Texas from last season's bowl games.
In the great tradition of Sooners packing the territory line before a land run, the Sooner faithful pack nearby Asp Avenue long before kick-off.
The scene is reminiscent of a carnival mixed with a parade, as the street is closed down for the festivities.
That in and of itself is a tough scene to beat, and the fans are a huge part of creating that experience.
With the plethora of faithful OU fans treading the streets of this country, is it any surprise that the Oklahoma-Nebraska game in 1971 is still the most watched college football game in history?
6. Michigan Wolverines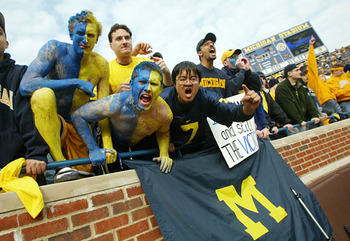 Check out the picture as evidence.
The guy in the back row is obviously glaring a malignant glare at Rich Rodriguez, while the young gentlemen in front shout their displeasure at his most recent play call.
The Wolverines have fallen on some tough times over the past few season, but that doesn't stop fans from embracing the team as if it were one of their children.
Actually, it's probably true that several Michigan fans would trade their children for a win over Ohio State.
Great parents?
Maybe not.
Dedicated to their team?
Most definitely.
5. Florida Gators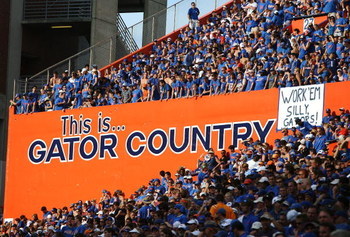 If one can get past all the "jorts", Florida fans are really pretty regular people.
They make "The Swamp" pretty uncomfortable for the opposition on a routine basis, however.
Some of the fans have been known to do the "Gator Chomp" until their arms fall off, but that rumor is yet unconfirmed.
The stadium has been sold out since 1979, and the way it is designed lend itself to a perfect blend of raucous crowd noise to drown out opposing teams' play-callers.
The way these people sit through the humidity, acting like angry lunatics, is enough to make one believe that Gator fans really are the most insane fan-base in the country.
4. Oregon Ducks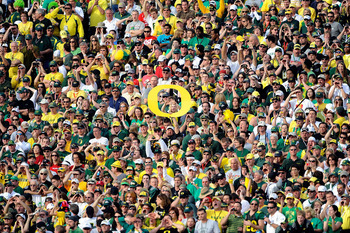 The design of Autzen Stadium lends itself to incredible levels of sound, but without the staunch fans that inhabit the seats at Autzen, it would be nothing.
The noise levels generated by these fans are literally painful at times.
While some admire the Ducks' uniforms, it takes a loyal fan to truly appreciate some of those designs, but this fanbase makes a point of sticking with the team.
The Ducks' fanbase may not have the numbers of some of the East Coast teams, but waht they lack in quantity, they make up with in sore throats by game's end.
3. Nebraska Cornhuskers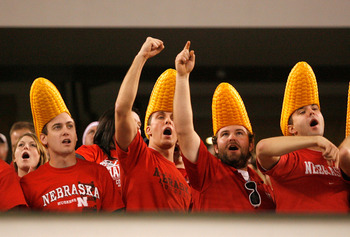 Poor Husker fans must now swing conference allegiance to the Big Ten, but if you think this is going to diminish their level of enthusiasm, think again.
Those men have corn-cob hats on their heads.
That's true dedication.
The Huskers have a shot at the BCS this season, and it's guaranteed their fans will be as wild and crazy for Big Ten games as they ever were in the Big 12.
Besides, it's takes a loyal fan to stay dedicated to a program whose coach has a range of facial expressions approaching the level of Jim Carrey.
Bo Pelini is a scary man, yet they cheer on the Cornhuskers.
Try to find another school that has a sell-out streak dating back to 1962...
2. Penn State Nittany Lions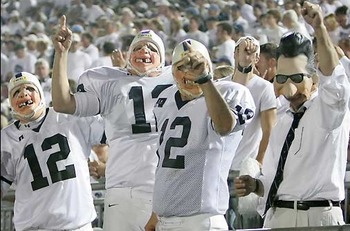 Penn State's "Whiteout" is one of the most impressive scenes in college football.
Throw in the number of people in attendance, the sound of "We are...Penn State" and the crazy student section, and you have one of the top fan-bases in the land.
Double points to the Nittany Lions' faithful for operating in less than ideal weather conditions at times.
During the week, Happy Valley is such a quiet little place, but on Saturday, with game-time approaching, it turns into the third largest city in the state.
The fans are creative, loud and loyal, and match-up well against any fan-base in the country.
1. Alabama Crimson Tide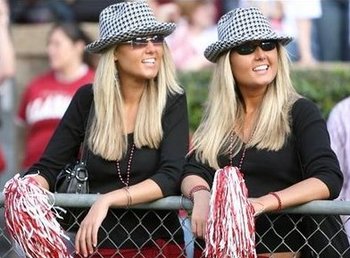 Where else can you see more hounds-tooth hats than baseball caps, body paint like this and twins doing their best Bear Bryant impression?
Where else do over 90,000 people attend a spring game?
The fans of this school are absolutely out of their minds when it comes to pulling for the Tide, and are not afraid to demonstrate their insanity openly.
See here.
Any school that hosts more fans at it's spring game than most teams do at homecoming easily makes this list.
Keep Reading