College Football 2011: Why the WVU Moutaineers Will Beat the UConn Huskies
June 27, 2011
Chris Graythen/Getty Images
Whether they will admit it or not, thoughts of redemption will be on the minds of the Mountaineers as they prepare for their week seven contest against the Connecticut Huskies at home in their Big East opener.
Last season, the Mountaineers traveled to Storrs, CT with a 5-2 record, and still in contention for a Big East title and a BCS birth, until they fell to the Huskies, 13-16, in overtime.
At season's end it was UConn that received the BCS nod over WVU due to the head-to-head victory. Both teams finished the season tied for first place in the Big East, along with Pittsburg, with all three teams holding 5-2 records in conference play.
This season's addition of a new coaching staff and loss of a star running back will have the Connecticut program looking much different than the conference champions from a season ago.
Since the departure of Coach Randy Etsall to Maryland, former Syracuse coach Paul Pasqualoni has taken over as head coach after serving last season as defensive coordinator for the Dallas Cowboys.
In his first season Pasqualoni will inherit an offense that is without the services of their biggest weapon from a year ago, Jordan Todman. The 2010 Big East Player of the Year, announced that he was not returning to school for his senior year immediately after the team's 48-20 loss to Oklahoma in the Fiesta Bowl last season.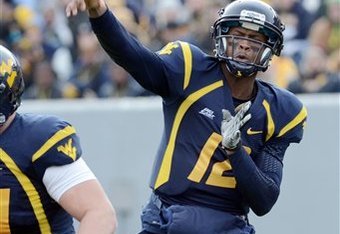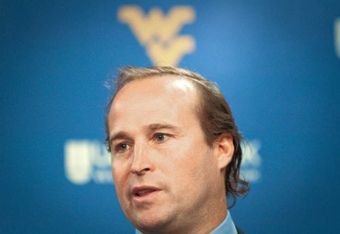 Todman rushed for nearly 1,700 yards and 14 touchdowns last season as a junior, including 113 yards and a touchdown against WVU.
Todman's exit leaves the position open to USC transfer D.J. Shoemate, a senior and former 4-star recruit, who had only 28 carries for 115 yards last season.
The quarterback position is another question mark for UConn heading into 2011.
UConn's starter from a year ago, Zach Frazer, has graduated while backup junior Cody Endres was dismissed from the team this offseason after numerous violations of team rules. 
Heading into summer practice there is a four-man race for the quarterback position led by sophomore Michael Box.
Box started one game last season for the Huskies while redshirt freshman Scott McCummings seems to be gaining ground following spring drills.
The bright spot for the Huskie offense this season will be their veteran offensive line. The Huskies return first-team All-Big East selection Mike Ryan (20 career starts) and Adam Masters (18 career starts). Moe Petrus, a second-team all-Big East pick, has 39 career starts and also returns.
Despite all of the uncertainty on offense, the UConn defense remains fairly solid.
An all-Big East selection last season as a junior, 6'4" 287-pound defensive lineman Kendall Reyes returns as a leader on an experienced defense that returns nine starters from a year ago.
Sio Moore, a redshirt junior linebacker is also looking to have a breakout season in 2011. Moore is a pre-season first-team all-Big East selection who wreaked havoc on the Mountaineer offense last season, recording a season-high 17 tackles.
The UConn secondary boosts a trio of juniors who started all 13 games last season in Dwayne Gratz, Blidi Wreh-Wilson and Jerome Junior.
The Huskies should field good special teams units this season, highlighted by the return of senior kicker Dave Teggart. Teggart did not miss an extra point in 2010 and went 25/31as a field goal kicker, including a game-winner in overtime to beat the Mountaineers.
In 2011UConn is hoping to continue their recent success by making a fifth consecutive bowl appearance, but this season's road to the post-season will be much more difficult.  
Edsall is responsible for building the program from the ground up, and his loss, combined with the loss of Todman and lack of experience at quarterback could prove to be a rough rebuilding year for the Huskies.
A weak non-conference schedule favors UConn, but they need to find someone to step up at the running back position to play behind their veteran offensive line.
The Huskies could find themselves winning five or six games next year if they can put together an average running game and play solid defense.