Big Ten Breakdown: Northwestern Wildcats, Part 2 (Defense and Specialists)
July 5, 2011
Jonathan Daniel/Getty Images
Big Ten Breakdown: Northwestern Wildcats, Part 1 (Overview and Offense)
Defensive Overview
2010 scoring defense: 29 PPG (eighth in the conference), total defense: 426.2 YPG (10th), rushing defense: 5.15 YPC (10th), passing efficiency allowed: 128.93 (sixth).
Average scoring defense conference ranking over last five years: Seventh
Best scoring defense conference ranking over last five years: Fourth (2008)
Worst scoring defense conference ranking over last five years: 10th (2007)
Returning starters: DE Vince Browne, DE Kevin Watt, DT Jack DiNardo, LB Bryce McNaul, LB Ben Johnson, CB Jordan Mabin, S Brian Peters, S David Arnold
Open positions: DT, LB, CB, S
Defensive Breakdown
NU runs a 4-3, but Pat Fitzgerald and defensive coordinator Mike Hankwitz throw everything they can find at opposing offenses.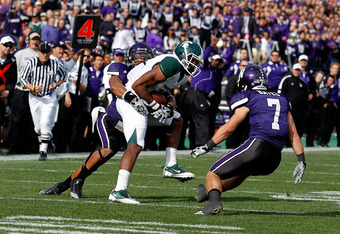 Jonathan Daniel/Getty Images
They blitz out of every formation and every position and are very creative with those blitzes.
Their primary goal is not to squash the opposing team but to create turnovers.
In two of the three seasons Hankwitz has been at NU, the scoring defense has been better than the total defense.
Another notable stat is that in all three of his years in Evanston, the Cats have ranked in the top half of the conference in turnovers created. Last season, they were sixth (yes, not quite the top half, but they were in the top half before they fell apart in their last two games), and in 2009 they were second and in 2008 they were fourth.
In other words, Northwestern is willing to let up yards, provided they create turnovers.
The other key factor of the Northwestern defense is the offense. For the defense to be successful, the offense has to control the clock and keep the defense off the field.
In the five years Pat Fitzgerald has been at the helm, the Wildcats have ranked in the top half of the conference in time-of-possession three times.
The two exceptions were 2008 and 2010. But, in 2010, Northwestern was easily in the top half of the conference in September and October. They fell apart in November after Persa and Trumpy went down.
Also, Northwestern has been in the top-half of the conference in first downs gained in all but one of Fitzgerald's years as the head man.
Last year, they were fourth, but once again, a closer look at the stats reveals a further truth. They were fourth in September, second in October and then, after the injuries, they were ninth in November.
In short, the late-season collapse that led to the Cats giving up a total of 118 points to Illinois and Wisconsin had everything to do with losses on the offense.
Defensive Line
Northwestern returns three of their four starters on the line, with another defensive end that has starting experience.
The returners are defensive ends Vince Browne and Kevin Watt and defensive tackle Jack DiNardo. Also, the third end with experience is Quentin Williams.
Following the spring game, the most likely players to win the open defensive tackle position were junior Brian Arnfelt or senior Niko Mafuli.
Browne is a senior and the best lineman of the bunch. He is a two-year starter that is a pass rushing specialist. He led the team in sacks with seven and tackles-for-loss with 15.5.
Last year, the media named him second team All-Big Ten, and he will vie for bigger honors this season.
The other returnees were first-year starters in 2010. Watt is a senior, and DiNardo and Williams are juniors.
However, following the spring game, Fitzgerald tried to shake his line and linemen up a little by naming sophomore Tyler Scott a co-starter with Watt. The reason he did this was because the Northwestern line wasn't especially good in 2010. 
First of all, Northwestern had the second-worst rushing defense in the conference. Again, in some fairness, if you subtract the Illinois and Wisconsin gorefests, Northwestern gave up 4.82 YPC, which puts them at ninth in the conference.
Better but hardly anything to be proud of, especially when you consider that their OOC featured teams that ranked 80, 55 and 108 in terms of national rushing offenses.
Secondly, returning Northwestern linemen not named Vince Browne that generated sacks were limited to Jack DiNardo, who had .5 sacks.
These numbers are complicated when you consider that last year's line had the benefit of playing in front of two extremely experienced linebackers. Those linebackers have since graduated.
In closing, the Northwestern defense will give up yards; they are built for that. Furthermore, it is fair to expect some improvement from this group.
Still, outside of Browne, it will need a lot of improvement in order to force the turnovers that are the lifeblood of the Wildcat D.
Big Ten Position Group Ranking: 9
Linebackers
The Cats graduated Quentin Davie and Nate Williams. It seemed like the two of them had been in Evanston forever. Both were three-year starters, and both have been amongst the top three tacklers on the team for the last two years.
The returning starter is senior Bryce McNaul, who started ten games at strong-side backer or SAM last year. This season, he will move to Davie's vacated weakside spot or WILL and will be expected to take on a bigger role in the defense.
The SAM position is likely to be taken over by senior Ben Johnson. Johnson started the first two games of the 2010 season, before McNaul beat him out of the starting spot. Johnson also started seven games in 2009.
It is safe to assume Johnson has improved over the last year. On the other hand, despite having substantial experience, he got beaten out of his position by a player that was hardly the second coming of Tim McGarigle.
Following the spring game, the starting middle linebacker, or MIKE, was David Nwabuisi. Nwabuisi is a junior who has backed up Nate Williams for the last two years, and gained one start in 2009.
The Harry Potter fan also played a lot in obvious passing situations last year and had the most tackles of any NU non-starter in 2010.
He should be a solid player, who will thrive against the pass but might struggle a bit against the run. In this respect, a stronger defensive front will help greatly.
Following the three likely starters are a slew of unproven and often untested sophomores and redshirt freshmen.
They might or they might not be serviceable, but depth is a key issue for a defense that only lost two starts to injury last season.
Big Ten Position Group Ranking: 12
Secondary
Northwestern returns all but one of the defensive backs that played key minutes last season.
The two that can be written in ink on the depth chart are senior strong safety Brian Peters and senior cornerback Jordan Mabin.
The media named Peters second-team all-conference, as he led the Cats in tackles, and contributed three interceptions. As a two-year starter, he will not only be the leader of the secondary, but the leader of the defense.
Meanwhile, Mabin may have only had one pick (which he snagged in the bowl game), but he led the conference in passes defended. Overall, quarterbacks and offensive coordinators will look to avoid his side of the field.
The free safety spot has three players with starting experience: juniors Jared Carpenter and Hunter Bates and senior David Arnold. Carpenter had eight starts, Arnold three and Bates two. Arnold started the bowl game, and was named the starting safety following spring practices.
In fact, neither Bates nor Carpenter were listed on the post-spring depth chart at all, with senior Mike Bolden holding down the backup FS position.
As for Arnold, he has spent his career moving back and forth between linebacker and safety. He came to NU as a safety and began his collegiate career there. Then, he moved to linebacker in 2009 and saw five starts.
In 2010, he moved back to safety but missed significant time with injuries.
Bates sat out spring practice still recovering from a broken leg suffered in the bowl game. Word is the coaches want Bates to win the starting spot, but we won't know until August.
Either way, it is likely the starting FS will be Bates or Arnold.
The other cornerback spot will be contested between senior Jeravin Matthews and junior Demetrius Dugar.
Matthews, who came to NU as a running back, then switched to wide receiver and finally landed at cornerback during the 2009 bowl practices, was the starter after spring practices. Last season, he was a key special teams player.
Dugar is probably the more athletic of the two options, but in a turnover-hungry defense like Northwestern, discipline counts as much as athleticism.
One other player of note is safety and redshirt freshman Ibraheim Campbell, who was listed as second team SS in April. Pat Fitzgerald has admitted that he regretted redshirting Campbell last season, and he praised him up and down this spring.
Overall, this is a group with some strengths and weaknesses, but a good amount of safety depth could be a big help.
Big Ten Position Group Ranking: 9
Specialists
 There is both good and bad news for the Wildcat special teams, though more of the former than the latter.
Firstly, NU ranked seventh in the conference in terms of punting average, which is pretty good when one considers that they started a redshirt freshman punter last season.
The redshirt freshman in question—Brandon Williams—is now a sophomore that got better as the year progressed, and will presumably be a better punter this season.
Meanwhile, the kickoff and punt return man, Marc Venric, will also be a sophomore this season. He came in fourth in the conference in kick return average, and would have come in second in punt return average, but he didn't have the requisite 1.2 punt returns per game. This season, he will be one of the most dangerous return men in the conference.
The bad news is that veteran kicker Stefan Demos has graduated. On the other hand, Demos had a habit of missing big kicks at inopportune times. He had a lifetime field goal completion percentage of 70.8 and over the last two seasons, he missed six extra points.
In other words, it could be a case of addition by subtraction.
The two players competing for the starting job are sophomore Jeff Budzien and junior Steve Flaherty. Both players have converted one extra point each in their careers. Budzien's came last season and Flaherty's came in 2009.
Of course, if either Budzien or Flaherty were better than Demos, it is likely to assume he would have lost the starting job to one of them.
Overall, the field goal kicker is a mystery, but the punter should be dependable at worst and the return man will be a weapon.
Big Ten Position Group Ranking: 6
Be sure to check out past installments of Big Ten Breakdown, beginning with the most recent, the Illinois Illini.